S'more Bars
This recipe (slightly adapted from FamilyFun Magazine) appeared in Bake Booth S'more Bars on 07 Oct 2010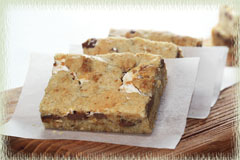 1 cup granulated sugar
1 cup (2 sticks) unsalted butter, softened
2 large eggs
2 teaspoons vanilla extract
1–1/2 cups crushed graham crackers
1–1/2 cups unbleached flour
3/4 teaspoon salt
2 teaspoons baking powder
6: 1.55 ounce milk chocolate bars (about six standard size bars)
2: 7 ounce containers of marshmallow creme (I used only one)
1–1/2 cups chopped nuts (I used pecans)

Preheat oven to 350° F. Grease the bottom and sides of a 9″ x 13″ baking pan and set aside.
In a large mixing bowl, cream the butter and sugar until fluffy. Beat in the egg and vanilla extract. Add the crushed graham crackers, flour, salt, and baking powder and beat until well mixed, stopping occasionally to scrape the sides of the bowl.
Spoon a little more than half the dough into the pan and spread evenly with your fingertips.
Break the chocolate into pieces and arrange over the dough. Sprinkle the nuts on top next.
Spread all of the marshmallow creme over the chocolate and nuts (wet fingers can speed up this process).
Flatten the remaining dough into pancakes and lay them over the marshmallow layer, trying to cover the marshmallow as best you can. It doesn't matter if there are gaps here and there; they will run together a bit during the baking process.
Bake until golden brown (about 30 minutes) or until the sides of the bars begin to separate from the baking pan. Let the pan cool thoroughly on a wire rack before cutting into bars.
WI wine recommendation: Instead of coffee or milk (which are the traditional drinks of choice for these delights), try a sweet Vin Santo such as Palmina's Santita. Double the pleasure!