Savor the Season: Cooking for Love
As our regular readers know, we've covered more than the usual number of wine and food events over the past several months. Many have been quite good and most of them donate part of their proceeds to benefit some charity or cause mentioned in the background. It is a rare event that really integrates the cause into the evening and still is able to deliver on the promise of a top quality food and wine event. Savor the Season is just such an event.
October is Domestic Violence Awareness Month and this year's Savor the Season theme was "Cooking for Love", with noted chefs cooking from the heart to benefit Break the Cycle, the leading, national nonprofit organization addressing teen dating violence with a mission to engage, educate and empower youth to build lives and communities free from domestic violence. We have four teenagers of our own, but we didn't realize that one in three teens will experience abuse in a dating relationship and more than two-thirds of them will never report it to anyone. Those are pretty shocking statistics. Holding the belief that everyone has the right to safe, healthy relationships, Break the Cycle advocates for policy and legislative changes and engages, educates and empowers youth through prevention and intervention programs, helping young people identify and build healthy relationships.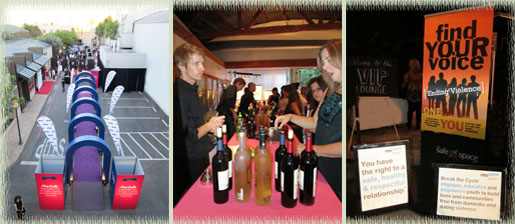 The event was held at The Lot Studios in West Hollywood, an elegant but comfortable site. The entrance was a raised carpeted platform with art deco arches that contained visual and audio educational information about dating violence. Beyond the entry, chef co–hosts Katie Chin of Wok Star (Trio of Dim Sum including Turkey Shu Mei, Firecracker Shrimp and Hoisin Lacquered Roast Pork on a Prawn Cracker) and Gary Arabia of Global Cuisine (Asian–Style Crab Cakes with a Mango & Pineapple Salsa and Beef Shortribs in a Port Reduction) joined other top chefs in creating an array of delicious food, such as Cane Sugar Seared Tuna on a Won Ton Crisp from Jesse Souza of BALEENlosangeles at The Portofino Hotel & Yacht Club, Shrimp & Andouille Gumbo from Monique King of NINETHIRTY at The W Hotel in Westwood, Carnitas Jicama Tacos with Spicy Aioli from Gloria Felix of Reservoir, Slow–Braised Beef Cheek from Sebastien Archambault of RH Restaurant + Bar at the Andaz in West Hollywood, Paani Puri from Susan Feniger and Kajsa Alger of Susan Feniger's STREET and Kabocha Squash Soup from Todd Barrie of Upstairs 2. The Jambalaya Rissoto with Spicy Shrimp from Aaron Robins of Boneyard Bistro was absolutely scrumptious and the Butternut Squash Soup with Pumpkin Oil and Toasted Brioche from Chad Minton and Joshua Hasho of jər–nē restaurant + bar at The Ritz-Carlton in Marina del Rey was simply perfect. I know I missed a few, but I can tell you that there was no dish that we didn't like.
The desserts and sweets were also fantastic. Stefan Richter of Stefan's@LA Farm froze ice cream balls in liquid nitrogen and then dipped them in flavors like passion fruit to devise his Ice Cream Lollipops (warning: don't lick them until they stop smoking). Marty and Pam Levy of Chocolate Fortunes provided Chocolate-Dipped Fortune Cookies (dark and white), while Nina Rodecker of Tasty Clouds Cotton Candy Company served up Cotton Candy Martinis and Sweet Sticks. A variety of sweets were offered by Danielle Keene of Bittersweet Treats and Susan Watkins of Cakes Suzette. In the VIP Lounge on the patio, we loved the handmade gourmet fudge, pastries and confections on display by Christine Hanson of auntie früf's aahsome füdge, the cookies and bars from Erin H. Zabel of Cookie Casa and the all natural, whole bean gourmet chocolate from Patricia Tsai of ChocoVivo.
When we arrived at the event, we moved quickly to the VIP Lounge where sommelier Bonnie Graves of Girl Meets Grape was pouring a refreshing Comte Audoin de Dampierre Champagne Cuvee des Ambassadeurs. In another corner, Lou Amdur of Lou on Vine brought a keg of wine—that's right, a keg! Lou explained that using a pressure keg (think beer keg, but cylindrical in shape) has one–tenth the carbon footprint of wine presented in bottles and delivers a higher wine quality, which is perfect for offering wine by the glass at wine bars and restaurants, or even at sporting events for that matter. The keg delivered a very nice medium–bodied Donkey and Goat "The White Label" Mendocino Mélange 2008 Syrah. Many Mendocino wines of that vintage were affected by the forest fires in the area that summer, which imparted to the grapes a relatively high concentration of guaiacol (about 5–10 times as much as a wine normally contains from being aged in oak barrels, due to the toasting process of cooperage) that results in smoke taint. Lou explained that the winery probably did some filtering to eliminate the issue if the grapes were affected; there wasn't even a hint of smoke—it's a really nice wine. We also enjoyed four Italian wines poured by Vino Direct—the Le Tiare 2009 Sauvignon Blanc DOC Collio, the Ronco dei Tassi 2009 Malvasia DOC Collio, the Le Marsure 2009 Pinot Grigio IGT Friuli and the Le Marsure 2009 Friulano DOC COF.
During the event, there was a silent auction with a lot of goodies to be had for what appeared to be reasonable bids. A little more than halfway through the event, the organizers and key sponsors made some brief remarks and the music DJ from 94.7 The Wave led the live auction to benefit Break the Cycle. They auctioned some key items and did it in an appropriately limited period of time. Overall, it was a great event and a very nice evening for those who attended.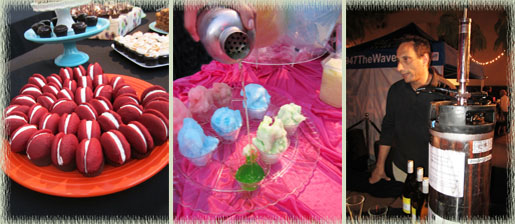 Things we liked at Savor the Season:
Creative and informative presentation of Break the Cycle's mission
Easy to navigate layout of vendors and auction items
Nice variety of Los Angeles restaurants/chefs represented
Artistically hand–drawn chalkboard vendor signs
Classy VIP lounge
Commemorative Cook Book with recipes from attending chefs and sponsors
Room for improvement:
More wines
Recycle bins for trash*
Different day of week for event (not Sunday night)
*Update: After we posted this article, the event organizer kindly informed us as follows: "I noticed you were concerned about recycling, something we have heard from other guests. We at Break the Cycle are also concerned about the environment and choose to host our event in the City of West Hollywood because they provide a trash–sorting service. Through this program, we can ensure that our event had as small an environmental impact as possible and recycle more material than would be possible if our guests had to sort their trash during the event. Next year we will be sure to acknowledge the City's leadership and thank them for their service."

Disclosure: We were granted complimentary media credentials for this event.
Comments (3)
October 16, 2010 at 5:26 pm
Jay B. said:
Stephen's at L.A. farm sounds great. I went to his website that you linked…

October 17, 2010 at 8:02 pm
DianaHayes
said:
Sunday would be tough to do. Our kids are out of the house now, but it is tough to try and raise them and let them know what the expectations of a good relationship are.

October 19, 2010 at 12:28 pm
Jenn said:
Kudos to West Hollywood and Savor the Season! It would be nice if more of these events would think twice about how they handle the multitude of waste that they create in one night. I've seen it happen way too frequently.