Maple Bacon Biscuits
This recipe (From the Los Angeles Times' adaptation of Huckleberry Chef Zoe Nathan's recipe) appeared in Huckleberry's Famous Maple Bacon Biscuits on 29 Oct 2010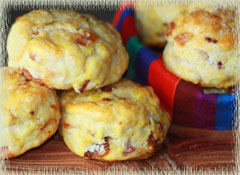 1 pound bacon, cut into 1/2–inch pieces
3 1/2 cups flour
2 tablespoons sugar
1 tablespoon baking powder
1/2 teaspoon baking soda
3/4 teaspoon salt
1/2 pound (2 sticks) butter, cut into 1/2–inch cubes
3/4 cup plus 2 tablespoons maple syrup, divided
3/4 cup plus 2 tablespoons buttermilk
1 egg yolk
1 egg
1 tablespoon heavy cream
Fleur de sel

In a medium frying pan, cook the bacon over medium heat until cooked but not crispy, 10 to 12 minutes, stirring frequently. Remove the bacon to a paper towel–lined plate or pan, to remove excess fat.
In a large bowl, whisk together the flour, sugar, baking powder, baking soda and salt.
Using a pastry cutter or fork, cut in the diced butter, until it resembles small peas. Stir in the bacon, then one–fourth cup plus 2 tablespoons of maple syrup and the buttermilk until the dough just comes together (it will still be clumpy). Be careful not to overwork the dough.
On a lightly floured surface, gently press or roll the dough to 1–inch thickness. Cut the biscuits using a 2–inch round cutter; you should have 24 biscuits. Place 12 biscuits on each of two parchment–lined baking sheets, spaced 2 inches apart. Freeze the trays just until the biscuits are chilled, about 10 minutes.
Heat the oven to 350 degrees. While the biscuits are chilling, prepare the egg wash: In a small bowl, whisk together the egg yolk, egg and cream. Brush the chilled biscuits with egg wash and top each with a pinch of fleur de sel.
Bake the biscuits until they just begin to brown, about 25 minutes (you should easily be able to pick the biscuits up off the tray). Remove the tray from the oven. Quickly drizzle 1 teaspoon of the remaining maple syrup over each biscuit, then place the tray back in the oven for 3 minutes more. Serve while still warm.
Note: The LA Times claims this recipe will make about two dozen two–inch biscuits; I only got 16 two–inch biscuits out of it.
WI wine recommendation: These biscuits are great with sparkling wine or, you can serve them with a bowl of soup and a full–bodied white wine, such as Chardonnay.