It's Chowder Weather!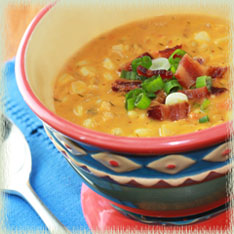 Living in Los Angeles this time of year usually means a combination of hot, dry winds (known as a Santa Ana condition) and crisp, clear sunny days when it comes to weather. As I'm typing this, it is cold and raining…a rarity that is upsetting the delicate food cycle balance in our kitchen. What exactly does this mean? It means that I have to dig up my soup recipes a little earlier this year and get a ladlin'.
Not that this is going to bother me any. I love soup. I was raised in the Midwest and eating soup was a necessity for survival during the long, winter months. Rich was raised here in California and didn't eat as much soup as a kid growing up like I did because his family was busy munching away on fresh garden salads all year long. So I sort of have an edge over him when it comes to making soup (although he does make a mean Chicken Noodle Soup that surprisingly rivals even my Hungarian grandmother's recipe—who'd have thunk?!).
I like to make and eat all kinds of soups. One of my favorite soups to order when dining out at a good seafood restaurant is Boston clam chowder. For those of you who are chowder–challenged, that's the white, creamy rib–sticking version. The other would be Manhattan clam chowder, which is red, tomato–based and not as rich and often tastes more like a vegetable soup with some clams thrown in it. I much prefer the white over the red (just as I do my wine) as it just seems more satisfying to slurp along with a hunk of buttered, crusty sourdough bread (a soup side–must for me!). If not bread, a sandwich usually makes a good accompaniment to soup and completes the meal nicely. But since chowders are generally thicker in consistency than other soups, the addition of a sandwich to this meal would be a bit much, I think. So I stick with crusty breads, rolls and even biscuits when eating or serving chowder.
This post's recipe isn't going to be a clam chowder recipe (got ya!), but it will be another kind of chowder, namely corn chowder. I found the recipe over at My Baking Addiction from another professed soup lover. This isn't meatless or vegan in any way as one might expect with corn taking center stage in the recipe name. Not only is bacon (and its fat) a flavor component of this chowder, chicken also plays a supporting flavor role along with the corn. It's comforting and soul–satisfying; great for warming you from your head to your soggy toes.
Oh, and I found the perfect thing to serve alongside this chowder (to be revealed in my next post). Check out what's peeking around the soup bowl in one the photo below and you should be able to guess. (Though, you can't tell from the photo what the exact ingredients are that just sing when eaten together with this corn chowder—pure genius!) It's a recipe from a popular Los Angeles bakery/café that keeps foodies coming back for more, so stay tuned!
WI wine recommendation: Sauvignon Blanc is a winner with this soup. Alternatively, try an earthy Pinot Noir or Nebbiolo.


Corn Chowder
(adapted slightly from My Baking Addiction)

5 strips thick cut bacon, sliced into 1/2 inch pieces
1 sweet onion, diced
2 carrots peeled and chopped
2 stalks of celery chopped
2 garlic cloves, minced
1 jalapeño, seeded and finely chopped
6 sprigs fresh thyme, leaves only
1/4 cup all–purpose flour
1/2 teaspoon chipotle seasoning
1/4 teaspoon crushed red pepper flakes (add more if you like some heat)
6 cups vegetable stock
2 cups heavy cream
2 Idaho potatoes, peeled and diced
6–8 ears corn (I used a bag of Trader Joe's frozen Sweet White Corn)
2 cups cooked and shredded chicken (I used Trader Joe's Just Chicken)
Salt and freshly ground black pepper
1/4 cup chopped fresh Italian parsley
Green onions, sliced for garnish (I used both the white and green parts)

In a Dutch oven, cook bacon over medium high heat until crisp; remove bacon with a slotted spoon and allow to drain. Reserve for garnish.
Reduce heat to medium. Add the onion, carrots, celery, garlic, jalapeño and thyme to the bacon drippings and cook until the vegetables are soft; about 8 to 10 minutes. Dust the vegetables with flour, chipotle seasoning, crushed red pepper flakes and stir to coat well.
Cook vegetables, flour and seasonings for 2 minutes; stir frequently.
Pour in the vegetable stock and bring to a boil. Add the cream and the potatoes, bring to a rapid boil. Allow soup to boil hard for about 7 minutes, until the potatoes break down. This process will help thicken the soup.
Cut the corn kernels off the cobs and add to the soup. Season with salt and pepper to taste and add in the cooked chicken. Simmer until the corn is soft and chicken is heated through; about 10 to 12 minutes.
Stir in the parsley. Ladle the soup into bowls and garnish with the reserved bacon and green onions.
Comments (2)
October 25, 2010 at 9:40 am
Elizabeth
said:
Since you were using frozen corn instead of fresh, did you thaw it before throwing it in, or just throw it in frozen?
Thanks!
Elizabeth

October 26, 2010 at 5:22 pm
Leah
said:
I guess you could say I threw them in defrosted. I took the bag of corn out of the freezer before I began cooking. The corn wasn't totally defrosted by the time I used it, but it didn't make any difference to the final product since it had to simmer in the stock with the chicken for 10 minutes longer.