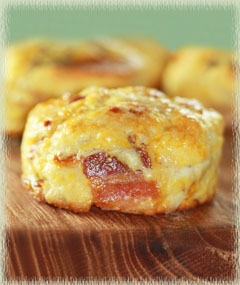 There you have it. My idea of the perfect accompaniment to the Corn Chowder recipe I posted last week. These are sooo good! Tender, flaky dough enhanced with the subtle sweetness of maple syrup and crisp bacon bits…I ask you, what's not to love? But before I divulge the recipe to this wildly popular breakfast pastry, I'll share a little background first.
I first encountered these biscuits at the Taste of Beverly Hills this past summer. Huckleberry (an artisan bakery/café located in Santa Monica) brought a magnificent selection of their baked goods for sampling at the festival. I've been to their establishment before, but unfortunately always left empty–handed. (This place is mucho popular with the locals and the lines can get long, especially during lunchtime which is when I usually had the urge to show up). Never having had the time or patience to wait through the line, I'd leave. So to say I was way beyond thrilled to have the opportunity to try so many of their most popular menu items (without the line hassle) would be a gross understatement. Sure, their booth had a crowd around it, but I had no trouble navigating through it to snap some photos and snag my amply–sized tastes (a media job perk I'm happy to exploit!). Such a tactic would never have been tolerated in their store, so I took full advantage of the festival atmosphere.
Once I had my fully–loaded plate in hand, I headed off in search of a table like a squirrel looking for a spot to hide his nuts. The biscuits were the first thing I tried. At first, I wasn't sure if I liked them all that much. I consider myself a biscuit–aficionado, and these definitely didn't taste like any biscuit I've ever had. But then, the maple and bacon flavors began doing a tongue dance in my mouth, waking up my taste buds like no other biscuit ever has. The second, third and fourth bites confirmed that, yes, these certainly did deserve all the accolades they've received. I knew I'd discovered a great biscuit to serve with some of the soups I like to make during fall and winter. And I'm sure certain stews and chili would also reap flavor benefits from these slightly sweet, flaky gems. Now all I had to do was get myself online and find the recipe.
Turns out that the Los Angeles Times was way ahead of me on this one, and developed a recipe based on Chef Zoe Nathan's original creation. I'm not sure how loosely adapted their version is, but let's just say these biscuits disappeared quickly. Once there was no more corn chowder left to pair with them, they became the after–school snack of choice for the always–hungry teenagers at our house. And speaking of pairing, they tasted wonderful with the mimosas we were drinking at the festival. But then, how can you go wrong pairing maple and bacon flavored biscuits with a champagne drink?!
WI wine recommendation: These biscuits are great with sparkling wine or, you can serve them with a bowl of soup and a full–bodied white wine, such as Chardonnay.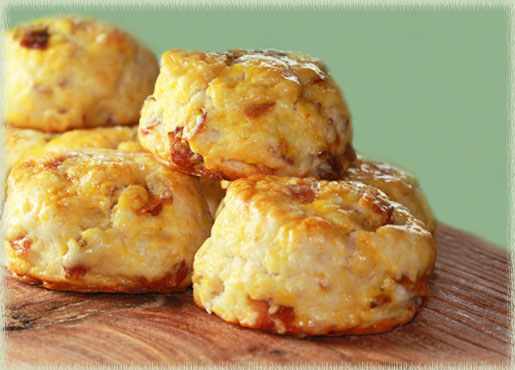 Maple Bacon Biscuits
(From the Los Angeles Times' adaptation of Huckleberry Chef Zoe Nathan's recipe)

1 pound bacon, cut into 1/2–inch pieces
3 1/2 cups flour
2 tablespoons sugar
1 tablespoon baking powder
1/2 teaspoon baking soda
3/4 teaspoon salt
1/2 pound (2 sticks) butter, cut into 1/2–inch cubes
3/4 cup plus 2 tablespoons maple syrup, divided
3/4 cup plus 2 tablespoons buttermilk
1 egg yolk
1 egg
1 tablespoon heavy cream
Fleur de sel

In a medium frying pan, cook the bacon over medium heat until cooked but not crispy, 10 to 12 minutes, stirring frequently. Remove the bacon to a paper towel–lined plate or pan, to remove excess fat.
In a large bowl, whisk together the flour, sugar, baking powder, baking soda and salt.
Using a pastry cutter or fork, cut in the diced butter, until it resembles small peas. Stir in the bacon, then one–fourth cup plus 2 tablespoons of maple syrup and the buttermilk until the dough just comes together (it will still be clumpy). Be careful not to overwork the dough.
On a lightly floured surface, gently press or roll the dough to 1–inch thickness. Cut the biscuits using a 2–inch round cutter; you should have 24 biscuits. Place 12 biscuits on each of two parchment–lined baking sheets, spaced 2 inches apart. Freeze the trays just until the biscuits are chilled, about 10 minutes.
Heat the oven to 350 degrees. While the biscuits are chilling, prepare the egg wash: In a small bowl, whisk together the egg yolk, egg and cream. Brush the chilled biscuits with egg wash and top each with a pinch of fleur de sel.
Bake the biscuits until they just begin to brown, about 25 minutes (you should easily be able to pick the biscuits up off the tray). Remove the tray from the oven. Quickly drizzle 1 teaspoon of the remaining maple syrup over each biscuit, then place the tray back in the oven for 3 minutes more. Serve while still warm.
Note: The LA Times claims this recipe will make about two dozen two–inch biscuits; I only got 16 two–inch biscuits out of it.