Corn Chowder
This recipe (adapted slightly from My Baking Addiction) appeared in It's Chowder Weather! on 21 Oct 2010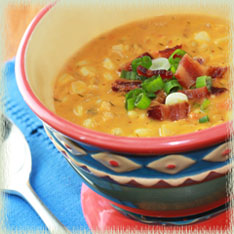 5 strips thick cut bacon, sliced into 1/2 inch pieces
1 sweet onion, diced
2 carrots peeled and chopped
2 stalks of celery chopped
2 garlic cloves, minced
1 jalapeño, seeded and finely chopped
6 sprigs fresh thyme, leaves only
1/4 cup all–purpose flour
1/2 teaspoon chipotle seasoning
1/4 teaspoon crushed red pepper flakes (add more if you like some heat)
6 cups vegetable stock
2 cups heavy cream
2 Idaho potatoes, peeled and diced
6–8 ears corn (I used a bag of Trader Joe's frozen Sweet White Corn)
2 cups cooked and shredded chicken (I used Trader Joe's Just Chicken)
Salt and freshly ground black pepper
1/4 cup chopped fresh Italian parsley
Green onions, sliced for garnish (I used both the white and green parts)

In a Dutch oven, cook bacon over medium high heat until crisp; remove bacon with a slotted spoon and allow to drain. Reserve for garnish.
Reduce heat to medium. Add the onion, carrots, celery, garlic, jalapeño and thyme to the bacon drippings and cook until the vegetables are soft; about 8 to 10 minutes. Dust the vegetables with flour, chipotle seasoning, crushed red pepper flakes and stir to coat well.
Cook vegetables, flour and seasonings for 2 minutes; stir frequently.
Pour in the vegetable stock and bring to a boil. Add the cream and the potatoes, bring to a rapid boil. Allow soup to boil hard for about 7 minutes, until the potatoes break down. This process will help thicken the soup.
Cut the corn kernels off the cobs and add to the soup. Season with salt and pepper to taste and add in the cooked chicken. Simmer until the corn is soft and chicken is heated through; about 10 to 12 minutes.
Stir in the parsley. Ladle the soup into bowls and garnish with the reserved bacon and green onions.
WI wine recommendation: Sauvignon Blanc is a winner with this soup. Alternatively, try an earthy Pinot Noir or Nebbiolo.