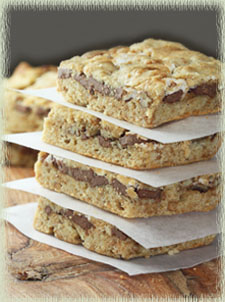 The second weekend of October signifies one thing for us every year…The Fall Festival! Surprisingly, I'm not talking about a food and wine festival this time (although, there's plenty of that to be found at this event). I'm referring to the mother–of–all fund raising events that happen at our kids' school each and every fall. Without fail…rain or shine…bad economy or good economy. You get the drift. And as with any such school event, parents are required to participate (i.e., work) at this three day test of our dedication and bank accounts. Yes, you read that correctly. Three days!
Let's just say this isn't one of your typical five–hour–long–eat–popcorn–and–jump–in–the–inflatable–bouncer occasions. No, this school event easily rivals any of the many wine and dine festivals we've been frequenting lately (with the possible exception of AWFF, which was unbelievable!). Granted, this was the 28th year of AWFF. It should be close to perfection by now. Our school has been producing its festival for a long time as well (at least 23 years that I can attest to, and then some). The oldest of our local nephews went to this school that long ago, and all we ever heard about back then was The Festival this and The Festival that. It made us appreciative of our then empty nest and its lack of spawn–related obligations.
Now, as we are facing the year of our youngest one's graduation from the school, we've found ourselves assigned to work in the Bake Booth. Hallelujah! No back–breaking bending up and down in the game booths! This isn't one of your run–of–the–mill bake booths, either. Besides home baked goodies and store–bought nom noms from local bakeries (like cupcakes from the original Sprinkles); espresso, coffee drinks and smoothies are usually on hand. It's one of the more popular booths at The Festival, offering a quiet corner away from all the hubbub to sit back after a long shift and enjoy a sweet or two. I look forward to seeing all the baked treats that will be up for consumption this year. Some mothers have gotten really creative in past years, making beautifully decorated iced cut–out cookies to match the current Festival's theme. Martha Stewart herself couldn't have done a better job!
My contribution this year will be one of my favorite flavor themes…s'mores. I do so love a good s'more! I've experimented in the past with s'more cupcakes and cookies, but this time I decided to give it a try in bar form. I found the recipe in FamilyFun Magazine. Side note: I got snookered into ordering a subscription to this magazine (a long story) that will expire long after my kids care about having fun with the family, but fortunately the recipe section always has something appealing in it no matter the ages of our kids. This recipe is a classic example of the magazine's broad range recipe appeal, and it certainly didn't disappoint. Ooey, gooey, chewy goodness with the flavor of everybody's favorite campfire treat…what's not to love?
One thing I should mention, don't even think of substituting the marshmallow creme with real marshmallows. They will just melt into the dough while it's baking, leaving no marshmallow flavor or tell–tale marshmallow streaks in the finished bars. The only changes I made to the recipe were to double it and add chopped pecans. I also only had one container of marshmallow creme on hand, which seemed to be adequate for the final product, but go ahead and double the amount for some extra gooey goodness!
WI wine recommendation: Instead of coffee or milk (which are the traditional drinks of choice for these delights), try a sweet Vin Santo such as Palmina's Santita. Double the pleasure!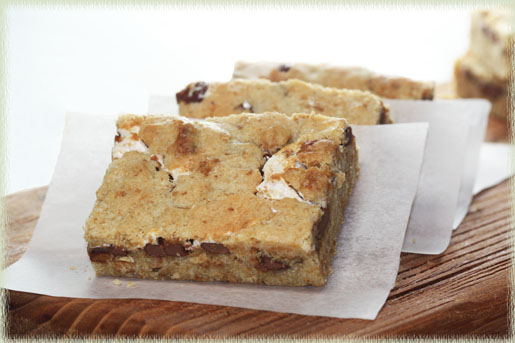 S'more Bars
(slightly adapted from FamilyFun Magazine)

1 cup granulated sugar
1 cup (2 sticks) unsalted butter, softened
2 large eggs
2 teaspoons vanilla extract
1–1/2 cups crushed graham crackers
1–1/2 cups unbleached flour
3/4 teaspoon salt
2 teaspoons baking powder
6: 1.55 ounce milk chocolate bars (about six standard size bars)
2: 7 ounce containers of marshmallow creme (I used only one)
1–1/2 cups chopped nuts (I used pecans)

Preheat oven to 350° F. Grease the bottom and sides of a 9″ x 13″ baking pan and set aside.
In a large mixing bowl, cream the butter and sugar until fluffy. Beat in the egg and vanilla extract. Add the crushed graham crackers, flour, salt, and baking powder and beat until well mixed, stopping occasionally to scrape the sides of the bowl.
Spoon a little more than half the dough into the pan and spread evenly with your fingertips.
Break the chocolate into pieces and arrange over the dough. Sprinkle the nuts on top next.
Spread all of the marshmallow creme over the chocolate and nuts (wet fingers can speed up this process).
Flatten the remaining dough into pancakes and lay them over the marshmallow layer, trying to cover the marshmallow as best you can. It doesn't matter if there are gaps here and there; they will run together a bit during the baking process.
Bake until golden brown (about 30 minutes) or until the sides of the bars begin to separate from the baking pan. Let the pan cool thoroughly on a wire rack before cutting into bars.