American Wine & Food Festival 2010
What once began as a modest five chef–20 vintner fundraiser has, 28 years later, ballooned into a festival touting over ten times as many chefs and some 80+ vintners. After witnessing the splendor of this year's festivities, it's difficult to imagine that the very first event was held in a small parking lot (under one big tent) below the original Spago on Sunset Strip! As 300 festival ticket holders grew to nearly 3,000 over the years, a spacious new location became a necessity, and eventually arrived in the form of the backlot at Universal Studios Hollywood.
The last time we visited Universal Studios was well before the most recent, extensive backlot fire of 2008 (it only just re–opened in May of this year). We were simply blown away by the atmosphere created by the newly–built $200 million movie sets, all providing the most magical backdrops for the multitude of epicurean delights and libations. Consisting of 13 city blocks of buildings on four acres, we were treated to views of Chinatown, Little Italy, Wall Street and Park Avenue as we gorged and imbibed the night away. It was like a mini–vacation all rolled into one evening!
We knew we were in for something special from the moment we were whisked away to the festival location via tourist tram. Upon arrival at our destination, it immediately became clear that this event would transcend all of the many other events we've previously attended showcasing food and wine. But nothing less would have been expected when Wolfgang Puck invites some of his world–renowned chef–buddies, vintners and fine spirit purveyors to help raise money for a cause near and dear to his (and ex–wife Barbara Lazaroff's) heart. And it is only befitting that the object of such a highly regarded chef's attention is the Meals on Wheels Programs of Los Angeles. Over the years, the Puck–Lazaroff Charitable Foundation has raised many millions of dollars to help feed the community's homeless, senior and homebound disabled citizens. Sister Alice Marie, the Executive Director of the program (and from what I witnessed at the event, cotton candy aficionado), was fortunate indeed to have captured the attention of LA's most famous and successful chef.
Superstar chefs abounded the entire night. It was like a who's who of the cooking world at every bend of each of the faux streets. And I'm not just talking local LA chefs, either. They came from the East Coast; they came from the South. They even came from Maui. Some chefs I hadn't seen since the early days of Food Network when some of them had their own shows (yes, I'm showing my age). Paul Prudhomme (posing for pictures), Jasper White (promoting his successful casual–style New England seafood), Dean Fearing (doling out his Texas Quail), Thomas Keller (autographing and tossing Bouchon beach balls), Lydia Shire (serving up cotton candy), Nancy Silverton (wearing a balloon hat); I could go on and on. And the food? Let's just say each and every one of the chefs outdid themselves when it came to creativity, quality and presentation (i.e., no cheese cubes or chips & dip here like we've experienced so many times before at other events). But hey, no need to take my word for it. Just peruse the posted photos (and more in the video slideshow) and I dare you not to drool!
The lineup of participating wineries was equally as impressive as the star–studded chef's roll call. Hailing from locations as nearby as Malibu and as far away as Germany, Portugal and Australia, many corners of the winery world were nicely represented. With so much food, it was impossible to get to most of the wineries that night, but we made it to quite a few. Some of our favorites that evening included the Domäne Wachau 2008 Grüner Veltliner Federspiel Terrassen presented by Vin Divino, all of Dr. Loosen's Rieslings (2009 "Red Slate" Dry Riesling, "Blue Slate" Riesling Kabinett and 2006 Riesling Beerenauslese), Beckmen Vineyards 2007 Purisima Mountain Vineyard Grenache, Gramercy Cellars 2008 Walla Walla Valley Syrah, Grgich Hills Estate 2008 Fume Blanc. There were so many more of our favorite wineries in attendance, from Domaine Serene to Melville Winery to Stag's Leap Winery to Palmina as well as some great champagnes. We also were pleased to discover www.wineorigins.com (an event sponsor). The Center for Wine Origins was created to educate Americans about the importance of location when it comes to wine (among other things). Looks like a good site for all kinds of wine–related topics.
There was also a nice selection of libations presented throughout the night from various restaurants and mixologists that were a welcome relief to the heat. Los Angeles was on the verge of experiencing record–busting heat (114 degrees!) two days later, and all I wanted by the time we arrived at the backlot was something icy cold that was shaken or blended (not uncorked). Patron Tequila served up a concoction aptly named a Red Hood (raspberry, pomegranate, lime and tequila) that totally quelled my fire. The 15–foot bar that was completely made of ice was a nice touch, too. In fact, there were plenty of amazingly artistic ice sculptures on display all about the grounds. I could do without all the hooter chicks that are usually mixing up drinks at these events, though (of course, that's Leah talking here). And the ones that aren't mixing up drinks are usually standing next to the cars that are on display from the event's auto sponsors. Come on now…haven't females progressed just a wee little bit beyond such pageantry? Don't the sponsors realize that women also appreciate a little eye candy served up with their drinks and autos? Am I showing my age again? Back to the drinks…Another one worth mentioning was the El Lychador (cucumber, lychee berry, lemon juice and tequila) that Charlie Palmer was offering. Total refreshment in a glass! By the way, so you realize just how hot it was that night, the most popular drink of the night (and I know this because their supply actually ran out early), was Fiji Water. Imagine that!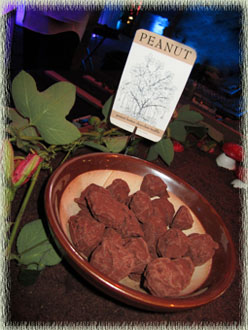 I can't end this post without also mentioning the fabu Champagne and Port Lounge (featuring said drinks, delish desserts and one of the best dance bands I've ever heard at a food and wine festival; in fact, the other musical entertainment at the event was quite good as well). There was also a silent auction filled with luxury items, though we never found our way there. And, a big high–five for a job well done to the person in charge of reducing the festival's carbon footprint! This was the first time we ever saw real silverware or nice, plastic plates (with accompanying recycle bins) used at an event. Pure class! We get so sick of seeing the waste that occurs at these types of festivals, much less the lack of conscience that goes along with it. Is it really so difficult to expect people to dispose of their waste in appropriate recycle bins? Obviously not, if an event of this size actually managed to gain cooperation from its attendees.
One final thing that really put the AWFF over the top for me was the spiral–bound Festival Guide & Recipe Book that was distributed as we boarded our return tram (now full of happy, sated festival–goers). It contains recipes for a lot of the things we ate that night and info about the participating chefs, restaurants, wineries and sponsors. Perfect for those of us who had too splendid a time to remember much of the evening the next day. By the way, events this fantastic don't come cheaply, but heed my adulations and save up for this one next year. It is so worth it!
Please enjoy the additional pictures and music from the festival in the video slideshow below.

Disclosure: We were granted complimentary media credentials for this event.
Comments (1)
October 10, 2010 at 3:25 pm
In the world of food this week – 10th October « iEyeFood
said:
[…] Wine Imbiber tells us about the American Wine &#38 Food Festival 2010. It sounds and looks like a really appetizing event to have been at. […]