Taste of Beverly Hills
Oh, the glitz. The glam. The gluttony. No, I'm not talking about the Governors Ball dinner that Wolfgang Puck caters every year after the Oscars (though, Mr. Puck was in attendance). What'chu talkin' about Wine Imbiber? Why, the inaugural presentation of Food & Wine magazine's Taste of Beverly Hills, of course! Being the dedicated foodies and winos that we are, we secured some media passes and tied on our feed bags and wine glass holders and made a bee–line over to the Beverly Hilton.
We had carte blanche to attend all but Thursday's opening night festivities, which was held on September 2nd (and aptly named 9.02.10 Day). For those of you not in the know, that wasn't only the event's launch date, but is also the infamous zip code of Beverly Hills. Clever, eh? Considering the event ran for three more days beyond that, we had plenty of opportunities to gorge and imbibe.
We felt guilty ditching the kiddos on the Friday night before Labor Day Weekend. But, since the theme was The Art of Mixing (as in mixologists and DJ's, "mixing" talents), our pangs of guilt were quickly extinguished. So much so, I barely remember the efforts of the DJ's. The musical talent was mostly forgettable the entire weekend, though. I much preferred the piped–in music that emanated from the food tents rather than the live entertainment. And by the barely–there viewing audiences I witnessed at the music stage, I wasn't alone in my opinion. Note to event organizers: Don't waste the space on an entertainment stage with audience seating next year. Putting up a comfortable lounge or VIP tent would have been a better use of the space. (Believe me, we go to a lot of these types of events and they are always in high demand. Live music floating through the event is fine, but dedicated seating to watch the performers, not so much.)
After enjoying ourselves so much the first night, we decided to share the fun (with half of our brood any way) and bring the oldest teenager Saturday night (for Date Night) and the youngest teen on Sunday morning (for The Art of Brunch). Actually, we're unaccustomed to bringing our kids to these types of events as they usually aren't permitted due to all the free–flowing booze. Finding beverages they could drink became somewhat of a scavenger hunt, but neither of them had any complaints. (They were too freaked about the multitude of edible delights they faced and how to consume them all!) We didn't really see that many children during the night sessions, but the one daytime session we attended seemed to have a lot of families with tots in tow. No surprise there. Who could pass up unlimited amounts of sweet and savory brunch dishes? Not our ravenous, experiencing–a–growth–spurt spawn!
The stars of Taste of Beverly Hills were, of course, the food, chefs and restaurants that created and served the tastes with such panache. The wineries, as a whole, that were on hand weren't nearly as impressive as the restaurants (more on the wineries from Rich below); though I enjoyed many a fine mixed drink on Friday evening. Even though this was billed as a celebration of Beverly Hills eating and drinking establishments, a lot of them hailed from outside of the 90210 zip code. Santa Monica, Culver City, Brentwood, Studio City, downtown Los Angeles…all were represented. And the chefs? All the rock stars of the kitchen were there. From veteran celeb chefs like Mary Sue Milliken (Border Grill, Ciudad) and Joachim Splichal (Patina Restaurant Group) to new up and comers like Ray Garcia (FIG) and Joseph Mahon (Bastide). Ludo Lefebvre was there, too, cooking up a storm on one of the demo stages Saturday night (much to the delight of his overly exuberant female groupies in the audience). Ray Garcia also gave a highly informative and entertaining cooking demonstration on Red Beet Risotto the next day.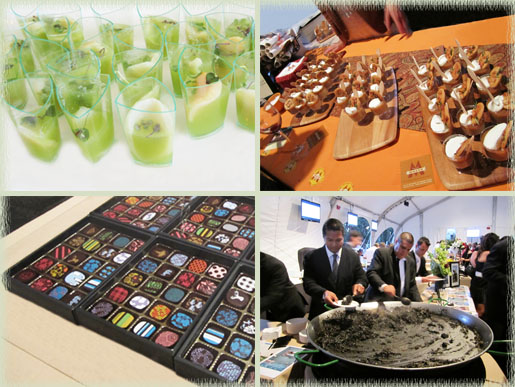 There were lots of goodies for both the young and the young at heart to enjoy. Stephan's (as in Richter, a finalist on Bravo's Top Chef) at LA Farm captivated the hordes with Nitro Ice Cream Lollipops (a tiny piece of pineapple enrobed in an ice cream ball that was flash–frozen in liquid nitrogen). Not to be outdone in the science department, SAAM (the intimate Chef's Tasting Room found within Chef Jose Andres' The Bazaar) was busy creating Blood Orange Mimosas with liquid nitrogen. I even saw some cotton candy go by, though I'm not sure who was serving that up. My favorite sweet of the entire event, though, had to be Nancy Silverton's irresistible Butterscotch Budino with Caramel Sauce served with Rosemary Pine Nut Cookies. She was even there (in the Pizzeria Mozza booth), whipping out mini servings faster than you could say, "More, please!"
I think the prize for one of the most intriguing dishes we tried has to go to Chef Perfecto Rocher (The Blvd at Beverly Wilshire Hotel). One of his signature dishes, Fideua, is similar to paella except that very thin, short pasta replaces the rice. Chef Rocher also tints his noodles with squid ink and serves it with a dab of alliloli (the Catalan version of aioli). The older teenager swooned over this dish and declared it her favorite of the evening. I was impressed with the giant paella pan, too!
During some of the event sessions, there were wine seminars being held over at the Beverly Hilton. Rich attended one on Saturday morning "You say Somalia, we say Some–mull–YAY!", which was advertised to be a program on what a sommelier actually does. The event sommelier, Bonnie Graves, led a lively discussion with three other noted sommeliers, all of whom hold the Master Sommelier title—Greg Harrington, William Sherer and Damon Ornowski. Greg poured wines from his Gramercy Cellars of Walla Walla, Washington, William offered his Iberian Remix and Damon showcased some of the wines of importer Vin Divino (from Zantho of Austria & Cusumano of Sicily). The seminar was not well attended—having to compete with the festivities outside on a beautiful sunny day—which is unfortunate because it was informative and interesting and the wines tasted at the seminar were among the best of the entire event. Most in attendance seemed to be wine writers, so Bonnie wisely spent most of the time focusing on the wines, though she did do justice to the discussion of the sommelier's role. Greg Harrington got my award for the funniest line, characterizing winemaking as "49% cleaning stuff, 49% moving heavy stuff around and 2% drinking beer". Damon had an interesting way of looking at wines as "ski or swim", meaning that wines from higher elevations with colder climates ("ski", as in Austria, for example) are very different from wines from lower elevations with warmer climates ("swim", as in Southern Italy, for example).
Outside at the main event, I didn't get a chance to taste all of the wines on hand and I couldn't find some of the listed wineries (most likely because they were at sessions I didn't attend). For me, the best wines poured (besides the ones from the seminar) were the Loring Wine Company 2008 Gary's Vineyard Pinot Noir, the Illuminati 2008 Riparosso, Montepulciano d'Abruzzo, the 2007 Camp 4 Grenache from Tercero Wines, and the wines of Melville Winery.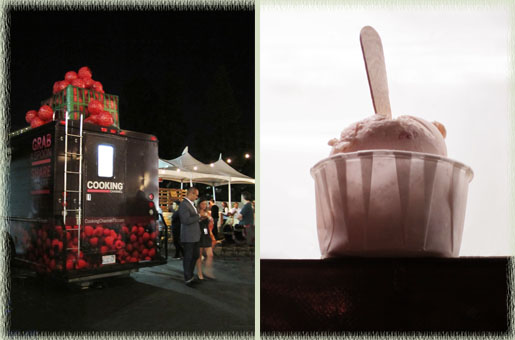 All in all, The Taste of Beverly Hills was a thoroughly delicious and entertaining way to spend the long holiday weekend. The event organizers have a few things to adjust to ensure that the event will run more smoothly in future years for the guests and others (parking and shuttle service confusion immediately come to mind), but we're confident they'll be able to remedy those issues. It's about time that one of America's best restaurant havens has climbed on board the food and wine festival bandwagon. Congratulations, Beverly Hills (and event organizers), for what appeared to be a successful inaugural festival!

Disclosure: We were granted complimentary media credentials for this event.
Comments (6)
September 10, 2010 at 7:22 pm
Louella said:
Wow!! What an event! I feel like I've gained 5 lbs just reading about it!

September 10, 2010 at 7:26 pm
Nadine said:
I was there for Date Night! Absolutely fantastic! Just wish I could have afforded the ticket to go back the next day for brunch. Looks like I missed out

September 11, 2010 at 10:16 am
Rich
said:
Nadine, maybe you didn't notice the signs at the event saying to text "90210" with the word "BEBACK" and they send you a $50 off coupon for subsequent sessions. Try it next year.

September 11, 2010 at 11:19 am
Jay B. said:
This looks amazing. I hope I can go next year!

September 11, 2010 at 11:44 am
linda said:
Sounds wonderful!! Did you see our favorite celeb there? Wish we were there, keep us posted for next year. Will be down in a heart beat.

September 11, 2010 at 12:54 pm
Leah
said:
No, Linda, no such luck! Will keep you posted for the next one.