The kids are back in school. Labor Day is next week. My once burgeoning vegetable garden is history. Gee, I do believe summer is officially over. Again. How does time fly so fast from year to year?! Just as I was considering fertilizing my tomato plants for only the second time since planting them, I realized that there were precious few of them still hanging around. (Hmm, I guess I should have stayed on top of that task a little better.) Yup, I'm afraid tomato season has finally come to an end in Wine Imbiber's Garden of Eatin'.
Oh well, it was a fun (and tasty) ride while it lasted. I enjoyed participating in Summer Fest 2010, and I'm happy to report, it will evolve into Fall Fest 2010 once summer is off the calendar. I do have one more (summer) tomato recipe to share with those who are still finding tomatoes growing in their gardens. It's a classic, and perfect for just about any type of tomato you'd like to use.
Caprese salad (or Insalata Caprese, as it is known in Italy), is a simple yet flavorful salad from the Italian region of Campania. It is comprised of ingredients you most likely have (or had) growing in your garden, like tomatoes and basil. It's usually served as an antipasto (first course) rather than a side dish. Variations abound with this salad, as you can add many different herbs (like parsley and garlic), and dress it with different sauces (like balsamic vinegar or Italian dressing). I prefer to keep things simple so that the flavor of the tomatoes takes center stage. Though, I am partial to pairing tomato with onion, so I include chopped green onion in my salad. Its taste is milder than that of regular onion, so it doesn't overwhelm the flavor of the tomatoes. And for a little texture, I add pine nuts (known as pignoli or pinoli in Italy).
I'm not going to give amounts for this recipe, as you just throw it together indiscriminately as you would any other salad. Presentation varies from layering alternating slices of tomatoes, cheese and basil into a spiral formation (like I've done) to stacking alternating layers of the ingredients. Feel free to improvise with ingredients you have growing in your garden. I'm just going to list the things I normally include when I make this salad that the family enjoys the most.
WI wine recommendation: Fresh tomato (as compared to cooked tomato) is a tricky thing to pair with wine. Our preference is to have a nice crisp acidic white with some flavor, such as a Sauvignon Blanc, Grüner Veltliner, Pinot Grigio or Pinot Gris. If you must have a red, keep it to the lighter, less tannic reds, such as Pinot Noir, Barbera or Grenache.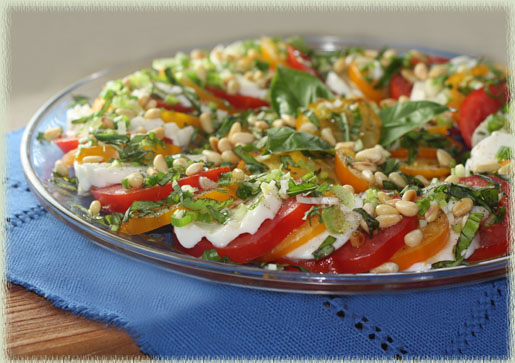 Caprese Salad Con Pignoli

Garden–fresh tomatoes (Heirlooms are particularly delish in this!)
Fresh buffalo mozzarella cheese, sliced into medium–thick medallions
Fresh basil leaves, chiffonade
Scallion (green onions), chopped (diagonally looks best!)
Pignoli (pine nuts), lightly toasted
EVOO (extra–virgin olive oil for you non–Rachel Ray followers)
Sea salt (not a lot)
Pepper

To assemble the salad as pictured, alternate tomato slices with the mozzarella medallions into a spiral formation on your serving plate. Sprinkle the basil, green onions and pine nuts on top. Drizzle some EVOO over everything, finishing with a quick grind of salt and pepper.