Today's tomato recipe that I'm submitting to Summer Fest 2010 comes from another Food Network star (and my favorite cookbook author), Ina Garten. Ina really gets how to cook with fresh from the farm or garden ingredients (as proven by the title of the episode that featured the recipe—Farm Stand Food). This recipe is perfect for using up those tomatoes that ripen all at once in your garden. And if you also happen to have basil growing, too, then this is your lucky day!
This recipe makes a good accompaniment for practically any type of main dish you're serving. It is also good enough to take a starring role in your lunch or dinner. I made a simple dinner out of this by topping it with poached eggs and serving it with garlic-rubbed sourdough toast. So yum! I took the liberty of making it a little more Italian by adding some Penzey's Tuscan Sunset spice and garlic powder, then I topped it all off with slices of fresh mozzarella cheese. I can't find the words to describe how flavorful all these elements were when they combined into bite after tasty bite! I must admit, though, we're big fans of eating anything topped with poached eggs (especially corned beef hash). But the tangy sweetness of the tomatoes offset by the richness of the egg yolks and the crunch of the garlic toast will forever linger on in my taste bud hall of fame.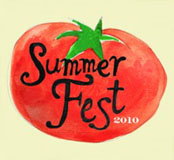 One point I should mention when choosing tomatoes for this recipe is to stick with tomatoes that are larger in size. Ina says to use plum tomatoes (which I don't have growing in my garden). I instead used a combination of Big Boy and cherry tomatoes (I didn't have enough ripe Big Boys at the time). This was a big mistake! The little tomatoes created too much of a peel party in my mouth than I cared to experience. So, make it a priority to use larger varieties of tomatoes if you have an aversion to too many tomato skins cooking loose in your recipe. I'm looking forward to trying this with heirlooms next time.
WI wine recommendation: Chianti makes a nice partner for this dish.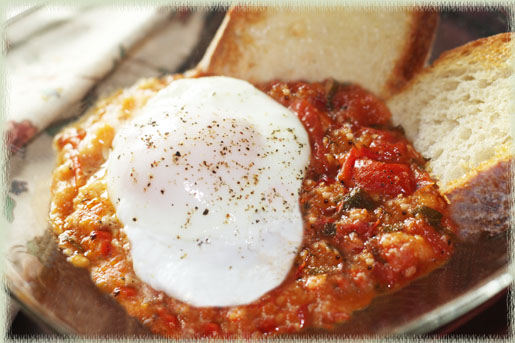 Scalloped Tomatoes
(adapted from Ina Garten)

Good olive oil
2 cups (1/2–inch diced) bread from a French boule, crusts removed
16 plum or other regular to large–sized tomatoes, cut in 1/2–inch dice (about 2–1/2 pounds)
1 tablespoon minced garlic (3 cloves)
2 tablespoons sugar
2 teaspoons kosher salt
1 teaspoon freshly ground black pepper
1 teaspoon Penzey's Tuscan Sunset
1 teaspoon garlic powder
1/2 cup julienned basil leaves, lightly packed
1 cup freshly grated Parmesan cheese
Slices of fresh mozzarella (as many as you want)

Preheat the oven to 350° F.
Heat 3 tablespoons of olive oil in a large (12–inch) sauté pan over medium heat. Add the bread cubes and stir to coat with the oil. Cook over medium to medium–high heat for 5 minutes, stirring often, until the cubes are evenly browned.
Meanwhile, combine the tomatoes, garlic, sugar, salt, pepper, Tuscan Sunset and garlic powder in a large bowl. When the bread cubes are done, add the tomato mixture and continue to cook, stirring often, for 5 minutes. Off the heat, stir in the basil.
Pour the tomato mixture into a shallow (6–8 cup) baking dish. Sprinkle evenly with the Parmesan cheese and drizzle with 2 tablespoons of olive oil. Top with slices of fresh mozzarella cheese. Bake for 35–40 minutes until the top is browned, the cheese is melted and the tomatoes are bubbly. Serve hot or warm.
Try topping with poached eggs and serve with crusty garlic toast to soak up the egg yolks and delicious tomato juices.