Palmaz Means Passion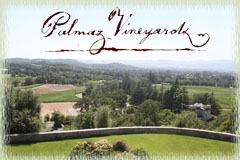 During our recent trip to Napa and Healdsburg, we made an appointment to visit Palmaz Vineyards. We had read about their cave–based winery years ago (and the local controversies over the development) and enjoyed their 2002 and 2005 Cabernet Sauvignon at an event in November 2009, at which we met Christian Palmaz (Director of Operations and son of founders Julio & Amalia Palmaz) and his wife, Jessica (Director of Hospitality). We had even featured the Palmaz Family dog, Gina, as our "Wine Dog of the Month" back in April 2009. So, we felt it was high time for us to actually visit the winery.
Palmaz Vineyards arranges tours and tastings by appointment only, so I contacted Jessica and she set a date for us. We had read about the expansive building built into the side of the mountain and some of the many obstacles the family had to overcome to get the winery development approved and constructed. We expected something pretty massive and, frankly, wondered why we hadn't seen it previously as it must really stand out. Jessica said we would need to spend about an hour for the tour and tasting (it was so relaxing and enjoyable, we actually spent more than an hour and a half and had to run to make it to our dinner reservation on time). We have been to so many winery tours that we half expected to get the usual fare—a welcome greeting, a viewing of some fermenting barrels and stainless steel tanks, some aging barrels and, perhaps, a bottling line, and then sample some nice wines and be on our way. The basics of winemaking are similar from winery to winery. Yet, we knew that this was likely a bit different than most others. What an understatement!
Palmaz is located along Hagen Road, a couple miles off of the Silverado Trail at the southern end of Napa Valley (Calistoga being at the northern end). In fact, Julio and Amalia Palmaz revived the historic (and long abandoned) Cedar Knoll Vineyard and Winery founded in 1881 by Henry Hagen, a Napa Valley winemaking pioneer (hence, the location on Hagen Road). As we drove up the driveway to the winery complex, we were directed to level three for parking. From there, we hiked up a long stone staircase, where we were greeted by co–owner Amalia Palmaz.
Amalia is one of the most gracious people to host a winery tour. We stood outside for awhile overlooking Napa Valley in the late afternoon sun as Amalia pointed out the various blocks of their vineyards set on rolling slopes, explaining that their microclimate is more temperate than that of the Calistoga or even the Stags Leap areas. Their property totals over 600 acres, of which about 55 acres is planted, and they are currently replanting about 15 of them. Because of the variation in elevation and slope and sun exposures, they have numerous smaller vineyard blocks that vary in elevation from 300 feet to about 1,400 feet at the top of the mountain. This enables them to grow grapes of differing styles for a single varietal. Their yield is relatively small at about 1.5 to 2.0 tons per acre.
Julio Palmaz was born and raised in Argentina and, after graduating medical school, became a resident at UC Davis in the late 1970s, where he came up with two ideas that would transform life as he and Amalia knew it. The first was his idea for development of the coronary artery stent. That invention ultimately enabled them to fulfill the dream formed from the second idea, to build a first–class winery in the Napa Valley. The project took about 10 years from planning to completion and Amalia was clearly a major part of that process. She recounts some of the challenges of building the winery and the sheer relief at completing the project. How was the opening party? "We didn't have an opening party. We were just too exhausted." But you can see the pride that rejuvenates her when she gives a tour inside the winery.
From the front, the building certainly looks fairly substantial, but the massive scale of the operation is actually hidden from view, discreetly tucked inside the mountain. Once inside, you begin to realize just how difficult it must have been to construct. Amalia explains, "The winery itself is on eight levels that take up the equivalent of a 15–storey building. By building it as a cave inside the mountain, we use so much less electricity because it stays cooler inside. The whole family works in the operation. Our family and our five other employees and about 10 vineyard workers handle the harvest and crush. We harvest the grapes at night when it is cooler. Then, we do various levels of sorting the clusters and grapes by hand. The entire operation is managed by gravity flow within the facility. We transport the wine as little as possible. The grapes are put through a gentle crush to get the best juice, which drops directly from the crusher into fermenting tanks."
At that point, we were at the crush location and we were overlooking the floor below where one to two dozen tanks were arranged in circle against the outer wall. I asked how they move the massive tanks directly under the crush location. Amalia explained, "The tanks below are sitting on a track that rotates and the tanks move, one at a time, under the crush location. But the tanks also have hoses on them that connect to the next level. We had to build a mechanism inside the walls to manage the tank hoses and keep them all straight and untangled as they rotate in a circular motion around the room and there is only a 1/16 inch tolerance for error. When we finished building it, we started it up and it didn't work." After a big sigh and smile, she continued, "Eventually, we got it to work."
It is clear that the Palmaz family is passionate about winemaking. Each step is carefully managed with extreme attention to detail and the facility is immaculate. The entire winemaking operation is managed through a special software application that was tailored for the facility. Amalia explained, "From the control panel, the winemaker and staff can control the motion of the tanks, the volume, the temperature, the brix. It is internet connected, so the winemaker can set parameters and, if they are not met, the system sends an alarm to the winemaker so that the winemaker can wake up at night and go to their home computer and make any necessary adjustments and go back to bed. The best part is that the system keeps a complete record of everything that is done, so we can go back and see what happened to a particular tank and learn how variations affect the resulting wine." Leah commented that the scale and sophistication of the operation looks a lot like something you'd see in a James Bond film.
After fermentation, the wine moves by gravity into barrels for aging. The barrels are set out in rows in long corridors that extend like spokes from the center of the operation. Palmaz uses 100% Bordeaux style French oak barrels and does no blending in the barrels. Along the way, we noticed a few barrels were showing the signs of wine seeping through the staves. Amalia explained, "There are so many things can go wrong in the winemaking process. We received one shipment of barrels in the past year that sat in the sun at the dock in France on some hot days, delayed by a strike, and we've had experts from the barrel manufacturer visit us to suggest how to deal with the problem and to study the impact on the wine. Fortunately, there weren't many barrels with this problem, so we won't lose too much of the wine." Along the way, Amalia stopped and treated us to a delicious barrel tasting of their Cabernet.
At that point, Leah mentioned that the Mayan calendar reveals that the world as we know it will end in 2012 and she asked Amalia if they had considered selling spaces in their winery cave to people interested in surviving the disaster, similar to the people who bought space on the ark in the movie 2012, except a winery cave is better than an ark. (No, she hasn't considered that.) From the barrel tasting, we proceeded to a tasting room, but that was in use by Amalia's daughter Florencia. So, we said a quick hello and moved to a nearby dining room centered on a beautiful dining table that the family brought from Texas (where they lived for some time).
Winery tours at Palmaz may cost a bit more than many other wineries, but they are worth every penny. It is an amazing place to experience. (Amalia noted that several wineries in France have sent their people over to see how Palmaz has set up its operation.) We sat down with Amalia in front of some beautiful appetizers and tasted their 2008 Napa Valley Riesling Louise, 2008 Napa Valley Chardonnay, 2006 Estate Cabernet Sauvignon and 2005 Estate Cabernet Sauvignon. Their whites are bright and elegant; their Cabernets are luscious, powerful wines. As we enjoyed the wines, Leah and Amalia chatted about children and family and, of course, dogs(I was occasionally able to work in a question or two.)
It is clear that Amalia and Julio are passionate about their family and winemaking and how nice it is to have the entire family working together. Of course, proximity can pose a challenge at times. Amalia recalls that, after working together for awhile, her children once observed that Amalia seemed to love her dog, Gina, more than anything else. So much, in fact, that the children predicted that when their parents passed on, they would have to get Gina's paw print on contracts in order to run the winery.
Leah was a graphic designer for her first career, so she is always interested in winery design and wine label design. She noticed that there are unique wine "stain" drips on the Palmaz wine label. In fact, Amalia noted, there are twelve different labels with twelve different label stain patterns for each wine they bottle. When they ship a case of a particular wine, they include bottles with each of the twelve different labels. Their attention to detail really sets them apart. However, as Amalia said, a lot of things can go wrong in the winemaking process. It turns out that Palmaz is going to be changing their label to eliminate the wine stains. Why? Because several retailers eventually complained that some of their customers mentioned that the wines appeared to be leaking from the bottle (as evidenced by the "stains") and the retailers didn't want to lose sales or have to explain why these bottles are so special. Sometimes, passion has to compromise with the reality of business. Yet, most of the time, passion truly reigns at Palmaz.
Comments (2)
August 12, 2010 at 8:20 pm
Jay B. said:
Wow! This just looks absolutely fun. Great job again.

August 27, 2010 at 4:07 pm
Winston W. said:
Wow. Re-living the memory of my wonderful visit to the winery.