Neely's Chicken Salad in Tomato Cups
This recipe (from Down Home with the Neelys) appeared in Need Recipes for Tomatoes? on 24 Aug 2010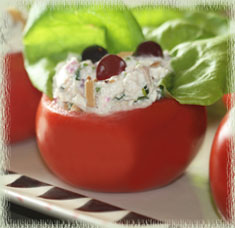 1 rotisserie chicken, skinless and meat shredded or diced
1/2 small red onion, diced
1 shallot, chopped
2 tablespoons freshly chopped tarragon leaves
1 celery rib, chopped
1 cup slivered almonds
2 tablespoons white wine vinegar
3/4 cup mayonnaise
3 cups halved seedless red grapes
Kosher salt and freshly ground black pepper
6 large beefsteak tomatoes
1 head butter lettuce

Mix first 10 ingredients in a large bowl.
Core tops of tomatoes with a paring knife. Using a melon baller, scoop out the insides of the tomatoes.
Lay a leaf of lettuce in each tomato so it peeks out of the top. Fill the tomatoes with a large scoop of the chicken salad and serve.
WI wine recommendation: Fresh tomato (as compared to cooked tomato) is a tricky thing to pair with wine. In general, try a nice crisp acidic white with some flavor; if you must have a red, keep it to the lighter, less tannic reds. Since the tomato is filled with chicken salad, we recommend going with the white—a Sauvignon Blanc, Grüner Veltliner, or Pinot Gris—which are also nice summer wines.