Need Recipes for Tomatoes?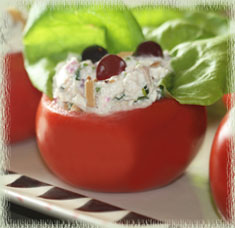 Summer Fest 2010 is celebrating tomatoes this Wednesday, and I'm getting a head start today so I can squeeze in all the recipes I've been making this summer with the tomatoes I've been plucking from my garden. I tried growing a few more varieties this year, all producing great results for my tomato recipe needs. I'll be posting four tomato recipes over the course of this coming week; some new discoveries and some old family favorites. Some that call for cooking the tomatoes; some that use them fresh off the vine. Either way, there will be something for everybody!
Our family eats tomatoes practically any way I serve them. Hot or not, they get eaten without much complaint (and sometimes, even praise!) from the teenagers. I personally like them best when used in recipes that don't require cooking. I'm not a fan of tomato peels separating from their pulp and slipping around in my mouth (not my favorite type of mouth–feel). But, the flavor that fresh tomatoes emit in cooked recipes all than makes up for the pesky peel dance on my tongue. Yes, I realize you can par–boil them to quickly rid them of their peels, but when the recipe instructs me to just slice or dice them and throw them in, that's what I do.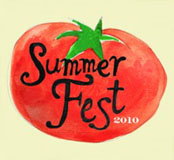 The first recipe this week caught my attention while watching Down Home with the Neelys on Food Network. If you've never seen their show before, I suggest giving it a try. If you like Paula Deen's style of cooking, than you'll appreciate the recipes that come out of the Neely's kitchen. If you can get over them cooing over each other to the point of needing a cold shower every episode, you should be rewarded with some tasty recipe ideas. As with most of Paula Deen's recipes, the Neelys don't pay much attention to calories or healthy ingredient alternatives. This recipe is pretty harmless, though (as it should be, considering it's a salad). If you have a gripe about all the fat and calories in the mayonnaise, you could always opt for a reduced–calorie version. This salad is so full of flavor and crunchy, crisp textures that you'd never notice the flavor difference. Besides, you might want to save some of the calories for the wine!
WI wine recommendation: Fresh tomato (as compared to cooked tomato) is a tricky thing to pair with wine. In general, try a nice crisp acidic white with some flavor; if you must have a red, keep it to the lighter, less tannic reds. Since the tomato is filled with chicken salad, we recommend going with the white—a Sauvignon Blanc, Grüner Veltliner, or Pinot Gris—which are also nice summer wines.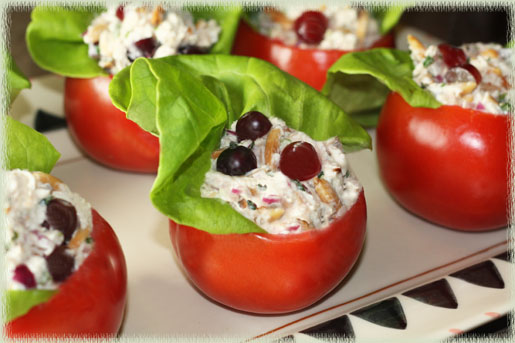 Neely's Chicken Salad in Tomato Cups
(from Down Home with the Neelys)

1 rotisserie chicken, skinless and meat shredded or diced
1/2 small red onion, diced
1 shallot, chopped
2 tablespoons freshly chopped tarragon leaves
1 celery rib, chopped
1 cup slivered almonds
2 tablespoons white wine vinegar
3/4 cup mayonnaise
3 cups halved seedless red grapes
Kosher salt and freshly ground black pepper
6 large beefsteak tomatoes
1 head butter lettuce

Mix first 10 ingredients in a large bowl.
Core tops of tomatoes with a paring knife. Using a melon baller, scoop out the insides of the tomatoes.
Lay a leaf of lettuce in each tomato so it peeks out of the top. Fill the tomatoes with a large scoop of the chicken salad and serve.
Comments (4)
August 25, 2010 at 1:19 pm
City Share
said:
That sounds great. I don't have tarragon at home. What do you think would be a good substitute?

August 25, 2010 at 2:08 pm
joshua
said:
yum!
Maybe fresh mint leaves instead of Tarragon?
In the summer when they are fresh off the vine you can never go wrong with a caprese salad either – sliced tomatos alternating wih slices of fresh mozzrella with olive oil and basil leaves here and there

August 25, 2010 at 4:32 pm
Leah
said:
Good answer, Joshua! I have mint and basil growing right now and either one of them would be a good substitute for the tarragon. I think that any fresh herb from the garden would work well. I actually didn't use as much tarragon as suggested (not a big fan of it), so I added some lemon thyme to fill out the 2 tablespoons.

August 26, 2010 at 10:33 am
Deirdre
said:
I agree, this recipe seems like it can be tweaked in any herbal direction you need to. Some diced fennel bulb (anise) added to the mix might revive the original version's tarragon flavor if you substitute some other herb.
In honor of Summer Fest, I posted on a fabulous uncooked tomato recipe that's perfect on a hot summer day, whether or not you're in Napa: http://hedonismink.blogspot.com/2010/08/gott-tomatoes.html