Key Lime Cheesecake Bars
This recipe (adapted from Modern Comfort Food) appeared in Celebrating Summer Fest on 18 Aug 2010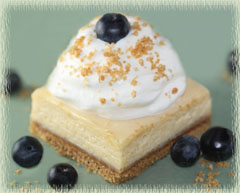 3/4 cup plain graham cracker crumbs (approximately 6 graham crackers)
1/2 cup unsalted, sliced almonds
A dash of ground cinnamon
3 tablespoons melted butter
4–6 ounces lemon curd (my addition)
1 14–ounce can sweetened, condensed milk
8 ounces cream cheese (or American Neufchatel cheese), at room temperature
2 raw egg yolks
9 tablespoons (1/2 cup plus 1 tablespoon) fresh or bottled key lime juice
Optional topping: 1/4 cup unsalted, sliced almonds tossed with 1 teaspoon confectioner's sugar
Freshly whipped cream, crust crumbs and fresh blueberries (my additions)

Preheat the oven to 350° F. Line a square 9–inch cake pan or 8–inch by 10–inch rectangular baking pan with parchment paper cut to fit.
In the container of a food processor or chopper, pulse the graham cracker crumbs, 1/2 cup sliced almonds and cinnamon until finely ground. Add the melted butter and pulse briefly until fully blended. Press the crumb mixture firmly into the bottom of the prepared baking pan. Slather on lemon curd (if using).
In a mixing bowl, whip the condensed milk, cheese, egg yolks and key lime juice until smooth. Pour this filling over the lemon curd/crumb crust. Sprinkle on the optional 1/4 cup sliced almonds (if using).
Bake in the preheated oven for 25 minutes or until the filling is just set and the optional almond topping is lightly toasted. Chill for at least 6 hours, or preferably overnight, before serving. If you made this without using the optional sliced almonds for a topping, serve with dollops of whipped cream sprinkled with crust crumbs and fresh blueberries. Serves 6–8 adults (or 4 teenagers).
WI wine recommendation: Recipes calling for ciitrus fruits like limes and lemons taste best with more acidic wines, so try a crisp white (like an unoaked Chablis or Chardonnay). Others to consider would be a dry Riesling, Sauvignon Blanc or Grüner Veltliner. Prosecco (not an overly–sweet one) would be another good choice.