Today, we feature a post from Leah's brother, Craig, who lives in the heart of the Oregon wine country and reports on a local event he attended this past weekend. Grazie mille, Craig!
On assignment for Wine Imbiber, yours truly went to Carlton, Oregon, for a "trip" to Italy in the Pacific Northwest's Willamette Valley for an afternoon of wine tasting, food, music and art. Cana's Feast Winery was host to an afternoon of Italian varietals appropriately named "Italy in the Valley". Wines made with fruit sourced from south–central and southeastern Washington, Southern Oregon and the Willamette Valley were featured, along with Gina Fanucchi artisan olive oils, the magical accordion of Guistino Franzino, photographs from racing enthusiast Gregory Petrolati, and the Ferraris of Frank Mitchell, Susan Meredith, and Tom and Leslie Patton. Benvenuto a Carlton, Amici!!
For a $15 entrance fee, we were able to sample a wide range of Italian varietals from Willamette Valley wineries and partake of the Mediterranean–inspired panini from Executive Chef Lisa Lanxon—either fennel and coriander slow–roasted pork with shaved zucchini salad, or the roasted eggplant panino with olive relish, arugula pesto and mozzarella served with pasta salad with blistered cherry tomatoes, basil and orange zest. I devoured the roasted eggplant panino and it was outstanding. So good in fact, I tried to sneak back through the line later in the afternoon (like a kid going back to a good candy house during Trick–or–Treat with a different costume) but, alas, they ran out. Fifteen wineries were on hand to offer their outstanding vino, but we were only able to sample about ten before the crowd got too large and we had to hit the road in the interest of sobriety. Given the choice, we would have preferred to do so in one of the Ferraris on display but, deciding that discretion was the better part of valor, we decided to leave in the SUV that brought us.
As a quick guide to Italian varietals, the reds include Barberas, Sangioveses, Dolcettos, Nebbiolos, Primativos, Lagreins, and the Super Tuscans (an unofficial category not recognized within the strict centuries–old Italian wine classification system, most often are wines that are Sangiovese–predominant and blended with Cab or Merlot). For whites, one may consider the Arneises, Pinot Grigios and Vermentinos. The Pacific Northwest isn't typically hospitable to red Italian varietals, but east of the Cascades in southern Washington and northern Oregon in the Columbia River Gorge area the high desert climate with just 10 inches of annual rainfall (compared to 40 inches along the coast) offer drier conditions that are starting to show good results for determined growers. The plentiful sunshine helps to ripen the hot–weather loving Italian reds.
I prefer the reds, but was pleasantly surprised to find a 2009 Vermentino by Troon Vineyard and a 2007 Lagrein by Remy Wines to be quite pleasing. Vermentino is widely planted in Sardinia, Corsica, Liguria, and the Piedmont region and is known for its amber–colored fruit and late ripening cycle. It has food–friendly crisp acids, citrus and leaf aromatics, and clean minerality. Troon is one of the few known producers of Vermentino in the Pacific Northwest (the grape is grown in southern Oregon) and it's one of the largest vineyards to produce this ancient grape in the US. Their 2009 vintage is already sold out. The Arneis from Ponzi Vineyards also originates from the Piedmont region and is a fairly difficult grape to grow. It had a crisp and floral quality that went great with my roasted eggplant panino. I found both to be a great replacement for chardonnay for my summer imbibing.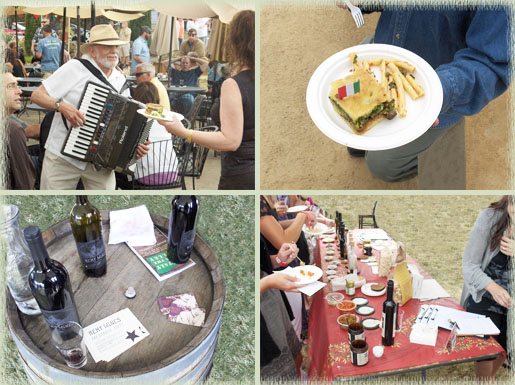 The reds offered up some truly good Barberas (2007 by Viento), Dolcettos (2009 by Marchesi, 2007 by Ponzi and both 2006 and 2007 by Tartan), and a Primativo (2008 by Angel Vine) which I had never tried before. The Primativo is a close relative to Zinfandel and traditionally grown in the "heel" of Italy where it was introduced in the 1700's. It's got a red and blackberry fruity flavor, along with some anise and pepper notes. I loved it! It was a surprise to taste it, making me think I was back in the San Francisco Bay Area in the 60's. The only thing missing was the hot tub. My favorite wine there also turned out to be the most expensive one. Almost all of the wines were in the $15 to $30 range, except for the 2007 Lagrein by Remy which was priced at $48. It turns out that it's produced at Illahe Vineyards in the South Willamette Valley, just down the street from me in Salem. Their Lagrein is barrel–aged for two years in 50% new American Oak and bottle aged for six months before being released. Like all Remy wines, it's bottled under a glass cork. It was a late ripener in general, and in 2007 the fruit hung until the first day of November and came into the winery in a vibrant red, ripe and luscious state. It's un–filtered, and it can be enjoyed now or put in a cellar for up to ten years. It's really different! Remy only makes about 60 cases of Lagrein, from just one acre of grapes at their vineyard. Good luck trying to find some out of the area.
Besides the great wines, Gina Fanucchi of Fanucchi Oils had a large array of fine extra virgin olive oils for tasting which she carefully selects from small, artisan producers in the Mediterranean region and imports to the Pacific Northwest. The line for her samples was longer than any of those we experienced for the wines!
While partaking in the food and wine, we enjoyed the Italian accordion of Guistino Franzino (how's that for an Italian name?). [For a sample, listen here; for more, go to Guistino's demo clips.] Guistino wandered the grounds serenading all of the ladies, prompting one to start singing songs that would make Don Corleone weep with joy. She seemed somewhat primed to perform, and whether it was all the wine she had consumed or the leopard–skin pumps she was wearing, it was hard to tell. But she would not be denied the opportunity to sing.