Celebrating Summer Fest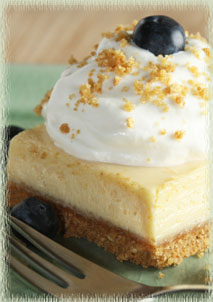 I recently discovered a cool little cross–blog food event (Summer Fest 2010) that celebrates peak harvest season by inviting everyone to post tips and recipes that correspond to a different theme each week (this week's being stone fruit). Unfortunately, we don't have any stone fruit trees growing on our property, but I'm still participating with a recipe for Key Lime Cheesecake Bars.
How am I daring to submit a recipe that contains nary a peach or plum? Well…Margaret (head gardener and creator of Summer Fest) at awaytogarden.com wrote a very enlightening article about stone and pome (think apples and pears) fruits and how they are all members of the Rose Family. This family even includes almonds, raspberries, blackberries and strawberries as members. The limes in this recipe don't fall into this category of tree fruit, but the crust contains almonds, so I'm going to run with that. And, I served this with blueberries from my garden (we all know how deliciously well blueberries pair with limes!). I'm going to venture a guess that they might qualify as a Rose Family member the same way the other berries did. If I'm wrong, it doesn't matter. The Summer Fest folk promise not to scream if you submit berries or other fruit. After all, we're just paying tribute to all the hard work we've invested in our fruit and vegetable gardens this summer.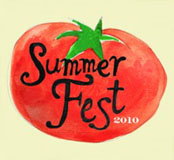 This recipe is similar to key lime pie but with one major ingredient exception. It contains cream cheese, which produces an even more luscious filling consistency than you'd get with a typical key lime pie recipe. I chose to forgo the sliced almonds as a topping; opting instead for freshly–whipped dollops of cream and a sprinkling of the addictive crust crumbs. Toss on some fresh–from–the–garden (or produce aisle) blueberries and get ready to be catapulted into sublime–ity!
I did one thing that some recipe purists might categorize as "gilding lilies" but hey, desserts are meant to be gilded. I happened to have a partial jar of lemon curd sitting in the fridge waiting to be used up, so I slathered it all over the crust (before pouring the lime filling on top). Talk about over the moon…the teenagers went into a frenzy over these! So much tang and so little time to secure a piece before it was reduced to a pan of crumbs.
Don't worry if you can't get your hands on key limes for this recipe. Regular Persians work just as well. I've made this using both types (Rich's sister has a humongous Key lime tree that she generously shares with us), each producing an unforgettable result. Our lime tree is filling up with fruit quickly this summer…I see many of these bars in our future!
WI wine recommendation: Recipes calling for ciitrus fruits like limes and lemons taste best with more acidic wines, so try a crisp white (like an unoaked Chablis or Chardonnay). Others to consider would be a dry Riesling, Sauvignon Blanc or Grüner Veltliner. Prosecco (not an overly–sweet one) would be another good choice.


Key Lime Cheesecake Bars
(adapted from Modern Comfort Food)

3/4 cup plain graham cracker crumbs (approximately 6 graham crackers)
1/2 cup unsalted, sliced almonds
A dash of ground cinnamon
3 tablespoons melted butter
4–6 ounces lemon curd (my addition)
1 14–ounce can sweetened, condensed milk
8 ounces cream cheese (or American Neufchatel cheese), at room temperature
2 raw egg yolks
9 tablespoons (1/2 cup plus 1 tablespoon) fresh or bottled key lime juice
Optional topping: 1/4 cup unsalted, sliced almonds tossed with 1 teaspoon confectioner's sugar
Freshly whipped cream, crust crumbs and fresh blueberries (my additions)

Preheat the oven to 350° F. Line a square 9–inch cake pan or 8–inch by 10–inch rectangular baking pan with parchment paper cut to fit.
In the container of a food processor or chopper, pulse the graham cracker crumbs, 1/2 cup sliced almonds and cinnamon until finely ground. Add the melted butter and pulse briefly until fully blended. Press the crumb mixture firmly into the bottom of the prepared baking pan. Slather on lemon curd (if using).
In a mixing bowl, whip the condensed milk, cheese, egg yolks and key lime juice until smooth. Pour this filling over the lemon curd/crumb crust. Sprinkle on the optional 1/4 cup sliced almonds (if using).
Bake in the preheated oven for 25 minutes or until the filling is just set and the optional almond topping is lightly toasted. Chill for at least 6 hours, or preferably overnight, before serving. If you made this without using the optional sliced almonds for a topping, serve with dollops of whipped cream sprinkled with crust crumbs and fresh blueberries. Serves 6–8 adults (or 4 teenagers).
Comments (1)
August 19, 2010 at 7:05 am
DianaHayes
said:
Looks delicious and creamy. I envy people who can grow citrus in their backyards.