Around the World in 80 Sips (LA)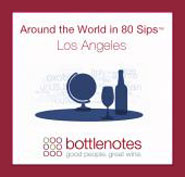 A week ago, we ventured out on Thursday night for an event we had never attended—Around the World in 80 Sips. This is Bottlenotes' signature event, held several times a year in major cities across the USA. The event has taken place in San Francisco, Chicago and New York, but this was the first time it was held in Los Angeles. The event concept is pretty straightforward—taste about 80 wines that come from all over the globe. The Bottlenotes tag line is simple—"good people, great wine". There was certainly some great wine at the event, but the people were pretty great, too.
The LA installment of 80 Sips was celebrated at the comfortable yet chic h.wood lounge and eatery in—you guessed it—Hollywood, right around the corner from the landmark Grauman's Chinese Theater. This venue was a good choice because the layout is interesting—upstairs loft dark wood atmosphere with a main walkway joining a few different areas. The event wasn't overly crowded during the VIP hour, though it did get pretty busy for the main part of the evening. Yet, it never took long to get to the wine sample tables.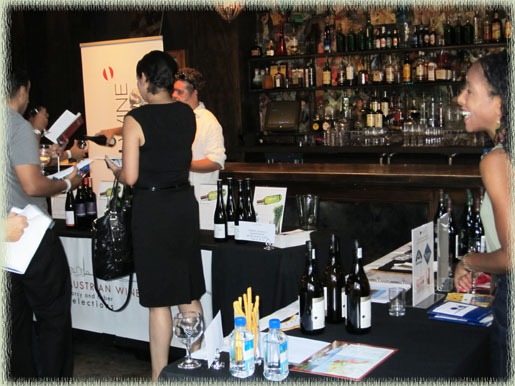 In addition to the glass, guests were handed a convenient notes booklet listing most of the wines on hand, including the typical retail price and a brief background on each winery. There was also space to rate each wine (5=loved it; 1=hated it) and room for personal notes. In keeping with the event theme, there were wines from Argentina, Australia, Austria, Chile, France, Israel, Italy, Lebanon, New Zealand, South Africa, Thailand and the USA (California). Actually, I counted a bit over 100 wines, but I had no problem with them going over the 80 level (now that I think of it, maybe we were supposed to limit ourselves to 80 sips!).
We couldn't sample every wine that evening, but some notable ones we really liked were from Yangarra of Australia (2007 Old Vine Grenache, 2007 Shiraz) and 2006 Cadenzia GSM), Hajszan of Austria (2008 Gemischter Satz Weissleiten—a white), Long Boat of New Zealand (2008 Sauvignon Blanc), Villa Maria Estate of New Zealand (2008 Private Bin Unoaked Chardonnay), Koopmanskloof of South Africa (2009 One World Chenin Blanc), and Radee Wines of Thailand (NV Passionfruit and NV Pineapple Ambrosia dessert wines—for some reason, we didn't try their NV Mangosteen Ambrosia).
From California, we particularly liked wines from Calcareous Vineyard of Paso Robles (2009 Vin Gris de Mourvèdre), Chateau Montelena of Calistoga (2008 Napa Valley Chardonnay, 2007 Napa Valley Cabernet Sauvignon, 2004 Estate Cabernet Sauvignon and 2007 Estate Zinfandel), Clos Du Val of Napa Valley (2006 Carneros Pinot Noir, 2006 Napa Valley Merlot and 2005 Stags Leap District Cabernet Sauvignon—and they also poured a really nice sparkling 2008 Taltarni Brut Taché from the iron–rich Pyrenees wine region of Northwest Victoria, Australia), Per Cazo Cellars of Paso Robles (2009 Tres Blanc—a Rhône blend), Sculpterra Winery of Paso Robles (2009 Viognier), Spring Mountain Vineyard of Napa Valley (2007 Estate Bottled Sauvignon Blanc and 2005 Estate Bottled Cabernet Sauvignon), and Vina Robles of Paso Robles (2009 White Huerhuero—a blend of Vermentino, Verdelho, Viognier and Sauvignon Blanc).
In the novelty category, we tried some of the Barokes "Wine in a Can" from Australia. We were trying whites at the time, so we sampled their Sparkling White and their Chardonnay. We preferred the Sparkling White and it might be an interesting way to bring some wine to the beach someday.
In addition to taking everyone around the world on a wine tasting tour, this event also provided some support for the local Los Angeles March of Dimes. We're looking forward to the next 80 Sips event in Los Angeles. In the meantime, Bottlenotes also has a daily newsletter called, appropriately enough, The Daily Sip, that is worth checking out.

Disclosure: We were granted complimentary media passes to this event.
Comments (1)
August 26, 2010 at 4:37 pm
Jasmine & J said:
Cool website! It was fun talking to you at 80 Sips. We had a blast at the event! Maybe we'll run into you again at another LA event.