Upside–Down Berry Cornmeal Cake
This recipe (from Better Homes & Gardens) appeared in Move Over Shortcakes…Cornmeal Cake is Here! on 15 Jul 2010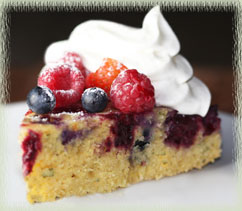 2 to 2–1/2 cups fresh blueberries, raspberries, and/or blackberries
1–1/3 cups all–purpose flour
1/2 cup yellow cornmeal
1 tablespoon finely snipped fresh basil
2 teaspoons baking powder
1/4 teaspoon salt
2 eggs, lightly beaten
1/2 cup sugar
2/3 cup milk
1/3 cup canola oil
Fresh Basil and/or mint (optional)

Preheat oven to 350° F. Lightly grease an 8–inch round cake pan, line bottom of pan with parchment paper; grease. Arrange 1–1/2 cups berries in bottom of pan; set side. In bowl stir together flour, cornmeal, basil, baking powder, and salt. Set aside.
In another bowl whisk together eggs, sugar, milk, and oil. Add egg mixture all at once to flour mixture. Stir until combined; pour over berries. Spread evenly.
Bake 40 to 45 minutes or until pick inserted near center comes out clean. Cool cake in pan 5 minutes. Run knife around edge of the pan to loosen sides. Invert. Remove parchment. Top with remaining berries, basil and mint. Wine Imbiber suggests: Serve with whipped cream, or slightly warmed with vanilla ice cream.

WI wine recommendation: This dessert isn't overly sweet, so a sparkling wine, or a dry Riesling or dry Gewürztraminer (such as those from Claiborne & Churchill), pairs well with this dessert.