TJT: Crostini with Lemony Mascarpone & Sweet & Fiery Peppers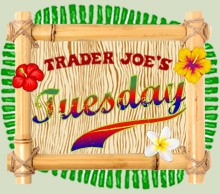 We've been known to belt the old grape and nosh on appies instead of preparing elaborate meals during the dog days of summer. What better than a nice glass of wine paired with little bites and chews while sitting in your backyard watching the sun slip behind the horizon line? Not to wax poetic over happy hour at the Wine Imbiber's house or anything, but that's usually what happens (unless, of course, one of the teenagers crashes our happy little scene and demands food—like meat—and lots of it).
This has been happening a lot lately, especially with the youngest teen. We can't figure out how anybody can be so hungry all the time. It's like a bear waking up from hibernation every day. The appetizers I referred to above are merely a crescendo to the main feeding of his day. We, unfortunately, are at the age where appetizer–sized portions are more than enough to "maintain" our figures. It lends new meaning to the phrase, "Youth is wasted on the young" around here.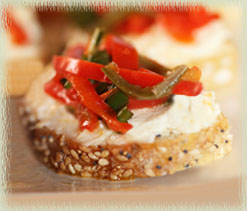 At least this means they all appreciate the food we make (no matter what size it is). They've become our personal crash test dummies in the kitchen this summer, and so far we've had very few casualties. One recipe, that was a surprise hit with everybody, I found over at Framed. In case you aren't familiar with the website, Kate is a professional photographer who blogs about her exploits in the kitchen, her family (which, like ours includes a teenager and a rescue dog, only we have 3 to 4 times as many of each as she does) and her photography. This recipe comes from a Meet The Chef event she was covering. It fit the bill for a Trader Joe's Tuesday recipe with its ease of preparation and list of ingredients, so I gave it a try.
I was worried that the peppers might turn off a couple of the kids, but not a problem this time. The combination of mascarpone cheese and lemon zest provided a nice, sweet foil to the peppers and made everyone happy (especially those of us who were also drinking wine). TJ's usually has a great selection of peppers (both sweet and hot), and lately I've been noticing varying sizes of sweet peppers in their produce department. They had a bag of baby peppers in yellow, orange and red the last time I was there.
WI wine recommendation: A dry Riesling or dry Gewürztraminer should pair nicely with this appetizer, which has both spicy and sweet flavors.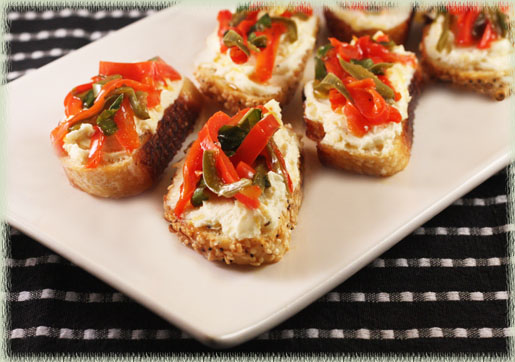 Crostini with Lemony Mascarpone & Sweet & Fiery Peppers
(from Chef Jessica Marotta of Campania Restaurant)

Crostini:
1 baguette, sliced into 1/4 inch slices
Extra virgin olive oil
Mascarpone:
12 ounces mascarpone
2 lemons, zested
1 teaspoon kosher salt (or more to taste)
1/4 teaspoon fresh cracked black pepper
Peppers:
2 medium sweet red peppers, cut into 2 by 1/8 inch strips
1 to 2 hot chile peppers, cut into 1/8 inch strips, seeds removed if less heat is desired
3/4 cup extra virgin olive oil
3 to 4 cloves garlic, smashed with the back of a knife
2 tablespoons red wine vinegar
4 to 5 basil leaves, torn
Salt and freshly ground pepper, to taste

Crostini:
Preheat oven to 375° F. Arrange bread in a single layer on sheet pan and drizzle with oil. Bake about 10 minutes or until toasts are light golden brown. Remove pan from oven and drizzle again with oil and let cool.
Mascarpone:
In a large bowl, combine mascarpone, lemon zest, salt and pepper and stir to combine. Add more salt and pepper if desired.
Peppers:
Heat olive oil in medium saute pan over medium heat until hot. Add peppers and cook for one minute. Reduce heat to low and cook for and additional 25–30 minutes or until the peppers are very soft and the oil has taken on a reddish color. Add garlic cloves and cook another 5 minutes. Remove from heat and add vinegar, basil, salt and pepper to taste. Once refrigerated, peppers will hold for about one week.
Assemble:
Using a spoon, spread the lemony mascarpone on the crostini, top with warm peppers.
Comments (2)
July 28, 2010 at 8:21 am
Home with Mandy
said:
I'm loving the combo of mascarpone and hot peppers – and always looking for creative snacks to pair with wine. Great post!

July 30, 2010 at 12:09 pm
Katerina
said:
These crostini with mascarpone are great snacks.