Move Over Shortcakes…Cornmeal Cake is Here!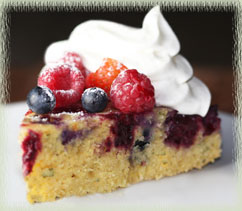 I finally tackled the stacks of magazines that have been staring me down for years on end and came across a real recipe winner from Better Homes and Gardens for Upside–Down Berry Cornmeal Cake. The photo of it practically jumped off the page and lunged at my salivary glands as I was haphazardly flipping through the magazine. Mmm…summer berries. And cornmeal cake. How did I not ever make this recipe when I originally received this issue way back in 2007? I really can't answer that question, but thankfully it didn't escape my attention this time around and I pulled it together faster than you can say "More, please!"
This cake totally epitomizes the tastes of summer, which by the way, is finally in full swing here in Los Angeles. May–gray and June–gloom have finally left us and have been replaced with the bowels–of–hell heat that we usually experience this time of year. The tomatoes growing in my garden practically ripened overnight with all the sun they've just begun receiving and even my new little blueberry bush began bursting with usable ripened berries. Unfortunately, I had just given my mint plant its seasonal buzz–cut and didn't have any leaves left to add to the recipe. My basil was doing fine, though, so at least I was able to utilize some of it. Who'd have ever thought that adding fresh basil to a cake recipe would lend any flavor at all? It's subtle, but it's definitely there. It complements the corny taste of the cornmeal cake quite well. I might just start adding basil to my corn muffins the next time around.
I followed the suggestion for adding extra sweetness to the cake by making the icing and brushing it on top. Apparently, we didn't wait long enough for the icing to set up before devouring the cake (no delightful white drips visible in any of my photos!). Something white, smooth and creamy is definitely called for here to offset the rich colors of the berries, though. I opted for whipped cream, but some good old vanilla ice cream would do the trick just as well. Either way, this cake would make the perfect ending to any meal you serve this summer. Make it while the berries are still at their peak of freshness and you won't be disappointed!
WI wine recommendation: This dessert isn't overly sweet, so a sparkling wine, or a dry Riesling or dry Gewürztraminer (such as those from Claiborne & Churchill), pairs well with this dessert.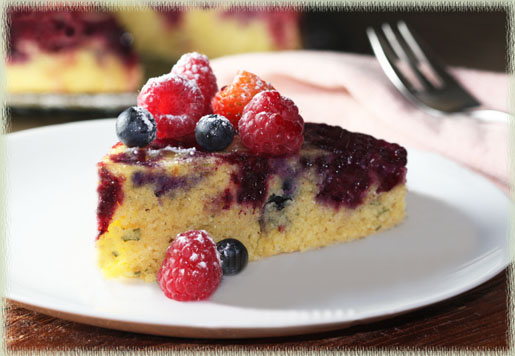 Upside–Down Berry Cornmeal Cake
(from Better Homes and Gardens)

2 to 2–1/2 cups fresh blueberries, raspberries, and/or blackberries
1–1/3 cups all–purpose flour
1/2 cup yellow cornmeal
1 tablespoon finely snipped fresh basil
2 teaspoons baking powder
1/4 teaspoon salt
2 eggs, lightly beaten
1/2 cup sugar
2/3 cup milk
1/3 cup canola oil
Fresh Basil and/or mint (optional)

Preheat oven to 350° F. Lightly grease an 8–inch round cake pan, line bottom of pan with parchment paper; grease. Arrange 1–1/2 cups berries in bottom of pan; set side. In bowl stir together flour, cornmeal, basil, baking powder, and salt. Set aside.
In another bowl whisk together eggs, sugar, milk, and oil. Add egg mixture all at once to flour mixture. Stir until combined; pour over berries. Spread evenly.
Bake 40 to 45 minutes or until pick inserted near center comes out clean. Cool cake in pan 5 minutes. Run knife around edge of the pan to loosen sides. Invert. Remove parchment. Top with remaining berries, basil and mint. Wine Imbiber suggests: Serve with whipped cream, or slightly warmed with vanilla ice cream.
Comments (12)
July 15, 2010 at 11:48 pm
Foodie in Berlin
said:
I make a really nice cornmeal cake with lemon inside. But I had a brainwave – it might be delicious to mix the two recipes together?

July 16, 2010 at 5:39 am
cake recipe
said:
That looks really amazing! I really love adding fruits in my cake recipes. Either as garnishing or part of the ingredients, I think it's really refreshing. It sort of break the heaviness or creaminess of the cake. I equally love baking and decorating my cakes!


July 17, 2010 at 11:23 am
Sally Baho
said:
This looks amazing! I'm having a party today and I'm going to make this

Thank you

July 17, 2010 at 12:05 pm
Becki Sue said:
This looks delicious. I'm definitely going to be making this one. Plus, it doesn't look like it is that unhealthy!!

July 18, 2010 at 9:22 am
Wine Imbiber
said:
Sally and Becki Sue,
Let us know how it turns out.
Rich & Leah

July 18, 2010 at 11:36 am
Carla said:
Wow, that looks so good! I must make this!

July 20, 2010 at 8:51 am
hungry dog
said:
I recently made my first upside down cake (with plums) and am now totally smitten. I like the looks of this one, thanks for posting!

July 26, 2010 at 6:36 pm
Ivonne
said:
That picture is the essence of summer with all those berries! Delicious!

July 26, 2010 at 6:48 pm
Cream Puffs In Venice - Magazine Mondays: Cake!
said:
[…] WI from Wine Imbiber made Upside-Down Berry Cornmeal Cake from Better Homes and Gardens. […]

July 27, 2010 at 8:29 pm
Wanda
said:
I must try your cake. I have berries in the fridge right now and am intrigued with the idea of using cornmeal in a cake. It's really beautiful!

August 20, 2010 at 4:35 am
kittywren said:
This cake is beautiful and delicious. My husband brought it to a meeting, and it was very well received.(he brought a very small sliver home so I could try). Adding the basil was brilliant. I did glaze with an icing flavored with almond extract. I have several cornmeal cake recipes, but when berries are ripe, this is the one! Thank-you!

August 20, 2010 at 4:30 pm
Michelle
said:
Looks wonderful!