We had an opportunity to visit Napa earlier this month and I decided we'd focus this journey on wineries that are open by appointment only. Following a lead from a contact of ours, we were able to schedule a vineyard tour and wine tasting at Crocker & Starr in St. Helena. Directed by our GPS to the address we were provided, we found ourselves on a dirt road alongside the middle of a wide vineyard, with no man-made structures in sight. Feeling a bit lost, we hailed a woman walking along the road with her dog to ask for directions. Fortunately, the woman turned out to be noted winemaker Pam Starr who pointed us back in the proper direction. Finally, we arrived at a distinctive house that holds the winery's offices.
The house was originally located down Mills Lane and is one of the few remaining historic farmhouses from around 1918. Charlie Crocker moved the house to the head of his vineyard and restored it, a sign of his appreciation for history and tradition. We were greeted again by Pam and her dog, Griffin, a Wirehair Pointing Griffon, and introduced to Mark, who would join us for a tour of the Crocker vineyard. It turns out Mark is a friend and former colleague of our contact who turned us on to this winery. We enjoyed a glass of their 2009 Sauvignon Blanc on the porch, getting to know Pam, Mark and Griffin a bit.
When it was time for the tour, Mark led us over to a cozy stone structure that was cool inside, a welcome break from the July afternoon heat. Pam noted, "The façade of the stone house was built from stones that Charlie Crocker collected from the eastern edge of his property near the Napa River and offers a great wine tasting venue." Before tasting the wines, however, we walked out into their vineyard, which was originally the site of the Dowdell Winery vineyard dating back to the 1870's and has been continuously farmed ever since.
Mark explained that Pam is very terroir driven and that, as part of her "due diligence", she had soil samples taken from all over the vineyard before joining Charlie Crocker. Pam remembers, "Charlie and I met through a third party in 1997. I was introduced to his vineyard and he knew of my successes at Spottswoode. It was exciting to both of us—the prospect of resurrecting the winemaking of his historic estate." Pam continued, "Charlie smiles recalling the beginning of our partnership and the number of backhoe pits and soil profiling we did. I wanted to make sure that the soils were truly those worthy of world class Cab." Mark noted, "The vineyard's soil is the result of the alluvial flow from Spring Mountain." A celebrated wine results from exceptional grapes that express the distinctive characteristics of a superior vineyard, guided by a winemaker who recognizes the potential and guides the process to capture the power of the place. Crocker & Starr certainly has all of the essential elements in place.
We talked more about Pam's winemaking philosophy and she explained, "We follow organic and sustainable practices in the vineyard. For example, we recently rescued about a dozen olive trees when Chef Philippe Jeanty's PJ Steak & Seafood in Yountville closed." The trees outline an area in front of the winery offices that is being used as a sort of experimental garden. Pam observed, "The garden is a paradise in progress, a place where we can share the wine right in the vineyard and show the distinction of the wines and the vines. It shows our commitment to recycling, reusing materials and organics. One day, hopefully in the not too distant future, Charlie and I would like to build a winery, too."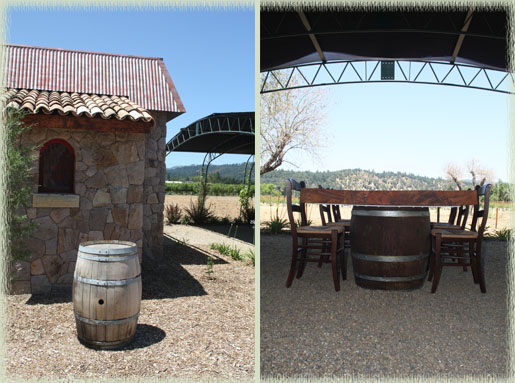 The 2006 vintage is Pam and Charlie's 10th vintage together and their annual production is now about 2,400 cases. Charlie owns about 100 acres, which includes his Dowdell Victorian home, the Stone Winery, Brandy House (site of an old distillery) and a walnut orchard. They sell most of their grapes to other producers, keeping back some of the best for their wines. Back in the stone house, we tasted their 2006 Estate Cabernet Sauvignon "Stone Place", the name that was used for their wine for their first ten years. We also tasted their 2007 Cabernet Franc (blended with 2% Malbec). These are rich, complex wines that we enjoyed thoroughly (production and tasting notes are on their website).
We also enjoyed tastes of a white and a red bottled under the "Bridesmaid" label, which has an interesting story. When wineries blend wines each year, they inevitably end up with some leftover barrels of wine—wine that, for various reasons, aren't used in the final product the winery is striving to produce. Those barrels are called orphans, because they are, well, left behind. Pam teamed up with Drew Neiman of Neiman Cellars to use a choice selection of orphan barrels from various wineries to blend some very interesting wines. The "Bridesmaid" sobriquet follows from the idea that these wines were not "married" with others into a winery's released wines, but were merely forlorn bridesmaids (as in "always the bridesmaid, never the bride"). Yet, these forsaken wines are often of very high quality from high–end wineries. The resulting blends were quite good—and it makes for a nice label story, too.
Pam's goal is to establish Cabernets from the St. Helena Appellation that rival a first growth Bordeaux. It will be exciting to follow her continuing success in the coming years. In the meantime, I'll open a bottle and reflect on Pam's parting words, "May only great wine pass the rim of your favorite glass!"