5th Annual East LA Meets Napa
This past Friday night, we joined in the fun at AltaMed's 5th Annual East LA Meets Napa event at LA's historic Union Station. This was the first time we attended this event and we were graciously hosted by Alexia Haidos of Double A Public Relations & Marketing, who did fantastic work promoting the event. A benefit for AltaMed, whose mission is to increase access to quality and culturally relevant health and human services to the underserved in Southern California, the theme was pairing wine (instead of margaritas and beer) with Latin food. Wines were poured by many Latino–owned or –operated Napa wineries and the event also showcased some of Baja California's best wines from the Valle de Guadalupe region to commemorate Mexico's Bicentennial celebration.
More than a food and wine festival, East LA Meets Napa is really an event. Against the backdrop of the open–air majestic courtyard at Union Station, there was a wandering mariachi ensemble dressed in their festive garb that really set the mood. The music on the main stage was provided by Jose Rizo's Mongorama, which kept the beat going for the entire event. Many of the Latin food purveyors were outfitted in traditional dress, punctuating the authenticity of the evening. The silent auction benefiting AltaMed operated discreetly in the background.
A host of tasty food delights were cooked up by a range of Latin culinary experts, including the likes of chef John Sedlar (always one of our fave LA chefs), who served up his signature artistic tortillas pressed with edible flowers, fresh herbs and olives from his eponymous Rivera. These varied slightly from the tortillas we sampled at another event last year as he added Indian spice (think curry) to the corn masa this time. The accompanying spicy yogurt sauce completed the taste in a way only John Sedlar could create. Chef Alfonso Ramirez offered up his Luna–based Nuevo Latin Cuisine, including his coconut shrimp with pineapple jalapeño salsa. There were a variety of taquitos, tacos, and meat dishes (including a delicious tongue taco) from many restaurants (too numerous to name all), including La Parrilla and Señor Fish, and a wonderful ceviche from Teresitas. The desserts from Porto's Bakery & Cafe were muy delicioso and Leah's favorites of the night.
In terms of wine, most people would expect to find a lot of sweeter wines served with somewhat spicy food. We don't recall finding even one, but that doesn't mean that the wines didn't pair well with the food on hand. With many of the fish–based dishes, the Sauvignon Blancs and Chardonnays were a nice match. Many of the meat–based dishes were a smash with the Cabernet Sauvignons and Petite Sirahs, and Veramonte poured a beautiful Pinot Noir created by winemaker Cristian Aliaga with consulting winemaker Paul Hobbs.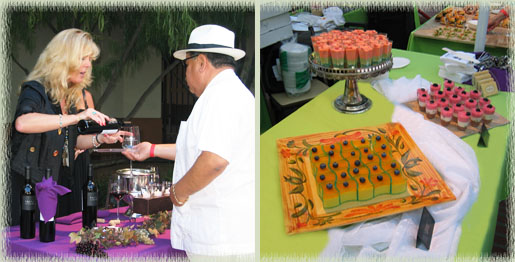 As we headed out of the event, we were given a reusable Trader Joe's grocery bag full of mostly Latin food items (which our college teen promptly claimed for herself upon seeing it). It is too difficult to capture the true atmosphere of the event in a few still shots, so we put together a little 4–minute video and pictorial composition to give you a better feel for this great event.
Disclosure: We were granted complimentary media passes to this event.
Comments (1)
July 13, 2010 at 1:17 pm
Jay B. said:
The pictures and the food look amazing…