TJT: Chili Dogs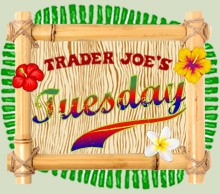 It's that crazy time of year again where dads and grads take center stage and barbecues rule! This past Memorial Day weekend we tried out some new recipes. One in particular stirred up some attention that really took me by surprise: chili dogs. Who'd have thought a simple grilled hot dog topped with chili would have won the crowd over the more exotic offering of Singapore Beef Satay?
I have a recipe for chili that I usually only make during the fall for Halloween parties. It's a great one, but it's the type of chili recipe that must be served with lots of topping choices and some good old fashioned corn bread to make it a complete chili dining experience. I wanted to try something different for this occasion. I could tell that this chili recipe for chili dogs (by Elise Bauer of Simply Recipes) had the potential to be really good because of the slightly unusual ingredients and different cooking method. Oh, and did I mention the bacon? And bacon fat? As Emeril Lagasse always says, "Pork fat rules!" (I might also add now, especially in chili!). I was worried about all the rendered fat from the bacon making the end product too greasy, but there were two pounds of beef and a large onion doing a good job of absorbing it all. My fears of producing an oily, soupy mess were eventually assuaged as the chili simmered away for three or four hours. And what a heavenly aroma filled the kitchen, hooking our guests in by the nose as they passed through to the backyard. Yep, I knew it was going to be a real wiener of a recipe!
The only other wild card that remained was the choice of hot dogs. Trader Joe's actually has a few types to choose from, and I went for the Niman Ranch Fearless Uncured Franks (a nitrate–free product, yay!). Niman Ranch is known for their high quality meats, and these dogs didn't disappoint. They're made of both beef and pork (rather than the other NR all–beef dogs that TJ's also carries) and paired well with the chili. I've read complaints online that people thought they were too bland tasting in comparison to the all beef ones, but when you're dumping chili, cheese and onions on top of them, who's going to care? They provided the perfect edible vessel to transport the chili to my mouth, and that's what counts in my book.
WI wine recommendation: A great wine to pair with chili dogs (or even chili alone) is a robust Zinfandel. For this occasion, we chose a bottle of Turley's 2007 Zinfandel (Dusi Vineyard).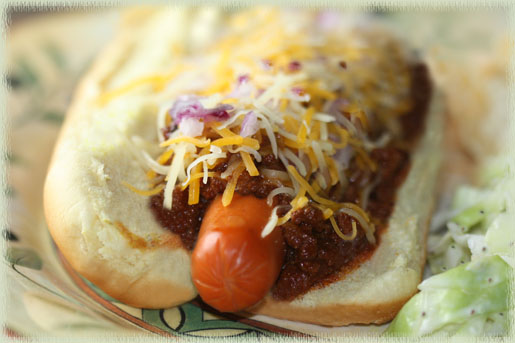 Chili Dogs
(slightly adapted from Simply Recipes)

1/2 pound bacon, cut into small pieces
1 large onion, chopped
2 pounds ground beef
4 chopped garlic cloves
15–ounce can of tomato sauce
1 cup beef broth (plus more if you simmer longer)
2 tablespoons molasses or honey (I used molasses)
2 tablespoons sweet paprika
1 tablespoon ground cumin
1 tablespoon chili powder
1 teaspoon cayenne (optional, but I used)
Salt (I didn't use any; the bacon provided enough saltiness)
Hot dogs (I used Niman Ranch Fearless Uncured Franks)
Buns for the hot dogs
Chopped red onion, for garnish
Shredded cheese, for garnish (I used TJ's pre–shredded Mexican blend)

Make the chili first. Fry the bacon over medium heat until it begins to get crispy, then add the chopped onions and fry over high heat, stirring often, until they begin to brown. Add in the ground beef and stir in well. Cook this, still over high heat and stirring occasionally, until the beef is browned. This will take a few minutes. When the beef is about halfway browned, toss in the chopped garlic and mix well.
Once the beef is well browned, add the tomato sauce, molasses and beef broth. Add all the spices except the cayenne and stir well. Bring to a simmer and taste. Add salt or the cayenne if it needs it. You can add much more cayenne or chili powder if you like things really spicy, but it's best to taste first and then add more.
Let the chili cook on a gentle simmer for at least 30 minutes before you start grilling the hot dogs. You can cook it several hours if you want to, adding a little more beef broth here and there if the chili gets too dry.
Grill your hot dogs over medium heat until they get a light char. Grill the hot dog buns briefly if you want—no more than a minute, as they will burn fast. You can also paint the buns with vegetable or olive oil or butter before grilling if you'd like.
Assemble the chili dogs by dropping grilled hot dogs into toasted buns and topping with chili, shredded cheese and chopped red onion. Be prepared for a messy but tasty eating experience!
Comments (1)
June 12, 2010 at 7:20 pm
tina said:
Love it!! I want one…