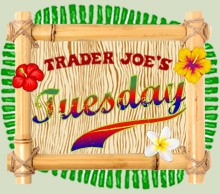 Sounds intriguing, doesn't it? I thought so, especially when I discovered that the pecan part of the recipe title was an ingredient in the crust (combined with Cheddar cheese, oh my!). Now we're talkin'! People who reviewed the recipe commented that the crust was reminiscent of Southern cheese wafers or cheese straws. And since I'm a big fan of using nuts in dessert pie crusts, a crunchy, nutty Cheddar cheese crust sounded like the perfect foil for a creamy, chicken-filled quiche. Indeed, it was!
I was so impressed with the crust that I'm going to explore making a cracker version of it (perfect nibble accompaniments for wine imbibing!). It would also be very easy to adapt this recipe for hors d'oeuvres by using a mini muffin tin instead of a pie plate. The crust bakes up sturdily enough, so I'm guessing mini quiches would turn out well. Just be sure to chop the pecans finely enough (for both the full–size version and mini versions) or you could have a crumbly mess on your hands.
The filling of this quiche doesn't use as many eggs or cheese as a typical quiche does, so it turns out a little looser in texture than a traditional custard–style quiche. I added some fresh herbs from my garden to give the filling added flavor and color. Since I used white cheddar cheese (Trader Joe's New Zealand Grass–Fed Sharp Cheddar) and TJ's Just Chicken (which contains only white meat), my filling was particularly color–challenged. So I'd recommend using orange cheese if that kind of thing is important to you, or add your favorite herbs like I did.
I served the quiche (adapted from MyRecipes.com) with a tasty arugula salad recipe that Ezra Pound Cake adapted from Everyday Food. It also called for pecans, so it combined well with the quiche. The tang of the balsamic vinegar and fresh strawberries helped cut through the richness of it all, as did the peppery flavor of the arugula. All in all, a very successful combination of dishes, made even easier with the help of Trader Joe's fantastic assortment of ingredient choices.
WI wine recommendation: Leah had Zonin Prosecco with her meal (good choice!), but Gaetano D'Aquino 2008 Orvieto (both reasonably priced and available at Trader Joe's) would also go well with these dishes.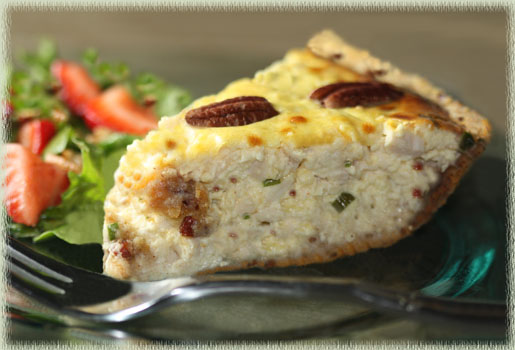 Chicken–Pecan Quiche
(adapted from MyRecipes.com)

1 cup all–purpose flour
1 cup (4 ounces) shredded sharp Cheddar cheese
3/4 cup chopped pecans
1/2 teaspoon salt
1/4 teaspoon paprika
1/3 cup vegetable oil (I used grape seed oil)
1 cup sour cream
1/2 cup chicken broth
1/4 cup mayonnaise
3 large eggs, lightly beaten
2 cups finely chopped cooked chicken
1/2 cup (2 ounces) shredded sharp Cheddar cheese
1/4 cup minced onion
3 drops of hot sauce
2 tablespoons chopped fresh herbs (I used chives)
1–2 tablespoons grated parmesan cheese
1/4 cup pecan halves

Combine first 5 ingredients in a medium bowl; stir well. Add oil; stir well. Firmly press mixture in bottom and up sides of a 9-inch deep-dish pie plate. Bake at 350° F for 12 minutes. Cool completely.
Combine sour cream and next three ingredients; stir with a wire whisk until smooth. Stir in chicken, 1/2 cup cheese, onion, hot sauce and chopped herbs. Pour chicken mixture over prepared crust. Sprinkle a layer of grated parmesan cheese on top of chicken filling and then arrange pecan halves on top of that. Bake at 350° F for 55 minutes or until set. Let stand 10 minutes before serving.

Arugula Salad with Strawberries & Pecans
(from Ezra Pound Cake)

1/2 pint strawberries (about 2 cups), hulled and quartered
2 tablespoons balsamic vinegar, divided
2 tablespoons olive oil
1/4 teaspoon salt
1/4 teaspoon pepper
2 bunches arugula, trimmed and thoroughly washed and dried
1/2 cup toasted pecan halves

In a large bowl, toss strawberries with 1 tablespoon balsamic vinegar; let sit 5 to 10 minutes.
In a small bowl, whisk together another tablespoon of balsamic vinegar with olive oil, salt and pepper.
To the strawberries, add arugula, the vinaigrette and pecans. Toss to combine, and serve immediately.