Chili Dogs
This recipe (slightly adapted from Simply Recipes) appeared in TJT: Chili Dogs on 08 Jun 2010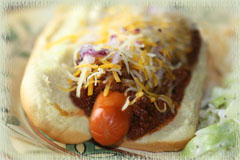 1/2 pound bacon, cut into small pieces
1 large onion, chopped
2 pounds ground beef
4 chopped garlic cloves
15–ounce can of tomato sauce
1 cup beef broth (plus more if you simmer longer)
2 tablespoons molasses or honey (I used molasses)
2 tablespoons sweet paprika
1 tablespoon ground cumin
1 tablespoon chili powder
1 teaspoon cayenne (optional, but I used)
Salt (I didn't use any; the bacon provided enough saltiness)
Hot dogs (I used Niman Ranch Fearless Uncured Franks)
Buns for the hot dogs
Chopped red onion, for garnish
Shredded cheese, for garnish (I used TJ's pre–shredded Mexican blend)

Make the chili first. Fry the bacon over medium heat until it begins to get crispy, then add the chopped onions and fry over high heat, stirring often, until they begin to brown. Add in the ground beef and stir in well. Cook this, still over high heat and stirring occasionally, until the beef is browned. This will take a few minutes. When the beef is about halfway browned, toss in the chopped garlic and mix well.
Once the beef is well browned, add the tomato sauce, molasses and beef broth. Add all the spices except the cayenne and stir well. Bring to a simmer and taste. Add salt or the cayenne if it needs it. You can add much more cayenne or chili powder if you like things really spicy, but it's best to taste first and then add more.
Let the chili cook on a gentle simmer for at least 30 minutes before you start grilling the hot dogs. You can cook it several hours if you want to, adding a little more beef broth here and there if the chili gets too dry.
Grill your hot dogs over medium heat until they get a light char. Grill the hot dog buns briefly if you want—no more than a minute, as they will burn fast. You can also paint the buns with vegetable or olive oil or butter before grilling if you'd like.
Assemble the chili dogs by dropping grilled hot dogs into toasted buns and topping with chili, shredded cheese and chopped red onion. Be prepared for a messy but tasty eating experience!
WI wine recommendation: A great wine to pair with chili dogs (or even chili alone) is a robust Zinfandel. For this occasion, we chose a bottle of Turley's 2007 Zinfandel (Dusi Vineyard).