Casa Pacifica Angels Wine & Food Festival 2010
This past Sunday, we ventured up towards Camarillo to join in the fun at the 17th Annual Casa Pacifica Angels Wine & Food Festival. Voted Best Cultural Event in Ventura County in 2008 & 2009, the Festival continues to be among the best we've attended, showcasing a variety of great food, fine wine and micro brew against a backdrop of live musical entertainment and an extensive silent auction. The venue—the CSU Channel Islands campus—and the layout were the same as last year's festival, but there were some key differences for us.
This year, we took advantage of the VIP lounge, a tented (i.e., shaded) area where VIP ticket holders enjoyed a selection of very tasty treats from the chefs of the Four Seasons Hotel in Westlake Village. Their display and edible creations were really done well, and it was nice to be able to sit in the shade to enjoy what they had to offer. The lounge also housed a wine bar serving Malibu Family Wines and a very popular Anheuser Busch Belgium beer garden, featuring Stella Artois, Hoegaarden and Leffe Belgian brews. We've seen this beer garden concept at another festival and it always seems to draw an enthusiastic crowd. If you haven't tried the VIP lounge at this festival in the past, you really should consider it—it's worth it.
The volume and quality of the food, wine and beer in the main Festival area were also great. This year, there seemed to be even more food purveyors on hand than last year, which is really nice for the people in attendance. There really should be more food offered at wine festivals and the organizers of this event seem to strike the appropriate balance. The silent auction had some really nice items up for bid. Coach John Wooden had passed away earlier that week and we noticed there were some basketballs he had signed and some other items paying tribute to his memory.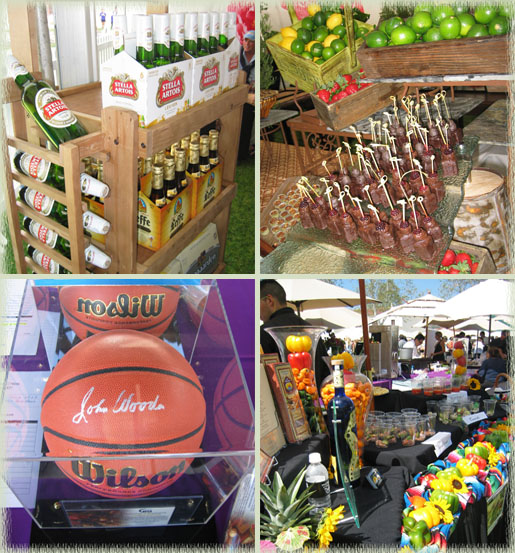 All proceeds from the Festival benefit Casa Pacifica Centers for Children and Families, which provides hope and help for abused, neglected, or at–risk children and families in Santa Barbara and Ventura Counties. A very worthy cause helped out by a really great festival.

Disclosure: We were granted complimentary media passes to this event.