Tarte Flambée
This recipe (adapted from Chef Andre Soltner of Lutece, New York City) appeared in Alsatian Appies & Bubbly for Mom's Day on 06 May 2010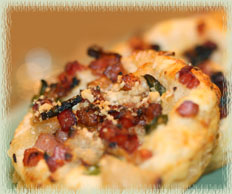 2 sheets Trader Joe's Artisan Puff Pastry
1/4 cup crème fraîche (or sour cream)
1/4 cup fromage blanc (or small curd cottage cheese)
1 tablespoon cream cheese
1 tablespoon flour
One 4 ounce package TJ's Diced Pancetta
One 4 ounce package TJ's Chopped Onions, Garlic & Shallots
1/4–1/2 cup pre–sliced cremini mushrooms, chopped smaller
Salt & pepper to taste
2 tablespoons chopped green onions
2 tablespoons grated parmesan cheese

Remove the puff pastry sheets from the package and allow to sit at room temperature for 30 minutes or so.
Once the pastry has completely thawed, lay the sheets on a lightly floured cutting board and cut into circles using a 2–3 inch fluted cutter. You should be able to get 12–14 pieces, depending on the size of your cutter.
Place the pastry circles on a lightly greased cookie sheet. (I like to use the olive oil spray from TJ's for this). Put aside while you prepare the topping.
Preheat the oven to 425° F.
Cream together the crème fraîche, fromage blanc, cream cheese and flour in a food processor until smooth. Set aside.
Cook the pancetta, onion mixture and chopped mushrooms together in a pan over medium heat. When onion mixture becomes translucent and the mushrooms are cooked through, it is done. Season with salt and pepper (the pancetta is pretty salty on its own, so be careful when adding salt).
Divide up and spread the processed cheese mixture onto each of the pastry circles. Make sure to completely cover the tops.
Top the cheese with the pancetta mixture, then the green onions, and finally the grated parmesan cheese.
Bake for 14–17 minutes, (or until each tartelette is puffed and golden). Serve immediately.
WI wine recommendation: We had this with Limoncello Champagne Cocktails With Mint. You could also use most any Champagne or sparkling wine.