Paso Robles Wine Festival Weekend
We had never toured the Paso Robles wine country even though we have enjoyed many of the area's wines over the years. The 28th Annual Paso Robles Wine Festival took place last weekend, presenting the perfect opportunity to check out the area. The Festival included a Friday evening Reserve Tasting event, a Saturday Grand Tasting event (from 3–7 p.m. in order to avoid the typically hot weather) and a Saturday night Auction & Dinner. The local wineries have dinners, events and tastings all weekend long. So, we departed Friday morning on the 3–1/2 hour drive from Los Angeles. We raced past the Santa Barbara wine country (stopping only for a quick bite in Solvang) and soon found ourselves winding our way alongside vineyards on Highway 101. Leah noticed a "Student Vineyard" sign in one vineyard near Cal Poly San Luis Obispo and wondered if it belonged to the school. I didn't know, but it made sense that it would.
Because we hadn't planned far enough ahead, most hotels in Paso Robles were full, so we had booked a room at The Carlton Hotel in Atascadero, about 10 miles to the south. That was fortuitous, as the accommodations were roomy and immaculate (originally built in 1929, the hotel was restored and reopened in 2005) and situated just a few miles south of Templeton, which is adjacent to a dense concentration of Paso Robles wineries. But there would be no winery visits today—it was Friday and we had tickets to the Reserve Tasting event, which included at least 70 wineries, starting at 4 p.m.
The Reserve Tasting was the Festival event not to miss. The concept was simple: each winery was asked to pour only one of its wines—a barrel sample, a library wine, a reserve wine or a power white or rosé—whatever the winery chose to impress. A collection of culinary partners provided samples of fine cheeses, scallops on the half shell, braised short ribs, and a variety of beef, lamb and other food sensations. One favorite was a frothy Chantenay Carrot Soup with Medjool Dates and Almonds from Chef Mark Sullivan of Spruce and The Village Pub. The best, most interesting wines of the area assembled under a single tent—it really helped us plan our winery tours the next day.
I woke up early on Saturday and took a long walk before mapping out our assault on the area's wineries, waiting impatiently for Leah to get moving. A few wineries open at 10 or 10:30 a.m., though most open at 11 a.m. Anxious to get started (at least I was), we took the Hwy 46W exit off Hwy 101 at about 9 a.m. and drove through part of the wine country until the locals were prepared to pour.
Turns out that Turley opened at 9 a.m. on the Festival weekend, so we started there, picking up a bottle of the 2007 Zinfandel (Dusi Vineyard). Next, we dropped by Donati, which has its tasting room in one of the oldest buildings in the area (right at the intersection of Hwy 46 and Vineyard Drive), and enjoyed their 2006 Cabernet Sauvignon (Paicines) and 2006 Claret (45% Cab, 36% Merlot, 7 Petit Verdot, 7% Syrah & 5% Malbec). The first time I had a Donati wine was their 2003 Cabernet Saugivnon (Paicines) and it was nice to see how consistently good their wines are.
For a twofer, the Lone Madrone and Kenneth Volk tasting rooms are co–located and, as a bonus, they had a tented table on their lawn, offering samples of Wildtree grapeseed oils infused with various herbs and spices. There is also a neat herb farm just outside the Kenneth Volk tasting room, so we picked up some dill plants that have been difficult for us to find lately to supplement our "garden" at home. Of particular note (in addition to their lovely whites) were Lone Madrone's 2007 Von Dog (67% Tannat, 22% Cabernet Sauvignon & 11% Syrah) and 2006 Old Hat, made with Zin/Petite grapes from David Osgood's vineyard (and named after the old hat ever present atop David's head). Kenneth Volk is named for founder Ken Volk, one of the godfathers of Paso Robles wine (having mentored many of today's successful winemakers) and we enjoyed his 2005 Syrah/Granache Noir and 2008 Malvasia Bianca.
Backtracking on Hwy 46, we visited Booker, a small–production winery with a cheery tasting room serving excellent wines that tend to sell out early in the annual cycle. Our favorite was their 2007 My Favorite Neighbor (34% Syrah, 33% Cabernet Sauvignon & 33% Petit Verdot), named for the cooperation they received from a neighbor in making this wine. Back home, I learned that Booker's wines are only available through their mailing list and wine club and also at the winery (but you won't find it in stores), and I find myself wished I had purchased a few more bottles of their wine when we were there.
Our next stop was Niner Wine Estates, a beautiful, expansive, modern facility with gravity–flow production that has just opened along Hwy 46 at the site of Heart Hill Vineyard (which gets its name from a natural oak-tree–filled depression on the hillside near the road in the perfect shape of a heart). At their first tasting station, adjacent to the main tasting room, Niner had a wine and food pairing exhibit to explore umami (the fifth sensation of taste), where we sampled their 2008 Sauvignon Blanc—first with raw tomato and then with broiled tomato topped with parmesan cheese—to see how the savory cooked food paired with the wine while the uncooked food did not. They also served their 2008 Sangiovese Rosato with fresh mushrooms and then sautéed mushrooms. What a difference!
At the second station, we met Niner's winemaker Amanda Cramer, a former high school math teacher turned UC Davis enology and viticulture veteran who interned at Oakville's Far Niente Winery, contributed her talents at Chimney Rock and Robert Mondavi Wineries in Napa Valley, D'Arenberg Wines in McLaren Vale, South Australia, and Casa Lapostolle in Santa Cruz, Chile, and, prior to joining Niner, served as assistant winemaker at Paradigm Winery in Oakville. Incidentally, Amanda was assisted by a recent graduate of Cal Poly San Luis Obispo (more about that later), who poured barrel samples of some of their 2009 wines (Malbec and Cabernet Franc, as I recall), which they are considering as components for Niner's 2009 Fog Catcher blend. Amanda gave us some background on Niner's history and state–of–the–art winery as she poured Niner's 2005 Fog Catcher (65% Cabernet Sauvignon, 25% Cabernet Franc & 10% Merlot), which was excellent. At the third station in their main tasting room, we enjoyed more of their great wines. Kudos to Dick and Pam Niner and their entire staff for having the most creative and interesting wine tasting experience of the day.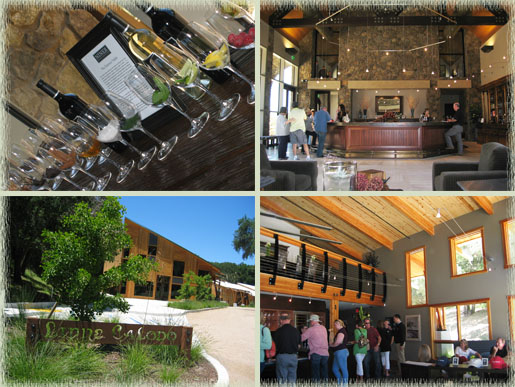 We still had some time to visit a few more wineries prior to the Grand Tasting event, so we made our way up Vineyard Drive to Linne Calodo Cellars, whose tasting room has a unique design. Many of the tasting rooms in the Paso Robles wine country are relatively new, so you'll see quite a few modern, interesting designs. Further up the road, we stopped at Denner Vineyards, where we picked up some of their 2009 Rosé (75% Mourvèdre; 25% Granache) and walked around their stunning grounds.
The next stop on our journey was Chateau Margene, which has an inviting tasting room with a view to their picturesque pond and gardens. We had really enjoyed their 2006 Reserve Cabernet Sauvignon at the Reserve Tasting event the previous night. So, we picked up their 2006 Reserve and also their 2005 Reserve Cabernet Sauvignon to savor back home. We also struck up a conversation with a limo driver who leads winery tours and he recommended some more wineries, including Villa Creek, where we arrived just in time to sample their wines with a delightful rabbit paella they were cooking up right on the spot in their barrel room.
The young lady pouring the wines at Villa Creek was a recent graduate of Cal Poly San Luis Obispo, so we asked her about the "Student Vineyard" we had spotted along Hwy 101 and why we were running into so many Cal Poly SLO grads at the wineries. She explained that it was, indeed, the vineyard maintained and operated by Cal Poly students majoring in wine & viticulture. The students learn the entire wine business—working the vineyard, picking the grapes, making the wine and marketing it under the Cal Poly label. She was quick to add that the students under 21 years of age aren't allowed to actually drink the wine. (Yeah, right.) We learned that the Cal Poly SLO wine & viticulture program has not been offered for too many years, but it is now turning out experienced graduates. The alumni we encountered seemed very knowledgeable and have "hands on" experience, so we figure you will find a lot more of their graduates leading wineries in the decades to come.
We really wanted to visit Adelaida (Rhône), Anglim (Rhône), Carina (Rhône), Cass (Rhône and Bordeaux), Clavo (Rhône and Zin), Eberle (Rhône), Edward Sellers (Rhône), Justin (Bordeaux, Rhône and more), Mitchella (enjoyed their 2009 Innuendo white blend), Peachy Canyon (Zin, Zin, Zin), Tablas Creek (enjoyed their 2008 Esprit de Beaucastel Blanc) and some others whose wines we had tasted on Friday night, but we were running out of time at 3:45 p.m. and some of the wineries were not in our immediate area. We decided we'd start with them on our next trip to Paso Robles.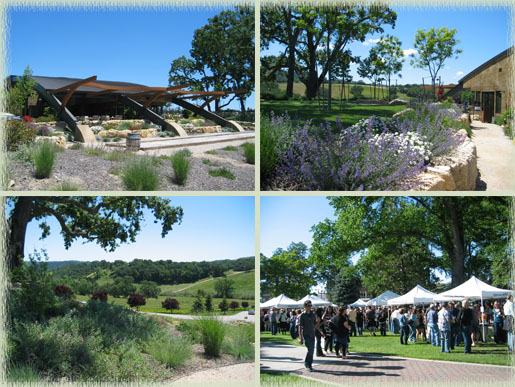 When we finally arrived at the Grand Tasting event, it was already packed with wine lovers and the weather was unseasonably cold and windy (so much for planning around the usual weather patterns) and we had already experienced a lot of the wines. So, we walked around the event once or twice to get a feel for it and then called it a day, but not until after we enjoyed a nice sushi dinner at Yanagi Sushi & Grill, a block away. The next morning, we drove down Hwy 101 and took the Betteravia exit East around Santa Maria and meandered down Foxen Canyon Road and then Hwy 154, stopping at a few Santa Barbara area wineries. Before heading home, we enjoyed a leisurely meal at one of our favorite Mexican family–style restaurants, Rose Café. Then, back to reality.

Disclosure: We were granted complimentary media passes to this event.
Comments (1)
May 27, 2010 at 11:34 am
Bettie@wineablegifts
said:
Don't miss Justin wines on your next trip. It is a little out of the way but well worth the trip down a canopied oak street. Cheers!