Limoncello Champagne Cocktails With Mint
This recipe (adapted from Bon Appètit) appeared in Alsatian Appies & Bubbly for Mom's Day on 06 May 2010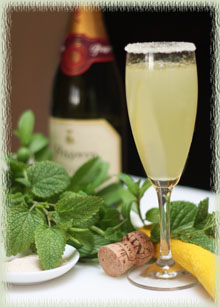 1/4 cup fresh mint leaves
1/4 cup limoncello (I preferred to omit this)
2 tablespoons sugar plus additional for dipping Champagne flutes
Lemon peel strips from 1 lemon*
4 teaspoons fresh lemon juice plus 1 lemon wedge
1 cup (about) chilled Champagne or sparkling wine

Place mint, limoncello, 2 tablespoons sugar, and lemon strips in blender; blend until mint is finely chopped (lemon peel will be coarsely chopped), 10 seconds.*
Strain into small cup; discard solids.
Run lemon wedge around rim of two Champagne flutes. Dip rims into sugar.
Divide limoncello mixture and lemon juice between the flutes. Top with Champagne or sparkling wine.
*I found this step turns out better if you use a muddler instead of the blender, in which case it is better to use grated lemon peel instead of peel strips.
WI wine recommendation: We used Zonin Prosecco, which is a dry, Italian sparkling wine and available for under six dollars at Trader Joe's. Such a good deal for a sparking wine that works perfectly in a Champagne cocktail recipe!