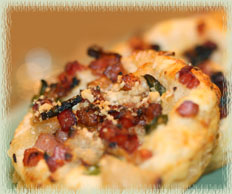 This could have easily been a Trader Joe's Tuesday post if I had my sh*t together this week. But since I didn't and it's now Thursday, it will instead be classified as TJ–influenced. This appetizer recipe actually draws its inspiration from TJ's Tarte d'Alsace, which, if you're short on time, is a perfectly tasty and presentable substitution to serve mom on her big day. But since all the ingredients for my version of this Alsatian classic are readily available at TJ's (and you want to impress mom with your French cookery), I'd highly recommend giving this recipe a go. Add a simple salad and a nice champagne cocktail and she'll love you all the more for your effort!
Tarte Flambée is a specialty that hails from the Alsace region of France. It's pretty much a thin crust pizza topped with a cream and cheese base smothered with onions and bacon (or ham). I decided to improvise a bit by making it into appetizer–sized bites so that moms could enjoy their meals without using forks and knives (more importantly, it makes it easier for them to sip from their accompanying champagne flutes!). I also substituted the typical bread dough with TJ's Artisan Puff Pastry. When baked, this dough puffs up nicely and creates a flakey, crisp texture and just looks like you went to more trouble. Moms like that kind of stuff.
Substitutions for the topping ingredients were also in order, but easily accomplished at Trader Joe's. Fromage blanc (a very soft cheese made from cow's milk) can be replaced with small curd cottage cheese, and sour cream and crème fraîche are interchangeable for this recipe. Instead of using bacon or ham, I decided to use TJ's diced pancetta (so convenient!). And speaking of convenience, I didn't want to be all teary–eyed from messy onion prep work so I chose to use some TJ's Chopped Onions, Garlic & Shallots that I already had on hand.
I strayed from the traditional Tarte Flambée recipe once again by adding another topping that I found leftover in the fridge. I had sautéed some cremini mushrooms (TJ's pre–cleaned and sliced—more convenience!) in olive oil and the above mentioned chopped onion mix to make grilled cheese sandwiches the night before. They were a nice addition to the sandwiches, so of course they'd work equally well as a topping on these little tartelettes. And since I think most everything benefits from the addition of green onion and parmesan cheese, they were added next.
My choice of cocktails to serve with these, of course, had to include some kind of bubbly. Champagne or sparkling wine always pairs well with rich foods, and Bon Appètit's version of a Champagne cocktail allowed me to take advantage of all the fresh mint and Meyer lemons I have just outside my kitchen door. One thing to note; if you don't have limoncello at your disposal, don't worry about it. I inadvertently left it out during the muddling process of round two and didn't miss it at all. In fact, I much preferred it that way. It was still very flavorful, but not quite as "syrupy" tasting. Either version will compliment the tartelettes very nicely.
WI wine recommendation: We used Zonin Prosecco, which is a dry, Italian sparkling wine and available for under six dollars at Trader Joe's. Such a good deal for a sparking wine that works perfectly in a Champagne cocktail recipe!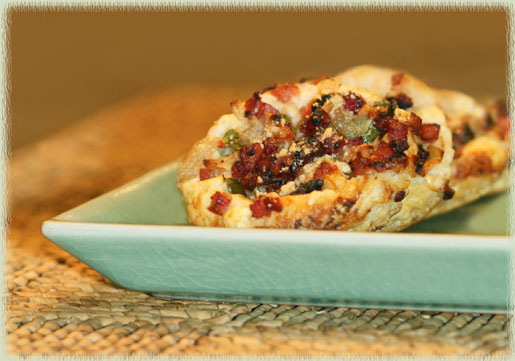 Tarte Flambée
(adapted from Chef Andre Soltner of Lutece, New York City)

2 sheets Trader Joe's Artisan Puff Pastry
1/4 cup crème fraîche (or sour cream)
1/4 cup fromage blanc (or small curd cottage cheese)
1 tablespoon cream cheese
1 tablespoon flour
One 4 ounce package TJ's Diced Pancetta
One 4 ounce package TJ's Chopped Onions, Garlic & Shallots
1/4–1/2 cup pre–sliced cremini mushrooms, chopped smaller
Salt & pepper to taste
2 tablespoons chopped green onions
2 tablespoons grated parmesan cheese

Remove the puff pastry sheets from the package and allow to sit at room temperature for 30 minutes or so.
Once the pastry has completely thawed, lay the sheets on a lightly floured cutting board and cut into circles using a 2–3 inch fluted cutter. You should be able to get 12–14 pieces, depending on the size of your cutter.
Place the pastry circles on a lightly greased cookie sheet. (I like to use the olive oil spray from TJ's for this). Put aside while you prepare the topping.
Preheat the oven to 425° F.
Cream together the crème fraîche, fromage blanc, cream cheese and flour in a food processor until smooth. Set aside.
Cook the pancetta, onion mixture and chopped mushrooms together in a pan over medium heat. When onion mixture becomes translucent and the mushrooms are cooked through, it is done. Season with salt and pepper (the pancetta is pretty salty on its own, so be careful when adding salt).
Divide up and spread the processed cheese mixture onto each of the pastry circles. Make sure to completely cover the tops.
Top the cheese with the pancetta mixture, then the green onions, and finally the grated parmesan cheese.
Bake for 14–17 minutes, (or until each tartelette is puffed and golden). Serve immediately.

Limoncello Champagne Cocktails With Mint
(adapted from Bon Appètit)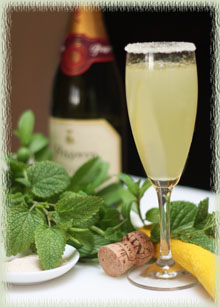 1/4 cup fresh mint leaves
1/4 cup limoncello (I preferred to omit this)
2 tablespoons sugar plus additional for dipping Champagne flutes
Lemon peel strips from 1 lemon*
4 teaspoons fresh lemon juice plus 1 lemon wedge
1 cup (about) chilled Champagne or sparkling wine

Place mint, limoncello, 2 tablespoons sugar, and lemon strips in blender; blend until mint is finely chopped (lemon peel will be coarsely chopped), 10 seconds.*
Strain into small cup; discard solids.
Run lemon wedge around rim of two Champagne flutes. Dip rims into sugar.
Divide limoncello mixture and lemon juice between the flutes. Top with Champagne or sparkling wine.
*I found this step turns out better if you use a muddler instead of the blender, in which case it is better to use grated lemon peel instead of peel strips.