TJT: Chicken Parmesan Grilled Cheese Sandwich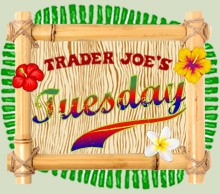 In case you haven't heard, April is National Grilled Cheese Month. My all–time favorite sandwich actually has a designated recognition month, and I'm lovin' it! To celebrate, I'm dedicating this long–overdue Trader Joe's Tuesday post to creating an enhanced version of the grilled cheese the Wine Imbiber and I have been enjoying for over a quarter of a century (more on that later).
Los Angeles may not be the first place that comes to mind when talking about cheese, but that doesn't mean Angelenos haven't embraced the concept of grilled cheese sandwiches as the ultimate comfort food. How many cities can you name that sponsor a Grilled Cheese Invitational (the eighth annual, no less)?
Or how about The Grilled Cheese Truck that roams the streets of LA on a daily basis? I bet you don't run into many cheese–colored foodie trucks where you live. Coincidentally, I happened to be sitting next to TGCT in traffic today while picking up the hungry teenagers from school. I had all to do to keep them from crawling through the car windows and hijacking the truck. (I could barely contain myself, either. The menu is printed right at driver's eye level and I could read it all too well!).
With panini crashing the American food scene in recent years, the traditional grilled cheese of yesteryear has elevated from bourgeois kiddie food to epicurean adult fare. Like everyone else from my generation, my first grilled cheese consisted of one slice of Kraft's American cheese between two slices of heavily buttered Wonder Bread. And you could forget the accompanying bowl of Campbell's tomato soup. (I hated tomato soup.) My soup of choice was always chicken noodle.
As I grew older, the soup was replaced with a side of fries and dill pickles. Eventually, I became health conscious and insisted on real cheddar cheese on earthy whole grain bread. Once I married, the bread of choice became sliced sourdough from a local bakery that sold their wonderful French sourdough loaves and rolls to southern California restaurants and grocery chains. The butter was swapped out for olive oil, and the cheese was always a nice, sharp cheddar (but now in combination with either jack or fontina cheese, which melt beautifully). Perfection!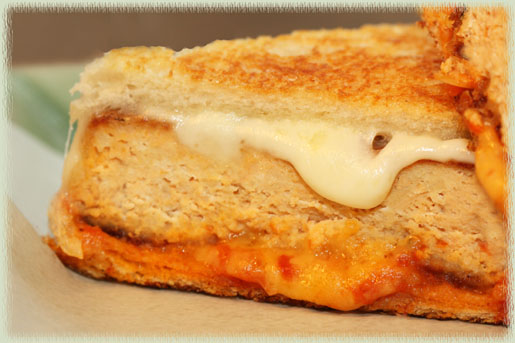 So there you have it; our favorite combination of grilled cheese ingredients. I forgot to mention, our preferred grilling method is either a large, heavy frying pan or a griddle. Sure, we have a panini press, but I don't like using it for grilled cheese sandwiches. It flattens the bread too much for my liking and creates too much of a cracker–like crust. I like my bread to be crunchy, yet airy.
We use the panini press when we're making grilled sandwiches with meat filling and other things (in addition to the cheese). The recipe I'm about to divulge has chicken meat in it, but since I didn't make it in the panini press, I consider this sandwich to be in the grilled cheese family (especially since it also uses our established preferred combination of bread and cheeses).
The chicken parmesan part of this recipe was found on one of my recent site–surfing ventures. The website, oui, chef, is a new favorite of mine, mostly because of the creator's mission "to encourage parents to teach their kids how to cook and eat well." I'm all for that (especially the cooking part)! I highly recommend this site not only for the kid–tested, father–who's–a–chef–approved recipes, but for the variety of food cultures he explores and tries to educate his five (!) children and readers about.
Anyway, the chicken parmesan patty worked beautifully with my usual grilled cheese set up. Note: TJ's doesn't sell ground chicken meat, but you could improvise with their ground turkey. Otherwise, there are plenty of other chicken options available in the freezer section (like Breaded Chicken Tenderloin Breasts or Chicken Drumettes) that would substitute quite nicely if you choose not to make the patties. The sandwich maintained its crunchy–gooey goodness perfectly while incorporating the added elements of the chicken parmesan burger and the tang of the marinara sauce. I still felt like I was eating a grilled cheese, only with more texture and flavor. Loved it!
WI wine recommendation: Because this has a fair amount of cheese paired with a tangy, tomato–based sauce, Chianti or Zinfandel would be your best bet. Trader Joe's carries both varieties, but we haven't had either of them recently enough to make a specific recommendation.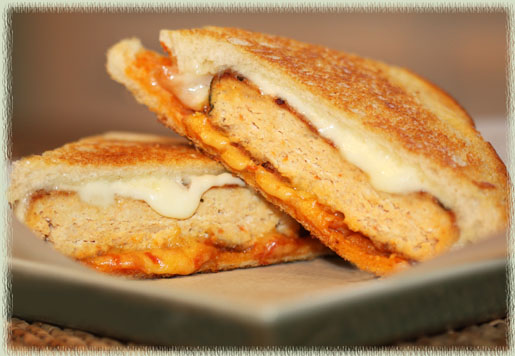 Chicken Parmesan Grilled Cheese Sandwich

1 loaf TJ's Sourdough (sliced) Bread
TJ's Olive Oil Spray or butter
1 package cheddar cheese slices (or get a chunk and slice yourself)
1 wedge Fontina cheese, sliced into desired amount
1 jar of TJ's marinara sauce (choose from Vodka Sauce, Roasted Garlic Marinara or other)
Chicken Parmesan Burgers or TJ's pre–made chicken varieties (see note above), cooked

Preheat a large, heavy frying pan or griddle to medium-high. Spray olive oil (or spread butter) on one side of each of two slices of bread.
Place both slices of bread (greased-side down) onto hot pan or griddle. Layer one or two cheddar slices on one piece of bread, then do the same with the fontina slices on the other bread piece. (Grilling them separately will speed up the melting process and prevent the bread from burning before the cheese melts.)
Adjust heat, if necessary, and grill until cheese just begins to melt.
Meanwhile, heat up the chicken patty and some of the marinara sauce.
Just before the cheese has completely melted on the bread, spread desired amount of warm marinara sauce on one of the bread slices and place the warm chicken patty on top of that.
Take the other piece of bread and carefully position it on top of the chicken–topped bread, taking care not to allow the cheese to drip off bread.
Continue grilling until cheese has completely melted; carefully flipping the sandwich once to complete melting process on other side of sandwich.
Slice in half and serve. Tastes best when served right off the pan.
Comments (4)
April 16, 2010 at 3:04 pm
Janine said:
This sounds really good! My kids and hubby will go for this in an instant. I think I'll try making it with the chicken drumettes since we always have some of those in our freezer.

April 16, 2010 at 3:13 pm
TJ Lover said:
Like this column. Love grilled cheeses. Adore Trader Joe's! 'Nuff said.

April 20, 2010 at 9:14 pm
krissy @ thefoodaddicts.com
said:
chicken, cheese, and marinara sauce… all in a sandwich = delicious! happy national grilled cheese month!

May 12, 2010 at 7:48 am
Amanda said:
This looks amazing! Have you posted it to the Grilled Cheese Academy yet? http://www.grilledcheeseacademy.com/