Nutter Butterfinger Bars
This recipe (adapted from myrecipes.com) appeared in Candy + Cookies = Nutter Butterfinger Bars on 08 Apr 2010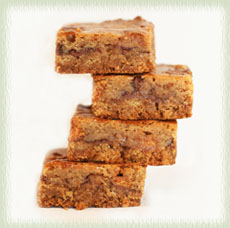 16 oz. package Nutter Butter sandwich cookies, crushed
1/2 cup butter, melted
14 ounce can sweetened condensed milk
1/2 cup creamy peanut butter
1 tablespoon vanilla extract
7–1/2 ounces peanut butter cups (about 25 miniature cups), coarsely chopped
4 ounces Butterfinger candy (about 7 small candy bars), coarsely chopped
1 cup semisweet chocolate chips
1/2 cup honey–roasted peanuts
1/2 cup sweetened flaked coconut
Baker's note: I omitted the peanuts and coconut when I made this.

Preheat oven to 350° F.
Combine crushed cookies and butter in a medium bowl. Press crumb mixture into bottom of a greased aluminum foil–lined 13″ x 9″ pan (allow foil to extend over sides of pan).
Bake for 6 to 8 minutes (leave oven on after removing baked crust).
Meanwhile, combine condensed milk, peanut butter, and vanilla in a medium bowl, stirring until smooth.
Sprinkle chopped candy bars, chocolate morsels, peanuts, and coconut over baked crust. Drizzle condensed milk mixture over the toppings.
Return the pan to oven and bake for 27–30 minutes (or until lightly browned).
Remove to a wire rack, allow to cool in pan. Use foil to lift uncut brownies out of pan. Peel foil away from sides of uncut brownies, and cut into bars. Makes 28 small or 18 large bars.
WI wine recommendation: Something this sweet and rich cries out for a dry Champagne or Prosecco. Otherwise, a glass of cold milk would most certainly hit the spot!