Mother's Day Muffins for Mum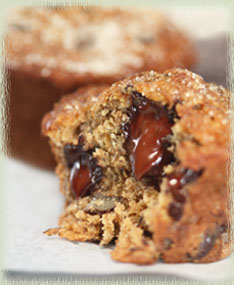 Can't figure out what to give (or make) your mom for Mother's Day this year? Speaking as a mom of four, I feel I'm very qualified to offer advice. Owning a copy of Baked: New Frontiers in Baking establishes me as even more of an expert. Whether you are looking for recipes to make for your mom, or your kiddos need some sure–fire recipes to make for you, this is the book you'll want to have in your kitchen bookcase.
The recipes are fabulous and well–written, with plenty of simple ones that will make your children (and even your non–baking husband) feel like an expert baker with the results they produce. A case in point is the following muffin recipe. I chose it for two reasons.
One, we eat a lot of bananas around here, so they are always readily available for baking needs. The biggest problem seems to be keeping them from getting eaten before they have a chance to ripen properly. And by ripen, I mean ripen (to the point where they're totally black and bugs may be flying around them). It confused the banana–eaters in the house as to why I'm always so protective of these ugly, squishy things. Eventually, they learned not to question my motives after seeing and tasting the results. I liken it to seeing an ugly caterpillar turn into a beautiful butterfly. It may sound corny, but it's true. Nothing beats the moistness and flavor that ugly bananas impart to a recipe!
Two, there's chocolate in this recipe. And espresso. (In case you weren't aware, coffee actually enhances chocolate by giving it a richer, deeper flavor without you even knowing the coffee is in there.) The authors of Baked knew what they were doing when they added espresso powder to this recipe (though in my opinion, the small amount it requires doesn't warrant equal–billing in the title). You would have to at least double the espresso amount in order for its taste to rise to the level of the chocolate and banana flavors. I happened to appreciate it in this recipe more for its behind–the–scene work than for the additional flavor element that its title suggests. Complicating the interplay between the two main flavors just wasn't necessary to satisfy my palate. You could always drink some coffee with these muffins if that's what you're looking for. Since I don't drink coffee, nothing was missed.
I used Ghiradelli 60% Cocoa Bittersweet Chocolate Chips, which are larger than regular chips (so much so, that you won't find the need to supplement mom's Mother's Day muffins with a box of chocolate candies). I'm sure any type of dark chocolate (meaning not white) would work well, even milk chocolate. I also added some nuts, as I think banana muffins always taste best when they have some crunch. For even more texture, a little demerara sugar sprinkled on top always does the trick.
WI wine recommendation: None for this, as we'll be writing some posts dedicated to this mom's favorite bubbly next. Besides, coffee or milk are obvious choices for this one (sorry Wine Imbiber)!


Banana Espresso Chocolate Chip Muffins
(adapted from Baked: New Frontiers in Baking)

1–1/2 cups mashed, very ripe bananas (about 4 medium–sized bananas)
1/2 cup sugar
1/4 cup firmly packed light brown sugar
1/2 cup unsalted butter, melted
1/4 cup whole milk
1 large egg
1 1/2 cups all–purpose flour
1 teaspoon instant espresso powder (double amount for more pronounced flavor)
1–1/2 teaspoons baking soda
1 teaspoon salt
1 cup (6 ounces) semisweet chocolate chips
Optional: 1 cup chopped pecans (or walnuts)
Demerara sugar (for sprinkling on top of muffins)
Preheat the oven to 350° F. Spray a 12–cup muffin pan with non–stick cooking spray.
In a medium bowl, stir together the bananas, sugars, butter, milk, and egg.
In another medium bowl, whisk together the flour, instant espresso powder, baking soda and salt.
Make a well in the middle of the dry ingredients. Pour the wet ingredients into the well and stir just until combined. Fold in the chocolate chips and chopped nuts.
Fill each cup about 3/4 full. Sprinkle demerara sugar on top of each muffin. Bake in the center of the oven for 20–25 minutes, or until a toothpick inserted in the center of the muffin comes out clean.
Let the muffins cool in pan on a cooling rack for 15 minutes. Remove the muffins from the pan and allow them to finish cooling on the cooling rack. Store up to 2 days in an airtight container.
Comments (3)
April 30, 2010 at 12:05 pm
Tweets that mention Wine Imbiber » Mother's Day Muffins for Mum -- Topsy.com
said:
[…] This post was mentioned on Twitter by Rich, Bottle Juice. Bottle Juice said: Top Wine Article: Mother's Day Muffins for Mum: http://bit.ly/9qZ7Je […]

April 30, 2010 at 12:29 pm
Bettie@wineablegifts
said:
These are my boys favorite muffins, anxious to try this recipe with espresso. Thanks! Happy Mother's Day!!

May 3, 2010 at 2:04 pm
Jamie
said:
I cannot wait to try these. Maybe this weekend.