Candy + Cookies = Nutter Butterfinger Bars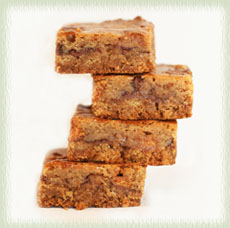 I've been doing a bit of spring cleaning lately and came across some photos that disappeared into the black hole that is my picture file. One set dated back to Halloween, and coincidentally addressed a dilemma that many would–be Easter bunnies face this time of year…What can be done with all this leftover candy?!
With Easter coming in a close second to Halloween in candy sales, you can assume that many varieties of candy are sold annually for filling plastic eggs and baskets. In addition to Peeps and jellybeans making their holiday appearances, everybody's favorite Halloween candies have all been reshaped and repackaged to suit the Easter/spring theme. Reese's Peanut Butter Cups evolve into flat egg shapes, M & M's become pastel–colored and Butterfinger candy bars give foil–wrapped chocolate mini eggs a run for their money with their egg–shaped transformations (just to name a few).
My personal favorite is Robin Eggs (as witnessed by last year's post), but as with a lot of Easter candy aficionados, I also can't resist Reese's Peanut Butter Eggs. Candy Blog is quick to point out the subtle differences between Eggs and Cups, all of which explain why I prefer one over the other. My kids don't notice the difference; they'll eat either with reckless abandon. Newsweek's article a couple of years back about the most fattening Easter candies recommended the Cup over the Egg (for having half the calories). Seriously folks, who tries complying with diets by eating less caloric candy anyway? Shouldn't anybody who is dieting be avoiding candy altogether? If you've made the decision to jump the diet ship, go for the good stuff!
This recipe will definitely fulfill the needs of both those looking to deplete their candy hoards and those looking to indulge their peanut/chocolate flavor cravings. With five variations of peanut flavor mixed together with chocolate from three different sources, you can bet your heart will go pitter–patter (though I'm guessing it will be mostly from the sugar rush you'll be experiencing!).
One unique thing about this recipe is that it uses crushed peanut butter sandwich cookies to create the crumb crust, rather than flour and sugar. So when I tell you that this tastes like Butterfinger candy in cookie bar form, you'll understand why. Other recipes I found just mixed chopped candy into a typical flour batter, creating more of a brownie or blondie bar with added candy bits. Somehow, this recipe magically transforms the crushed cookies and candy chunks into a chewy cookie–candy hybrid (probably something to do with the sweetened condensed milk). Thus, they're very rich (and very addictive!). You may find yourself buying certain candies after the holidays are over just to make this recipe. I recommend hitting the post–Easter candy sales and stocking up. After all, Halloween is a long half of a year away!
WI wine recommendation: Something this sweet and rich cries out for a dry Champagne or Prosecco. Otherwise, a glass of cold milk would most certainly hit the spot!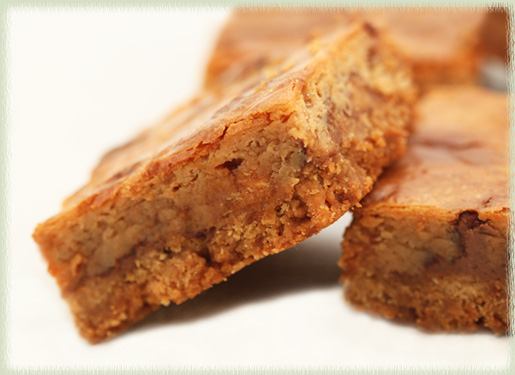 Nutter Butterfinger Bars
(adapted from myrecipes.com)

16 oz. package Nutter Butter sandwich cookies, crushed
1/2 cup butter, melted
14 ounce can sweetened condensed milk
1/2 cup creamy peanut butter
1 tablespoon vanilla extract
7–1/2 ounces peanut butter cups (about 25 miniature cups), coarsely chopped
4 ounces Butterfinger candy (about 7 small candy bars), coarsely chopped
1 cup semisweet chocolate chips
1/2 cup honey–roasted peanuts
1/2 cup sweetened flaked coconut
Baker's note: I omitted the peanuts and coconut when I made this.

Preheat oven to 350° F.
Combine crushed cookies and butter in a medium bowl. Press crumb mixture into bottom of a greased aluminum foil–lined 13″ x 9″ pan (allow foil to extend over sides of pan).
Bake for 6 to 8 minutes (leave oven on after removing baked crust).
Meanwhile, combine condensed milk, peanut butter, and vanilla in a medium bowl, stirring until smooth.
Sprinkle chopped candy bars, chocolate morsels, peanuts, and coconut over baked crust. Drizzle condensed milk mixture over the toppings.
Return the pan to oven and bake for 27–30 minutes (or until lightly browned).
Remove to a wire rack, allow to cool in pan. Use foil to lift uncut brownies out of pan. Peel foil away from sides of uncut brownies, and cut into bars. Makes 28 small or 18 large bars.
Comments (3)
April 9, 2010 at 7:06 am
Bettie@wineablegifts
said:
WOW! I can feel the sugar overload just reading this recipe. After you've had your share of sweets come over and try my midnight brownies (no simple sugar) also low in fat, high in fiber and protein. Enjoy!
http://www.wineablegifts.com/Wineable-Gifts-Blog-Wine-Recipes.php?post=14

April 11, 2010 at 5:28 pm
Jay B. said:
These Nutter Butterfinger Bars look amazing! This recipe could definitely come in handy after candy holidays such as Halloween and Easter. Usually, I have to many leftover sweets from these holidays and either throw them out or forget about them. Great job again and looking forward to your next recipe!

May 13, 2010 at 8:27 pm
krissy @ thefoodaddicts.com
said:
oooh… these are awesome. i've been wanting to make this dessert/candy called nutter butter.. not sure if it's the same thing, but it sure looks tasty! gotta remember to try this.