Banana Espresso Chocolate Chip Muffins
This recipe (adapted from Baked: New Frontiers in Baking) appeared in Mother's Day Muffins for Mum on 30 Apr 2010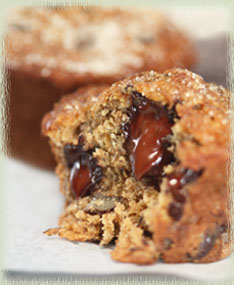 1–1/2 cups mashed, very ripe bananas (about 4 medium–sized bananas)
1/2 cup sugar
1/4 cup firmly packed light brown sugar
1/2 cup unsalted butter, melted
1/4 cup whole milk
1 large egg
1 1/2 cups all–purpose flour
1 teaspoon instant espresso powder (double amount for more pronounced flavor)
1–1/2 teaspoons baking soda
1 teaspoon salt
1 cup (6 ounces) semisweet chocolate chips
Optional: 1 cup chopped pecans (or walnuts)
Demerara sugar (for sprinkling on top of muffins)
Preheat the oven to 350° F. Spray a 12–cup muffin pan with non–stick cooking spray.
In a medium bowl, stir together the bananas, sugars, butter, milk, and egg.
In another medium bowl, whisk together the flour, instant espresso powder, baking soda and salt.
Make a well in the middle of the dry ingredients. Pour the wet ingredients into the well and stir just until combined. Fold in the chocolate chips and chopped nuts.
Fill each cup about 3/4 full. Sprinkle demerara sugar on top of each muffin. Bake in the center of the oven for 20–25 minutes, or until a toothpick inserted in the center of the muffin comes out clean.
Let the muffins cool in pan on a cooling rack for 15 minutes. Remove the muffins from the pan and allow them to finish cooling on the cooling rack. Store up to 2 days in an airtight container.
WI wine recommendation: None for this, as we'll be writing some posts dedicated to this mom's favorite bubbly next. Besides, coffee or milk are obvious choices for this one (sorry Wine Imbiber)!