I Hate Sweet Wine?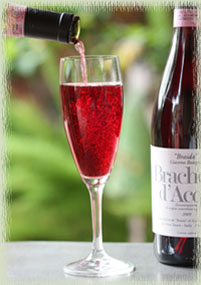 "I hate sweet wine!" I've heard it many times over the years. Perhaps, you are one of the people who have said that at some point in your life. I do like a fair number of dessert wines in relatively small doses, either alone or with a nice dessert, but I'm not a fan of wines that glug from the bottle and taste like maple syrup. We call those "diabetes in a glass", but that's not what I'm writing about today. Instead, I'm going to share a discovery I made just the other week that just might get those people who hate sweet wine to reconsider.
Leah and I went to dinner at Michael's Restaurant in Santa Monica the other week around Valentine's Day. I'd say I took her to dinner, but she came up with the idea. We hadn't been there for a long time and decided we deserved a treat. We were seated at a table on the patio and began talking about the menu and the wine list. Instead of splitting one bottle, we decided to order some half–bottles so we could try different wines with different foods. With a little help from sommelier Andrew Turner, we enjoyed some very nice Champagne, a delightful Chassagne–Montrachet and a fantastic Barolo with our appetizers and dinner. When the time for dessert finally rolled around, I suggested we order a wine (by the glass) that we had never experienced. Leah agreed, so we called Andrew over one more time to help us find something new. Leah ordered the Warm Brown Butter Tart and I ordered the Trio of Sorbets and Ice Creams. After talking with Andrew, we settled on a wine neither of us had ever heard of—Brachetto d'Acqui.
The particular wine we ordered that night was a 2008 Brachetto d'Acqui (DOCG) produced by Il Falchetto. Typical of Brachetto d'Acqui, it is produced in Piemonte, Italy and is a ruby red light–bodied sparkling wine with fantastic fruit flavors, particularly strawberries. Unlike some dessert wines that are fortified with spirits to stop further fermentation (which increases the alcohol content), this wine is only 6% alcohol, which means you can enjoy it without going over the top. It paired very well with our desserts and was the perfect finish for a great evening. In fact, we enjoyed it so much, I went online to find it so we could enjoy it again. Unfortunately, it isn't widely available, although nicer wine shops often stock this type of wine from at least one or two producers. So, I picked up a 2009 Brachetto d'Acqui (DOCG) produced by Braida (featured in our photo above) and it was also very good (though we preferred the Il Falchetto), with flavors of various berry fruits and currants (and only 5.5% alcohol). These wines seem to retail in stores in the mid–$20s. Don't confuse it with a regular Brachetto, which is usually a still red wine.
So, I have a question for those of you who claim to hate sweet wine—do you also hate desserts, cakes, pies, cookies, chocolate and other sweet foods? Maybe your experience with sweet wine was a low–grade wine from years ago or, perhaps, you didn't try the wine with a dessert dish that complements the wine. Whether you enjoy white or red wines, I think you'll enjoy this wine by itself or with a dessert. In any event, I suggest you start all over again with an open mind, this time with a nice bottle of Brachetto d'Acqui. You just might find you really enjoy sweet wine after all. And, be sure to ask the sommelier for something new the next time you dine out.
Comments (5)
March 3, 2010 at 5:23 pm
Dave said:
Rich,
I'm one of those "who hates sweet wine". But on your recommendation I will give it a go.
Thanks,
Dave

March 4, 2010 at 6:52 am
Ryan
said:
Rich,
Great post – yep, I hear that "I hate sweet wine" a lot. Mostly that comes from people drinking bland sweet wines with no character or remembering grandma put two spoonfuls of sugar into your favorite chardonnay.
But, there are some wonderful wines out there with a touch of sweetness and even some incredible dessert wines that still have liveliness and acid.
Thanks for satisfying the slight sweet tooth in all of us.
Cheers,
Ryan

March 4, 2010 at 8:06 am
Bettie@wineablegifts
said:
I too am one of those…"I hate sweet wine" types. But I must tell you Wilson Creek Winery in the Temecula Valley has a to die for wine/dessert. They call it the "Almond Joy." They start with an edible chocolate cup, fill it 3/4 of the way with port wine and top it off with their signature "Almond Champagne." It is definetly a sweet ending.

March 6, 2010 at 9:40 pm
Chelle
said:
I love sweets…but sweet wine? Not so much–but I will try this wine out.
Thank you so much for this post!

March 8, 2010 at 8:02 pm
DianaHayes
said:
I don't hate sweet wines, but I don't care for toooo sweet wines. I also think sometimes food and wine paired well, can compliment each other when otherwise it might not taste great.