A Wine Bar with Passion
St. Patrick's Day has come and gone and you've had your fill of green beer. It's time to visit a wine bar. I've been to too many wine bars that have nothing special to offer. In contrast, there are a smaller group of wine bars that make a real effort to offer interesting wines and, for those who want it, a bit of information and education. And then, there are the masters—wine bars that offer a blend of experience, excitement and passion. That's where I'm eager to spend my time and a prime example is Lou on Vine.
Celebrating its fourth anniversary this month, Lou on Vine is a special place. Not in a chi–chi location, Lou is all about the wine—as Lou's website puts it (with tongue in cheek), we are in "a classy strip mall at 724 Vine Street in Hollywood". The windowed front of Lou's space is totally obscured by a full–length set of dark curtains. The first time you visit, you'll likely open the door very slowly and carefully, wondering what awaits you on the other side.
What you'll discover is a vinous oasis in the form of a small restaurant with a wine bar at the opposite end of the room. Most nights, you'll find Lou Amdur seated nearest the bar, working on his laptop, or behind the bar talking to customers. Lou's knowledge of wines is reflected in his wine list (which changes every couple of days) and the wine and food pairings on the menu. Lou on Vine is serious about wine, but it is also inviting to beginners and even to people who just want to have a good time and don't care to dip into the details. I recently interviewed Lou, who had a lot to say.
I asked Lou what his impetus was for establishing Lou on Vine. "I fell hard for wine. I worked in sofware for many years. In the software industry the puzzle–solving is fun, the golden handcuffs are comfy, and the people you work with are splendidly geeky and smart. For a certain sort of brainy misfit, it is a dream job. I loved the engineering puzzles but the Siren call of wine got louder and louder, and I began to wonder if I could make wine more a part of my life, to move it from a serious hobby to the next level. I took the WSET advanced certificate in London without really having any utilitarian goal in mind, and later I thought perhaps I could open a neighborhood wine bar. Now, I am engaging with something that I love every day."
What was your vision for Lou? "I took my cues from the modest Parisian neighborhood bar au vin, places like Le Rouge Gorge or Jacques Melac. These are emphatically not places where you expect or require a sommelier to deliver a peak wine experience, and they are not about the pursuit of perfection—they are where you go to enjoy interesting country wines, wines that express something about their history and place of origin, sometimes with bumps, warts, and all, while enjoying and simple, rustic plates of food."
Although Lou modestly denies he has an extensive knowledge of wines, he's the kind of guy who researches wine terroir and the influence that cultural factors have in evolving particular wine production styles. And he doesn't just research by reading books. "There is a huge difference between reading and studying about wine, and knowing them. I believe that you can only truly know the wines of a region if you drink them repeatedly and live with them, and by doing so, make them your own. Eventually, if you really become infatuated with the wines of a region, you should also try to visit. Last year, a young cook that worked at Lou received a small inheritance from his grandmother. He took off for Europe and spent three months in Beaujolais, living and working with a grower there. I know that this experience will change his relationship to and taste in wine for life."
Lou recently got into a debate about the wines from two French villages that are about 60 kilometers apart. How does he form his views? "I drink a bit of these wines each day and try them with different foods, various cheeses, and through this method, develop a deeper relationship with them. Perhaps next year I will make a visit to eastern France." And Lou tries wines with all kinds of foods. For the past three years, Lou has served as a judge for the Pacific Coast Oyster Wine Competition, where wines are judged blind, each with a Kumamoto oyster, and the judges rank the wine's affinity for the oyster.
Lou loves to share knowledge in both directions. "This sounds hackneyed, but I dig our customers, even the customer who keeps putting her gum under my tables (I know who you are!). When I was working on my business plan, I focused on pragmatic questions. I didn't think about the simple, brute reality that I would meet a lot of folks. I am a believer in the social theory of knowledge, that knowledge can only arise through discourse, and so I get my fill of discourse with our customers every day. Yesterday, for example, I was discussing eau de vie and schnapps with a German regular, and he mentioned a regional berry that employed in traditional bitters, something like a juniper berry, but not. So, now I want to know more about that, too."
Wine really speaks to Lou. "I have the following mental model—six thousand miles away, a stubborn vigneron continues to cling to a grape variety that most everyone else has forsaken, even though it is an old variety traditionally grown in his or her region. They make some wine from these grapes, and the wine travels across the Atlantic Ocean, through the Panama Canal, and lands in San Pedro. Then, it makes its way by truck to a warehouse, where eventually another trucker delivers it to my restaurant. I open the bottle, and in an instant, it telegraphs wordlessly something about the terroir, history, and person who made it. That is a damn mysterious thing, isn't it?"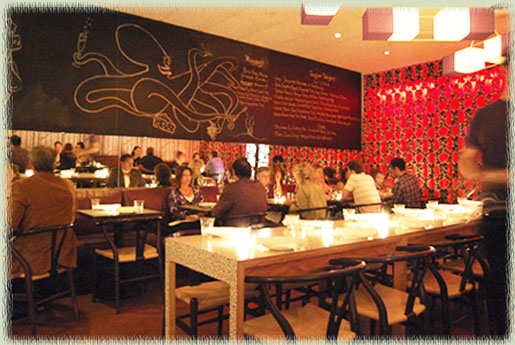 And Lou on Vine is also about the food. After all, how many small restaurants make their own duck confit and fresh sausages? Lou's weekly email newsletter (which you can subscribe to on Lou's website) gives you a window into what's cooking. A typical newsletter has a few paragraphs of very interesting information and reveals the special wines being served that week and a Monday tasting menu that is always unique. A recent newsletter explained some history of winemaking in the former Soviet republic of Georgia and gives you the flavor of "five different Vinoterra wines, four of which are kvevri–fermented. Although all of these grape varieties are quite ancient and, in the case of rkatsiteli, were once planted widely in Eastern Europe, today they are mostly unknown outside of their region." One of the wines was paired with grilled Tomino del Boscaiolo, salad of baby radicchio, frilly endive, apple, and vincotto; three others with smoked Niman Ranch pork loin, Santa Monica Mountain chanterelles, duck fat–fried potatoes and house–cured bacon"; the fifth with dessert, a "Honey walnut cake, caramelized pear ice cream". Lou described the dessert wine as "a white wine made from an exceptionally rare and ancient Georgian grape variety. In 2006, Georgians harvested a mere 40 tons of kisi, which spends six months in kvevri and then matures in oak for two years. Some customers at Lou have likened this wine to Bourbon on the rocks."
How does Lou create his ever–changing wine list? "I go out of my way to pour interesting wines at my wine bar, mostly from the old world, and yes, a few are admittedly more in your face than others, but most of the wines I offer are non–confrontational and accessible to the uninitiated. I do not go out of my way to serve extra–rarified and geeky wines, though sometimes I do serve them." Lou's staff is educated and approachable—if someone doesn't know the answer to your question, they will quickly return to your table with the answer.
My wine list is not about personal expression. I'm not trying to express myself through the wines that I pour, but I absolutely want and need to stand behind what I sell. I would feel cynical if I poured a wine that to me was dreck but to others was manna. For me, it's like being a cartographer of interesting places and it's my job to try to report on what I saw there. The people who make and enjoy overripe and syrupy red wines from the Languedoc are not evil people. It would be truculent to fault anyone for trying to make a living selling the fruits of their labor, but I'll reject a wine for my restaurant if I think that there are more typical, interesting, and often better–priced wines from the same region. This conservatism takes strange twists, as some of the winegrowers I most admire are making the most delicious wines ever to come from their region by taking the radical departure of being all the more traditional in their approach— for example, Gerard Gauby."
Lou is inquisitive and likes to experiment. In the past year, he's been making some wine of his own. I asked him how the production is going? "It is not ready yet. It turned out pretty good, with no obvious flaws such as undue volatile acidity, residual sugar, brett, etc. I do wish now I had started with grapes with a lower level of sugar (the wine is close to 15 percent alcohol). I had understood that brix x 0.5 = final alcohol, if you ferment to dryness. I was surprised, then, that my wine, which started at 24.9 brix, fermented to dryness at almost 15 percent. I later learned from Steve Edmunds that the multiplier is actually closer to 0.6, and then from Brian O'Donnell that the conversion is even more complex, and has to do with the ratio of fructose and glucose in grapes. Therefore, John Dewey was correct—you learn by doing."
So, what wine does Lou enjoy most often? "I heart gamay." What does he have open at home right now? "Let's see…on my counter right now, there's a bottle of Cabotte Côte du Rhône, a bottle of Baudry Chinon Grezeaux, another Loire Cab Franc, a bottle of Moric Blaufränkisch Altereben 2003 that I opened the other night—oak out the wazoo! There is a bottle of DiConciliis Antece in the fridge, too, an oxidative fiano from Campania. I mostly drink Loire reds, whites, and sparkling, cru Beaujolais, and wines from the south of France, reds from the northwest of Spain, Sicilian red wines, too…especially if the wine has 'Occhipinti' on the label. Austrian, wine, too, is a big deal for me, and I find myself mostly drinking Austrian reds, and as far as whites, secondary varieties like zierfandler and gelber muskateller. If I had money, I would make old Madeira part of my everyday life." What else would you expect form a guy who owns the most interesting wine bar in Los Angeles?
I asked Lou if he made any big discoveries on his recent trip to France? "Yes! Here is one—the old vine vineyards that Eric Texier is newly working with in Saint–Julien–en–Saint–Alban in the northern Rhône. That's not my discovery, but Texier's. And wait until you taste the wines." It's all about experience, excitement and passion—and wine, of course!

(Photo of Lou courtesy of Pacific Coast Oyster Wine Competition; photo of Lou on Vine courtesy of Selena Linkous, Bestor Architecture.)

Update: Lou Amdur sold his wine bar to Troy Stevens effective April 25, 2012.
Comments (1)
March 19, 2010 at 11:38 am
Jon said:
Lou–Absolutely LA's best wine bar! You'll be hard-pressed to find someone in LA who is more knowledgeable about wines than Lou Amdur. A lot of thought goes into the menu as well. I just wish Lou was a little closer to where I live so I could go there more often!