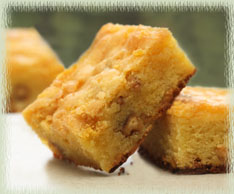 Don't you just love Paula Deen? I watch her shows on the Food Network whenever I can. Her recipes never fail to satisfy appetites at my house. We particularly like her dessert recipes (how can you not like them with all the butter and sugar she manages to cram into each one?). I usually end up reducing the amounts of said ingredients when I try her recipes, though (sometimes for health reasons, other times for taste), and it hasn't compromised the finished product yet.
That being said, I had no qualms about giving the same treatment to a dessert recipe she was serving up on an episode about spicy food. It's a recipe that was given to her by a patron of her restaurant, The Lady & Sons. Paula said the woman guaranteed she would love it (and she did), so Paula included it on the show as a sure dessert that would douse the flames of the fiery recipes she was making that episode.
At first, the recipe (named Orange Brownies) sounded like brownies with orange icing to me. After all, some people do put frosting on brownies. I don't. (Who needs the extra sweetness or calories?) But after watching Paula whip up a batch on the show, it was apparent that the recipe was just a victim of poor titling. What was really produced by this recipe was an orange cake that was supposed to be brownie–like in texture. No chocolate flavoring here, just pure essence of orange. Being that the flavor of this recipe relied entirely on the juice and zest (and even extract) of orange, I figured Meyer lemon would work equally as well (if not better!).
I assumed correctly. They turned out very well, even with the other changes I made to the recipe. (A perfect recipe for Lemon LoveFest, if I must say so myself! Post about or submit a lemon recipe for a chance to win your own Meyer lemons now!) People who reviewed this recipe complained that the texture wasn't brownie–like at all and too sweet. I followed suggestions that were made to avoid producing a cake–like texture, and also made a couple of my own ingredient additions that I believe every brownie shouldn't be without. I've also renamed the recipe, since these aren't really brownies (they're blondies, for heaven's sake!).
So, here's to Paula Deen for being an unrelenting source of inspiration to recipe tweekers like me, no matter what the reason. Barbara Walters can go stuff it! People just have to use their brains when cooking and eating and quit blaming others for their own lack of self–discipline!
WI wine recommendation: Champagne, Prosecco or other sparkling wine.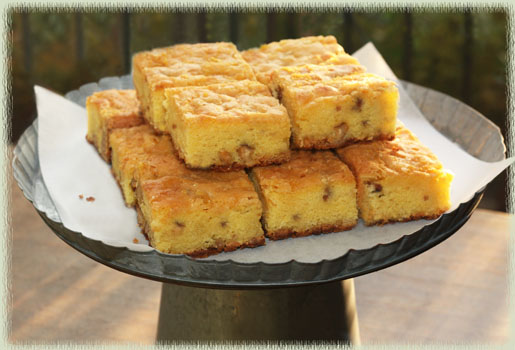 Meyer Lemon Walnut White Chocolate Chip Blondies
(very loosely adapted from Paula Deen)

1 cup all–purpose flour
1–1/2 cups sugar
1 teaspoon salt
1 cup (2 sticks) unsalted butter, softened
3 eggs
2 teaspoons pure lemon extract (or fresh Meyer lemon juice)
1/2 tablespoon plus 2 teaspoons freshly grated Meyer lemon zest
Optional: 3 drops yellow food coloring
1/2 to 1 cup toasted walnuts
1 cup white chocolate chips
3/4 cup powdered (confectioners') sugar
2 tablespoons freshly squeezed Meyer lemon juice

Preheat oven to 350° F.
Place a piece of aluminum foil into a 13x9x2-inch pan, allowing the sides to hang out on the long side. Set aside. Baker's note: I used an 11x7x2-inch pan to produce a thicker blondie.
In a mixing bowl, stir together the first three ingredients. Add the next five ingredients (using only the 1/2 tablespoon of zest) and beat with a handheld mixer until well blended. Add the yellow food coloring (if using) and incorporate into the batter. Stir in the nuts and chocolate chips.
Pour batter into the prepared pan and evenly smooth the top with an offset spatula. Bake for 25-30 minutes, or until light golden brown and set. Baker's note: If using a smaller pan like I did, you'll need to adjust the baking time. Mine took another 20–25 minutes before the center finally set. I had to cover the top with foil as it began to brown too quickly. The bottom crust also browned a little more than desired. Next time I will shorten the baking time. I was using a wooden skewer to test for doneness and should have allowed for some moist crumbs to be clinging to the skewer. As long as the center isn't liquidy or pasty–thick in consistency, it's okay for something crumb-like to be sticking to the skewer.
While blondies are baking, prepare the glaze by combining powdered sugar with the lemon juice and the remaining 2 teaspoons of zest. Set aside.
Once the blondies are done baking, remove from oven and pierce entire top with a fork or blunt end of a skewer (while blondies are still hot). Quickly pour glaze over top and smooth to the edges of pan (it will soak in).
Allow the glazed blondies to completely cool in the pan. Once cooled, cut into squares or rectangles.