The Recipe That Finishes (And Began) It All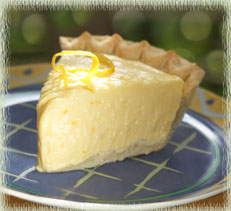 For my last hurrah to Lemon LoveFest, I thought I'd share the recipe that started it all for me and my Meyers. Long before the internet revolutionized the way all of us foodies facilitate our habits, there were things called magazines and newspapers. When the Wine Imbiber and I got married, one of our more perceptive friends included a subscription to Sunset magazine along with her wedding gift. For those of you who aren't familiar with Sunset, it is a monthly publication that "shares the best of life in the West—from travel and food to home and garden." In other words, it's the perfect gift for newlyweds who don't know quite what they're doing when it comes to cooking, gardening and maintaining a lifestyle in the western US of A.
We relied heavily on Sunset as we learned all the lessons of home ownership and maintaining wedded bliss. It was the only source I confidently depended on (except for my tattered, soft–covered copy of The Joy of Cooking) for recipes and cooking techniques. I could always find recipes that appealed not only to the home cook in me, but also to the gourmet chef that was struggling to emerge. (After raising four kids in the meantime, the gourmet chef has all but given up and packed her toque and Santoku knives and headed for the nearest wine bar.)
Once the shock of learning how to garden (read: keeping our front lawn alive and decently mown) wore off, we discovered some of the living things in our yard actually produced edible rewards. Even though an old walnut tree eventually fell victim to our first home remodel, the Meyer lemon tree survived (better than we did, I might add). I desperately wanted to create more than just lemonade and garnishes with the wonderful lemons we harvested from our little tree, but couldn't find much on the subject of Meyers. That is, until one fateful day in March of 1997, when Sunset once again came to my rescue with an article about this unique–tasting citrus. It included a few simple and straightforward recipes, one of which has been reincarnated on myrecipes.com.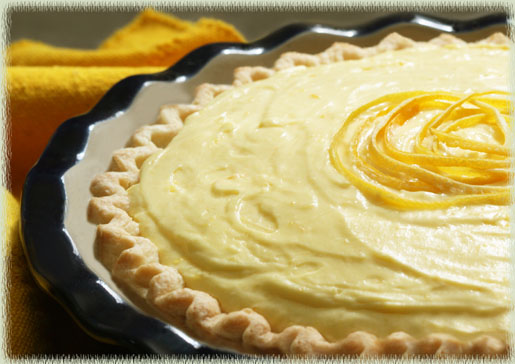 This is a nice beginner's recipe that makes good use of both lemon zest and juice. I thought I had hit pay dirt when I originally saw it called for ten Meyers (I had a lot of lemons to use up!). I found that I only needed half that amount of lemons to satisfy the recipe's required amounts. Oh well. What kind of fool would I be to complain about having large lemons?
Thankfully, many years later the LA Times printed an article in their Food section entitled "100 Things to do with a Meyer Lemon." It didn't include recipes like Sunset did, but it introduced many new possibilities to explore (both edible and inedible) that inspired me to use our special lemons in ways I'd never thought about.
So go ahead and give this recipe a try if you are looking for an easy and great way to use Meyer lemons. Serve it with berries (any kind will do) and whipped cream for a tasty variation. Upon first look, it resembles my Lemon Silk Meringue Pie, but the differences go way beyond the obvious meringue topping and graham cracker crust. The filling for this pie is lush and creamy; the other is more silken and pudding–like. And as would be expected, both recipes benefit in the flavor category from the usage of Meyer lemons (but, doesn't everything?).
WI wine recommendation: A medium–bodied dessert wine that is fruity, spicy or has a mineral edge (like Riesling or Moscato) would pair well with this recipe.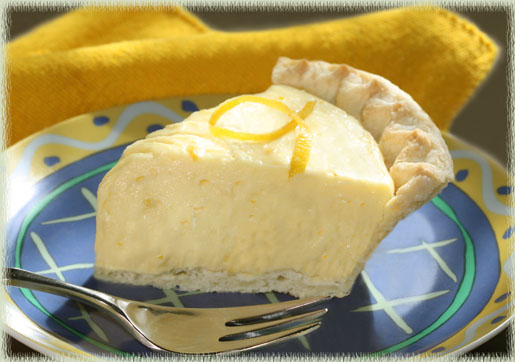 Meyer Custard–Cream Pie
(from Sunset magazine)

10 (about 2–1/3 lbs) Meyer lemons (I needed only 5)
1/3 cup cornstarch
1 cup sugar
3 large eggs
1 cup whipping cream
Baked, cooled 9–inch pastry shell (if purchasing, use a deep–dish crust)

Grate 2 teaspoons peel from lemons. With a zester or Asian shredder, make a few long, slender strands of peel from Meyer or regular lemons; set aside. Ream 1–1/3 cups juice from the lemons.
In the top of a double boiler, mix cornstarch and sugar. Stir in juice and grated peel. Fill bottom of double boiler with 1 inch water. Place pans over high heat and bring water to a simmer; adjust heat to maintain simmer. Stir until mixture is thick and shiny, 8 to 9 minutes. In a bowl, whisk eggs to blend. Whisk in about 1/2 cup lemon mixture, then return all to pan. Stir until mixture is very thick and reaches 160° F on an instant–read thermometer, about 5 minutes.
Remove top pan. Place in a bowl of ice and stir often until mixture is cool to touch, about 6 minutes.
In a bowl, beat cream with a mixer until stiff. Fold in lemon mixture, then spread evenly in pastry shell. Scatter reserved strands of peel on top. Chill, uncovered, until slightly firm to touch, about 2 hours. Serve, or wrap airtight and chill up to 1 day.
Comments (7)
February 23, 2010 at 10:44 pm
Jay B. said:
This looks delicious! I bet it was probably eaten within two to three days. I can taste it already. Great pictures and good job.

February 26, 2010 at 2:41 pm
Cathy
said:
WOW!! It looks fantastic! This is going on my to-make list.

February 27, 2010 at 4:10 pm
Sathya
said:
Oh, this looks absolutely sensational! I wish I could have a slice with my morning cuppa!

February 28, 2010 at 4:04 pm
grace
said:
as i was scrolling through tastespotting, i glanced at your title and thought i saw mustard cream pie. wow. not that that wouldn't be interesting, but this is so much better.


March 1, 2010 at 10:11 am
Niki
said:
oh, my – i love lemon anything, and this looks divine! lemon meringue has always been my fav, but i'll have to give this a go and see how it compares. no meyer lemons – do you think traditional lemons would work? i know the flavor profile is different, but wasn't sure about acidity, etc.

March 1, 2010 at 11:49 am
Leah
said:
Niki: Since Meyer lemons are a cross between a mandarin orange and a regular lemon (making them more sweet than tart), I would consider adding some sugar. I've seen other recipes that said a tablespoon or so of sugar is usually enough to make up for the difference in acidity when substituting traditional lemons for Meyers. You might even try adding some orange juice to offset the tartness.

March 9, 2010 at 3:28 pm
food librarian
said:
Awesome. Can't wait to try this! I got my lemons and they were so pretty! Will be posting soon – mary