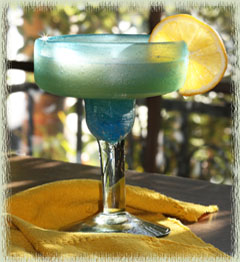 What a game it was on Sunday! And, it was all the sweeter because I won our pool by betting on the underdog; a team everyone must know by now had never won the Super Bowl! I even chose the correct color of Gatorade that was dumped on the Saint's coach's head (much to my non–betting son's amazement). How great for New Orleans and their quarterback (and game MVP), Drew Brees, who four years earlier didn't know if their city would be able to rise from the rubble of hurricane Katrina, much less have a football team! But, they decided to rebuild together and it apparently made all the difference in the world. They played with heart and got the job done!
Speaking of heart, have you noticed how much we *heart* Meyer lemons lately? We've just passed the midway mark for Lemon LoveFest and we are really beginning to feel the lemon love! The Library is filling up nicely with lemon recipes and photos, and by the looks of it, we share our love of Meyer lemons with plenty of other bloggers! We've just updated the Library, so click on over if you are looking for some pretty tasty recipes and photos. You might even discover some great food websites while you're browsing (I know I did!).
I didn't forget my Meyers when I planned this year's Super Bowl pig out. My original plan was to try out a couple of new cocktail recipes so I could experiment with them. But once we tasted our first concoction, there was no looking back. The first cocktail became the drink of the day. Mind you, this wasn't a new drink to me. I've had Italian margaritas in restaurants before. Once I discovered that the ingredient that makes them Italian was simply the addition of Amaretto, I began making my own at home. It's amazing how well the Meyer lemons work together with the almond flavor of the Amaretto. Since Meyers are slightly sweet and less acidic than regular lemons, no sugar or simple syrup was necessary in this recipe. I also don't think a salt–rimmed glass is necessary either. Just four ingredients and some ice and you've got pure joy in a glass!
By the way, I prefer mine blended rather than on the rocks (due to an addiction to Slurpees that I've never gotten over from my childhood). Either way you choose to make this margarita, I'm sure you won't soon forget the smooth flavor combination. Oh, rather than keep the mystery of Italian margaritas alive, I've renamed it with the two main flavors in the title. It's a mouthful, but at least you know exactly what you're getting into—or what's getting into you!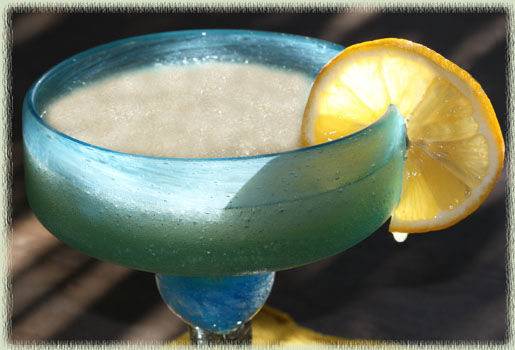 Meyer Lemon Amaretto Margarita

1–1/2 ounces freshly squeezed Meyer lemon juice
1 ounce Amaretto
1 ounce Triple Sec
1–1/2 ounces Tequila
Ice cubes
Optional: round lemon slice to garnish the glass

Pour all ingredients into a blender. Add an equal amount of ice cubes and hit the "chop ice" button a few times to break them up. Then, shift into high and continue blending until a nice, smooth consistency is achieved. If the drink is too liquidy, add some more ice and continue blending on high. Be careful not to add too much ice or your drink will be too watery tasting. Pour into a margarita glass and garnish with a lemon slice.
For a non–blended margarita, just shake up all the ingredients (along with a few ice cubes) in a cocktail shaker for about 20 seconds. Strain the liquid into an old fashioned or highball glass, add a few ice cubes and float a lemon slice on top.
Makes one serving.