Meyer Custard–Cream Pie
This recipe (from Sunset magazine) appeared in The Recipe That Finishes (And Began) It All on 23 Feb 2010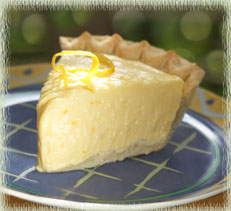 10 (about 2–1/3 lbs) Meyer lemons (I needed only 5)
1/3 cup cornstarch
1 cup sugar
3 large eggs
1 cup whipping cream
Baked, cooled 9–inch pastry shell (if purchasing, use a deep–dish crust)

Grate 2 teaspoons peel from lemons. With a zester or Asian shredder, make a few long, slender strands of peel from Meyer or regular lemons; set aside. Ream 1–1/3 cups juice from the lemons.
In the top of a double boiler, mix cornstarch and sugar. Stir in juice and grated peel. Fill bottom of double boiler with 1 inch water. Place pans over high heat and bring water to a simmer; adjust heat to maintain simmer. Stir until mixture is thick and shiny, 8 to 9 minutes. In a bowl, whisk eggs to blend. Whisk in about 1/2 cup lemon mixture, then return all to pan. Stir until mixture is very thick and reaches 160° F on an instant–read thermometer, about 5 minutes.
Remove top pan. Place in a bowl of ice and stir often until mixture is cool to touch, about 6 minutes.
In a bowl, beat cream with a mixer until stiff. Fold in lemon mixture, then spread evenly in pastry shell. Scatter reserved strands of peel on top. Chill, uncovered, until slightly firm to touch, about 2 hours. Serve, or wrap airtight and chill up to 1 day.
WI wine recommendation: A medium–bodied dessert wine that is fruity, spicy or has a mineral edge (like Riesling or Moscato) would pair well with this recipe.