Get Sauced for Super Bowl XLIV!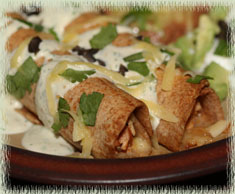 Super Bowl is this weekend and it's time to get your avocado on! According to the California Avocado Commission, some 13.2 million pounds of avocado (roughly 26 million individual avocados) are sold in preparation for the day which Americans feast on the second–greatest amount of food (the first being Thanksgiving). And what are we doing with all these avocados? Making guacamole, of course! Apparently, this quantity of avocados translates into an estimated eight million pounds of the stuff! That's enough "dip to cover the Louisiana Superdome football field, end zone to end zone, waist deep in guacamole (approximately 40 inches)," says the council.
We, like the rest of America, enjoy gorging out on guacamole and chips while watching the big game, too. I have more than a few recipes for it, each varying in spiciness and citrus content. Since we have both lemon and lime trees, I have a year–round supply of citrus to choose from to accommodate my guacamole–making needs. While there is great debate over which citrus produces the most traditional tasting guacamole, I find lemons and limes to be interchangeable (as long as you're careful with the amount of lemon, that is). I've found that adding too much lemon can drastically alter guacamole's flavor, while a lot of lime just seems to give it a little more tang.
A suitable comparison would be the flavor difference between Meyer lemons and regular Eurekas. Meyers are a hybrid of mandarin orange and lemon, so their flavor is less tart and more tangy. And since we are celebrating Meyer lemon season right now with Lemon LoveFest, the only citrus I'll be using in my Super Bowl guacamole is (you guessed it) Meyer lemon. (Cinco de Mayo guacamole is another story, though. My lemon tree is usually bare that time of year, so I use my limes.) You could also use both lemon and lime juice for twice the citrus zing (try this recipe).
With all this talk about guacamole, you're probably expecting me to post one of my recipes for it. Not this time, folks. There are so many good ones on the internet already; I thought I'd share some different recipes I discovered that would be perfect for a Super Bowl chow–down or any future fiesta you might be planning.
The first is a versatile little recipe, one that can be used as a dip for chips and veggies or as a sauce over just about anything. I tried it as a sauce over an easy recipe for chicken flautas and served it with sides of refried beans, sour cream and an avocado relish (instead of guacamole). It was a fantastic combination of flavors, rivaling anything you could get at an upscale Mexican restaurant. And it was all so easy to put together! If you want to be able to spend more time watching the game (or if you're like me, the commercials) instead of sweating it out in the kitchen, I highly recommend these recipes for Super Bowl Sunday. Just assemble the flautas ahead, and once baked, line them up alongside bowls of various toppings (like grated cheese, chopped black olives, shredded iceberg lettuce, sliced green onion, diced avocado and sour cream), the cilantro sauce and refried beans. People can then top the flautas however they please, making them happy happy and you less busy busy. And don't forget to keep the tortilla chip bowl full…they make great dippers for the cilantro sauce!
I followed the recipes as written, only adding topping suggestions for the flautas. The recipes are viewable below or via the links above in this post.
WI wine recommendation: No wine today! You need beer and margaritas to cut through all the spiciness and rich flavors of this meal. You might even try making some Meyer lemon cocktails (I know that's what we'll be doing; more on that in next week's post!)


Amy's Cilantro Cream Sauce
(from allrecipes.com)

1 (8 ounce) package cream cheese, softened
1 tablespoon sour cream
1 (7 ounce) can tomatillo salsa
1 teaspoon freshly ground black pepper
1 teaspoon celery salt
1/2 teaspoon ground cumin
2 teaspoons garlic powder
1 bunch fresh cilantro, chopped
1 tablespoon fresh lime juice (or even Meyer lemon juice)

Combine cream cheese, sour cream, salsa, pepper, celery salt, cumin, garlic powder, cilantro and lime juice in a blender or food processor. Blend until smooth and creamy. Place in a serving bowl.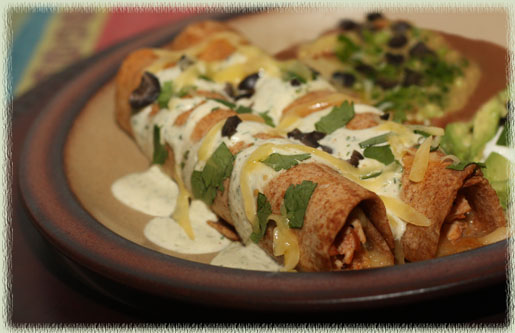 Chicken Flautas
(from allrecipes.com)

4 skinless, boneless chicken breast halves, cooked and shredded (I used Trader Joe's "Just Chicken")
1 (8 ounce) jar picante sauce
1/4 teaspoon ground cumin
8 ounces shredded Monterey Jack cheese
8 ounces shredded Cheddar cheese
36 (6 inch) corn tortillas (I used whole wheat flour tortillas)
1 tablespoon vegetable oil (you'll need a little more than this amount)
Optional for serving: grated cheese, chopped black olives, shredded iceberg lettuce, sliced green onion, and sour cream, diced avocado, Amy's Cilantro Cream Sauce

Preheat oven to 350° F (175° C)
In a medium bowl combine the shredded chicken, picante sauce and ground cumin. Mix together.
In a small skillet, heat vegetable oil over medium high heat. Place a tortilla in the oil for 1 to 2 seconds on either side to soften. Repeat with all of the tortillas. Place tortillas on paper towel to soak up some of the oil.
Put 1 tablespoon of the chicken mixture in the center of a tortilla and sprinkle some cheese on top. Roll up tortilla and place on a lightly greased cookie sheet, seam side down. Repeat with all of the tortillas until the chicken mixture is gone. If there is any cheese left over, sprinkle it over the rolled tortillas.
Bake tortillas in the preheated oven for 15–25 minutes or until tortillas are a little crispy and golden brown.
For serving, place one or two flautas on a plate and spoon the cilantro cream sauce over the top. Top with any of the other optional ingredient toppings and serve with refried beans and/or rice.