This recipe (from allrecipes.com) appeared in Get Sauced for Super Bowl XLIV! on 05 Feb 2010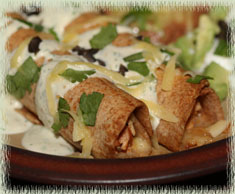 4 skinless, boneless chicken breast halves, cooked and shredded (I used Trader Joe's "Just Chicken")
1 (8 ounce) jar picante sauce
1/4 teaspoon ground cumin
8 ounces shredded Monterey Jack cheese
8 ounces shredded Cheddar cheese
36 (6 inch) corn tortillas (I used whole wheat flour tortillas)
1 tablespoon vegetable oil (you'll need a little more than this amount)
Optional for serving: grated cheese, chopped black olives, shredded iceberg lettuce, sliced green onion, and sour cream, diced avocado, Amy's Cilantro Cream Sauce

Preheat oven to 350° F (175° C)
In a medium bowl combine the shredded chicken, picante sauce and ground cumin. Mix together.
In a small skillet, heat vegetable oil over medium high heat. Place a tortilla in the oil for 1 to 2 seconds on either side to soften. Repeat with all of the tortillas. Place tortillas on paper towel to soak up some of the oil.
Put 1 tablespoon of the chicken mixture in the center of a tortilla and sprinkle some cheese on top. Roll up tortilla and place on a lightly greased cookie sheet, seam side down. Repeat with all of the tortillas until the chicken mixture is gone. If there is any cheese left over, sprinkle it over the rolled tortillas.
Bake tortillas in the preheated oven for 15–25 minutes or until tortillas are a little crispy and golden brown.
For serving, place one or two flautas on a plate and spoon the cilantro cream sauce over the top. Top with any of the other optional ingredient toppings and serve with refried beans and/or rice.

WI wine recommendation: No wine on Super Bowl Sunday! You need beer and margaritas to cut through all the spiciness and rich flavors of this meal. You might even try making some Meyer lemon cocktails!