TJT: Shrimp Scampi Over Pasta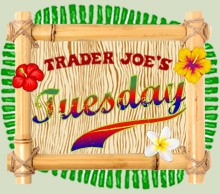 Lemon LoveFest has gotten off to a shaky start. After first weathering a launch during one of Southern California's worst winter storms in recent history (I guess it was more about Rich and me surviving the weather conditions than our little lemon event), our electricity and website service provider decided to fart out on us. Now, those are things that could definitely sandbag a blogger's plans. We finally had to switch Wine Imbiber over to another host, which wreaked havoc on the site for more days than I care to mention. Now, it's safe to say, we're back in the saddle!
Since I'm dedicating the next few weeks to posting about lemon recipes (in honor of Lemon LoveFest), I've got a lot of catching up to do with this week's posts. And because we had some unforeseen downtime, we're going to extend the event (see the Lemon LoveFest update above this post). While we were reassembling our site, we discovered that we neglected to mention that blogger's can submit any post they have about a lemon recipe (past posts included). So, feel free to scour your archives and get submittin'! (Remember, there could be some Meyer lemons in your future for your efforts!) We managed to post a few submissions before our computer glitch set us back a bit, and plan to continue posting submissions as we receive them.
Now, let's get on to one of my favorite ways to use lemon in a dinner recipe. Last week, I posted about our favorite brunch recipe for Lemon Ricotta Pancakes. It included suggestions for berries that best complement the lemon flavor. I also mentioned how our family prefers raspberries for that dish. I personally think a lemon/raspberry combination ranks right up there with everybody's all–time favorites of peanut butter/chocolate and cheddar cheese/apple combinations. Lemons are so versatile; they seem to enhance the flavor of everything they're paired with (especially other fruits and berries).
Seafood happens to be another food group that benefits from a squeeze of lemon, so it's no wonder that Scampi is at the top of my lemon–flavored dinner recipes list. And it isn't just the combination of the shrimp and lemon that makes Scampi so good. There's garlic and white wine mingling around in that luscious sauce. So now we're talking about two more of my most favorite ingredients ever to include in a recipe! I've been to many a wine and garlic festival, and lemon–flavored dishes show up on the food tasting menus quite frequently. Garlic and lemon are the two necessary flavors of Scampi; wine is always an optional ingredient (you can guess which way I go on that option!).

FYI: Scampi is a variety of lobster (about the size of an extra–large shrimp) that is found in the Mediterranean and the North Atlantic Ocean. In the United States, "scampi" has become the menu name for "shrimp" in Italian–American cuisine. Used by itself, "scampi" refers to a dish comprised of shrimp cooked in garlic, lemon and either butter or olive oil that is served with bread (for dipping in the sauce), or over rice or pasta. The word "scampi" is often thought of as a style of preparation, rather than an ingredient. When using shrimp, this style of preparation is called "shrimp scampi". Scampi sauce can be used effectively on any kind of seafood (lobster is good one) and even chicken.
This makes a great Trader Joe's Tuesday recipe (even though I'm two days late posting it). TJ's sells a package of finely chopped shallots/onion/garlic that makes putting this recipe together even easier. They also have reasonably priced shelled and deveined shrimp in the freezer section, various preparations of parmesan cheese in the deli department, and a good selection of white wines in the liquor area. I got everything I used in this recipe from TJ's, except for the Meyer lemons (since I used my own). I've seen Meyers sold there on occasion, but you can easily substitute regular lemons (which they always have on hand).
WI wine recommendation: A dry, white wine (like Pinot Grigio, Orvieto or Grechetto). As usual, you can drink the leftover wine from the bottle you open up for use in this recipe.


Shrimp Scampi Over Pasta

4 tablespoons (1/2 stick) butter, unsalted
1/2 cup olive oil
1/2 of a 4 ounce package of TJ's chopped shallot/onion/garlic (or substitute an equal amount of each ingredient, finely chopped)
Pinch of crushed red pepper flakes, optional
1/4 cup lemon juice, freshly squeezed (I used a Meyer lemon, of course!)
1/3–1/2 cup dry white wine
1/4 cup (plus more for topping) parmesan cheese (I used a combo of TJ's fresh grated and shaved)
1–2 tablespoons Italian parsley, chopped
1 pound shelled & deveined, tails–on shrimp (defrosted, if using frozen)
1 pound spaghetti or linguine pasta (I used whole grain spaghetti)
Sliced lemons, for garnish

Bring a large pot of salted water to boil on the stove. Add the pasta noodles and cook for 7 to 8 minutes (until al dente, or not quite cooked). Drain the pasta and set aside.
In a large skillet, melt the butter and olive oil together over medium–high heat. Add the shallot/onion/garlic mixture and the pepper flakes (if using) and sauté until translucent (about 3 to 4 minutes). Note: I like my sauce to be extra–garlicky, so I added 2 extra chopped garlic cloves to the pan. Sometimes I will even add a little granulated garlic, too.
Add the lemon juice and wine to the pan and bring to a boil. Add the shrimp and sauté for about 4 minutes (turn the shrimp once halfway through sauté time).
Remove the shrimp from the pan; set aside and keep warm.
Add the cooked pasta to the pan and toss the noodles until they are nicely coated with the sauce. Sprinkle the 1/4 cup of grated parmesan cheese evenly over the top of the pasta and continue tossing the noodles until the cheese is evenly distributed throughout.
Remove the pasta to a large serving platter. Place the warm shrimp in a heap on top of the pasta and sprinkle the top with parmesan shavings and chopped parsley.
Garnish the serving platter with lemon slices and serve immediately. Pass grated parmesan cheese at the table for those who like extra cheesy goodness.
Comments (0)
February 14, 2010 at 10:52 am
riekee
said:
I will try this this week – can't wait it looks sooo good