Rice Pudding With Bananas & Pistachio Nuts
This recipe (adapted from Pierre LaFond Wine Bistro and Epicurious) appeared in It Was Somebody's Birthday! on 14 Jan 2010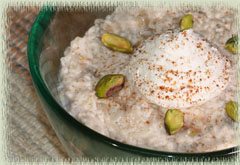 1/2 tablespoon butter
1/2 teaspoon ground cardamom
1/8 teaspoon ground cinnamon
1/8 teaspoon ground nutmeg
1/4 cup plus 1 tablespoon sugar
1/2 cup basmati rice, rinsed and drained
2 cups milk (I used 2%)
1 cup cream
1/4 cup unsalted pistachios, shelled and chopped, plus extra for garnish
1 large, ripe banana
Whipped cream

In a medium saucepan, melt the butter over low heat. Stir in the cardamom, cinnamon, nutmeg and sugar. Cook for 1 minute, stirring constantly.
Stir in the rice, milk and cream. Bring the mixture to a simmer over high heat, and then reduce the heat to maintain a simmer. Cook the rice (uncovered) until very tender, stirring occasionally (20–25 minutes).
Remove from heat and set the pan aside (uncovered) until the rice cools to room temperature, about 30 minutes. (The pudding might be very soupy at first, but will thicken as the rice continues to absorb the liquid as it cools in the pan.) When the rice is almost cooled, peel and dice the banana.
Stir in the chopped pistachios and diced banana, then cover and refrigerate the pudding until well chilled. Note: I tasted this two different ways (warm and cold). I preferred it warm. The banana flavor seemed to be enhanced by the warmth.
Garnish with extra pistachios and a dollop of whipped cream (and a sprinkling of cinnamon, if desired). This makes about 3 cups rice pudding (about 4–5 servings). It's very rich, so adjust servings accordingly.
The recipe was adapted from two recipes–one from Pierre LaFond Wine Bistro and the other from Epicurious.
WI wine recommendation: This dessert dish isn't overly sweet, but it would still be best with a somewhat sweeter wine, such as a typical Gewürztraminer or Riesling.