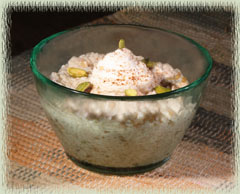 Don't you pity the person whose birthday falls during the holiday season (or at least the people who have to buy both Christmas and birthday gifts for said person)? I used to feel for those people, that is, until I married someone whose birthday occurs right after the holidays have come and gone. You know, about the time when you've just finished taking down the tree (and were barely able to fit all of the decorations back into their storage boxes, I might add) and, you've not quite yet recovered from having all the kids home from school (for what always seems like an eternity). You're also tired from lack of sleep due to nightmares about getting on the scale after gorging yourself nonstop from Thanksgiving to New Year's Day. I could go on, but I'm sure I've made my point…post–holiday stress syndrome isn't exactly conducive to birthday planning!
Thankfully, Rich and I have reached ages where we are just happy to be alive and only have to worry about fulfilling our spawn's birthday fantasies. And even they have grown to ages that are easier to satisfy in the gift department. I call it the "Age of Aquariu$" (aka: cash or gift cards). It doesn't require much effort or creativity on our part, and that's how I like it at this point in my life. After many years of planning too many themed parties (Disney or Pokemon anybody?), I welcome the breather. All that is expected of me anymore is a good dinner and an even better birthday dessert (we're well past birthday cakes, and even (sadly) cupcakes).
Rich's birthday snuck up on me even more quickly than usual this year. I found myself scrambling at the last minute for dinner and dessert ideas, since we discovered all too late that our schedule wouldn't allow us to go out for dinner on his actual birthday. Dinner ideas were no problem, but what could I make him for dessert? I wanted to surprise him with something different, yet memorable. I seemed to recall he once told me that one of his favorite childhood desserts was rice pudding. It just so happened I had a recipe for that stashed away in my files. It's from a familiar restaurant up in Santa Barbara that is affiliated with a couple of wineries, so how could I go wrong?
I'll tell you how I could go wrong. Apparently, I got it all screwed up. Whenever he was sick as a kid, his mother would always give him custard, which he really liked, not rice pudding. All would have been lost, except for the chopped bananas and pistachio nuts that the recipe called for. Hmm, more lumpy shit. He seemed to like those lumps. And the whipped cream didn't hurt either. At least I got the garnishes right! (Actually, Rich said that he liked this rice pudding, which was quite unexpected, given his lifelong bias.)
Happily, the rest of us enjoyed this dessert as if it was each of our own birthday dessert. I've discovered that everyone in this persnickety family will enjoy anything that has bananas as an ingredient and whipped cream as a topping. I guess I'll just have to stick to banana cream pie or banana pudding (at least as far as the Wine Imbiber is concerned!) for future birthday desserts.
WI wine recommendation: This dessert dish isn't overly sweet, but it would still be best with a somewhat sweeter wine, such as a typical Gewürztraminer or Riesling.


Rice Pudding with Bananas & Pistachio Nuts
(adapted from Pierre LaFond Wine Bistro and Epicurious)

1/2 tablespoon butter
1/2 teaspoon ground cardamom
1/8 teaspoon ground cinnamon
1/8 teaspoon ground nutmeg
1/4 cup plus 1 tablespoon sugar
1/2 cup basmati rice, rinsed and drained
2 cups milk (I used 2%)
1 cup cream
1/4 cup unsalted pistachios, shelled and chopped, plus extra for garnish
1 large, ripe banana
Whipped cream

In a medium saucepan, melt the butter over low heat. Stir in the cardamom, cinnamon, nutmeg and sugar. Cook for 1 minute, stirring constantly.
Stir in the rice, milk and cream. Bring the mixture to a simmer over high heat, and then reduce the heat to maintain a simmer. Cook the rice (uncovered) until very tender, stirring occasionally (20–25 minutes).
Remove from heat and set the pan aside (uncovered) until the rice cools to room temperature, about 30 minutes. (The pudding might be very soupy at first, but will thicken as the rice continues to absorb the liquid as it cools in the pan.) When the rice is almost cooled, peel and dice the banana.
Stir in the chopped pistachios and diced banana, then cover and refrigerate the pudding until well chilled. Note: I tasted this two different ways (warm and cold). I preferred it warm. The banana flavor seemed to be enhanced by the warmth.
Garnish with extra pistachios and a dollop of whipped cream (and a sprinkling of cinnamon, if desired). This makes about 3 cups rice pudding (about 4–5 servings). It's very rich, so adjust servings accordingly.
The recipe was adapted from two recipes–one from Pierre LaFond Wine Bistro and the other from Epicurious.