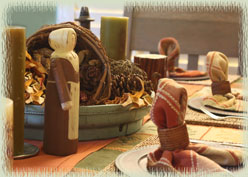 I file our Thanksgiving recipes together each year so I have something to refer to the following year. I'm always trying out new recipes, so it makes it easier to find the ones that I'll want to use again. Some years the meal is dominated by a theme, which was the case this year. I didn't initially set out to have Italian–inspired dishes; it just sort of happened. After narrowing down my recipe selections, I realized that the ones I was leaning towards the most had ingredient lists that could have easily been written by Giada or Mario. Even the pre–dinner cocktail I chose (from their fellow Food Networker—and also Italian—Rachel Ray) had limoncello in it. I must have been subconsciously dreaming about another trip to Italy (hey, I'm ready!).
Our Thanksgiving meal was particularly good this year. It was the first time the turkey and every side dish were ranked "thumbs up!" by the entire hungry clan. I even found a recipe for a sophisticated version of cranberry relish that nicely utilized wine; and here's a bonus…the leftovers make an unbelievable topping for ice cream! A win–win recipe in our house! This recipe ended up being my favorite newbie of the bunch. Hmmm. Could it be the inclusion of wine as an ingredient? That's always a possibility. This is a wine blog after all!!
So, without further ado, I present Wine Imbiber's Italian–Style Thanksgiving. (And with Christmas around the corner, these recipes would work perfectly for that holiday dinner as well.) I didn't get photographs of everything, but the websites that the recipes are linked to have photos. I've also included my adaptations of the recipes and tips or thoughts that will be useful the next time I make these recipes (and there will be a next time; these are that good!). Rich always takes care of making the turkey and gravy (and of course, the wine selection) so he'll chime in on those subjects.
Cran–Limoncello Cocktail
A very refreshing cocktail to sip on while you're slaving away in the kitchen! We added a few fresh cranberries for garnish in addition to the strip of lemon peel.

Roast Turkey with Prosciutto–Hazelnut Crust (and Gravy)
Be sure to allow enough time to make the prosciutto butter and gravy base when you plan your turkey roasting time (or make them ahead of time as the recipe suggests). Put as much of the prosciutto butter under the skin on the breast side of the turkey as possible, being careful to reserve the 1/4 cup you will need for the gravy base. This helps keep the turkey moist and flavorful. As the recipe says, rub some of the butter on the outside of the turkey, which helps give the cooked turkey a nice brown color. You should have enough prosciutto butter, but if you run short, just rub some regular butter on the outside of the turkey. I also drizzled some olive oil over the top of the turkey before roasting it. For our 15 pound turkey, the recipe's cooking time was perfect. When making the gravy base, the recipe says to use the turkey's neck, heart and gizzard. Be sure to discard the turkey's liver—if you use the liver, it can give the gravy a very strong dirt–like flavor that you might not like. Leah and the kids don't like solid pieces of meat (particularly things with names like heart and gizzard) or anything else floating in their gravy, so I simply strained the gravy when pouring it from the cooking pan into the gravy boat.
Down Home Italian Dressing
This recipe is from Good Morning America's Stuffing Showdown (circa 2007) that judge Emeril Lagasse deemed the winner (and it is!). The viewer who submitted it incorporated old–world Italian style into her native Southern cooking. The only change I made was to use a combination of Jimmy Dean's Breakfast Sausage and Aidell's Spinach and Feta Cheese Sausage (those were what I had on hand). I'm sure any flavor sausage would work equally as well, but if you want to stick with the Italian theme, get the recommended sweet Italian sausage. I also couldn't find pre–made unsweetened cornbread, so I made my own (recipe on the cornmeal box) and omitted the sugar. I also recommend omitting the called–for 1 teaspoon of salt. It seems like a small amount, but the finished dressing was a tad salty and already gets enough saltiness from some of the other ingredients.
Cranberry Sauce with Port and Dried Figs
Loved, loved, loved this recipe! But, I couldn't find dried figs anywhere so I substituted Dried Pitted Tart Montmorency Cherries from Trader Joe's. The cherries and cranberries worked well together with the wine we used in addition to the ruby Port. (We didn't have much of the ruby Port so we added about 1–1/4 cup of Barbera wine.) Someone commented that they used a red Zinfandel instead of the Port and that it was still fantastic. I also added a tablespoon of lemon juice and about a teaspoon of freshly grated lemon rind to perk things up. You should aim to make this recipe the day before serving it as the flavors will have more time to meld together and you'll want to serve this slightly chilled anyway.

Mashed Potatoes with Crispy Shallots
I followed the tip for achieving ultra fluffy potatoes and it worked great (as it usually does). The crispy shallots turn out a lot like the French fried onion topping that is used in the infamous green bean casserole recipe. I wouldn't think of substituting them for the shallots in this recipe, though, as shallots rock! Try separating the shallot rings while they're cooking and they'll turn out more like Food & Wine's photo than mine. Be careful not to burn them or they will be bitter.
Brussels Sprout Slaw with Mustard Dressing and Maple–Glazed Pecans
Followed this recipe exactly, though do note that the recipe says to toss the brussels sprouts in enough dressing to coat. I might have used a little less brussels sprouts than the recipe required, and I just dumped the dressing on without paying attention to the ratio. Mine probably turned out a little wetter than desired, but it was still good. Also, don't marinate for longer than the stated 60 minutes or it will become soggy. Also, don't plan on eating this as a leftover for the same reason. Make sure to mix the pecans in just before serving (to preserve their crunchiness).
Green Beans with Lemon and Pine Nuts
I added about 2 tablespoons of crisp bacon bits to this and omitted the parsley. I also sprinkled on some freshly grated parmesan cheese before serving.
Gingery Pumpkin-Caramel Cheese Pie
Ooh mama! This is one rich pie! The recipe comes from Susan over at Sticky, Gooey, Creamy, Chewy (go figure!). I just discovered that Susan happens to be Italian (the recipe isn't, but what a coincidence!). I'm tellin' ya, it must have been some kinda Italian karma for me to have chosen this recipe for our dessert this year. I usually make our family favorite: pumpkin cheesecake, but this looked so good I thought I'd give it a try. You'd think it would be similar to pumpkin pie since it has both cream cheese and pumpkin in it, but it wasn't (no eggs). The only thing that required baking was the crust, so it came together much more quickly than a cheesecake. I only did a couple of things differently. For the crust, I didn't use all gingersnaps (I ran out). I probably only used about 2 cups of those plus about one cup of Trader Joe's Ginger Cat Cookies. They're like a ginger–flavored animal cookie, but I'm not sure if it changed the flavor of the end product much. The crust did have a pleasant, spicy warmth to it, though, and I thought the ginger crust really contributed to the overall taste of the pie. The other thing I changed up a bit was the amount of caramel sauce I added to the filling. I used only about 1–1/2 cups (rather than 2 cups). I really wished I had the dulce de leche to use instead of the crappy caramel sauce I used, but I didn't plan ahead and was caught empty–handed. So, I chose to use whipped cream for a topping instead of more caramel sauce (which I only lightly drizzled over the top). The whipped cream provided a nice foil to the spicy richness of the pie. I suggest cutting this into thin slices (and waiting maybe a couple of hours after dinner before attempting to eat it!). It was quite a tasty ending to our near perfect Italian Thanksgiving meal!
WI wine recommendation: For this meal, with all of its distinct and earthy flavors, we enjoyed the Archery Summit Dundee Hills Pinot Noir 2006 "Red Hills Estate" that we picked at the winery during our Oregon wine country tour this past June. I chose this wine because it presents a wonderful mixture of full berry fruit and spice flavors that work really well with the variety of dishes described above. Over the years, I've tried a lot of different wine varietals at Thanksgiving, but I think a really good Pinot Noir is the best wine for the occasion.