Max the Dog
December 2009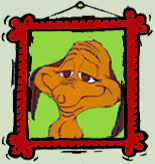 You all know Max the Dog, the faithful companion of the Grinch who stole Christmas. We chose Max for this month's Wine Dog—not because he works at a winery or lives with a wino (although who really knows what goes on at the top of Mount Crumpit?!), but to serve as the "poster dog" for the next incarnation of Wine Dog of the Month. In the spirit of the season, we've decided to put the spot to better use for awhile and feature rescue dogs that are looking to be placed in good homes with warm–hearted families (like the Whos!). Bitter, cave–dwelling green creatures need not apply!
We plan on beginning with this next year. If you know of any rescue organizations that would like to feature their dogs, put their name in a comment below or contact us. We'll be happy to get in touch with them and work out the details. Hopefully, everyone's efforts will help make a dent in the burgeoning dog orphan population.
Click here to see a list of links to our past Wine Dogs.