Cranberry Bliss Bars
This recipe (adapted from Mr. Breakfast) appeared in TJT: Cranberry Bliss Bars on 21 Dec 2009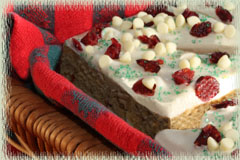 2 sticks (1 cup) unsalted butter, softened
1–1/4 cups brown sugar, packed
3 large eggs
1 teaspoon vanilla
1–1/2 cups all purpose flour
1 teaspoon ground ginger
1/4 teaspoon salt
1/4 cup plus 2 tablespoons Trader Joe's Dried Cranberries, minced
1/4 cup plus 1/4–1/3 cup Trader Joe's White Chocolate Chips
1/4 cup Trader Joe's Crystallized Ginger Slices, minced
4 ounces cream cheese, softened
2 tablespoons unsalted butter, softened
1 teaspoon vanilla
1–1/2 cups powdered sugar
Green sugar crystals

Preheat oven to 350° F. Lightly grease a 9×13 pan.
Beat butter and sugar together until creamy. Add eggs and vanilla, beating until fluffy.
Sift together flour, ginger, and salt. Add it to the butter–sugar mixture, beating well. Fold in the 1/4 cup cranberries, 1/4 cup chocolate chips and minced ginger.
Spread the batter in the prepared pan and bake for about 20 to 25 minutes (or until lightly golden). Allow to cool completely in pan.
Meanwhile, mix together the cream cheese, butter and vanilla until creamy. Add the powdered sugar in slowly; beating until fully incorporated and smooth.
Remove the cooled cake to a large cutting board. Spread the frosting over the cake in an even layer. At this point, you can optionally trim the entire outside edge of the cake to give it straight edges (if your baking pan has curved corners like mine does).
Cut the frosted cake into vertical quarters, then horizontally halve each quarter. Cut each piece in half diagonally. Sprinkle the remaining minced cranberries, chocolate chips and the green sugar crystals over the tops of each triangular bar.

WI wine recommendation: These bars go great with coffee, so you could easily enjoy them with some Bailey's Irish Cream or Kahlua or even Starbucks Cream Liqueur. You could even pull out that Vintage Port you received as a holiday gift. Of course, Champagne or sparkling wine pairs well with these bars as will most dessert wines.